A tweet of President Donald Trump's has been flagged on Twitter for a third time.
The President was mocking the so-called "fake news media" outlet CNN's coverage. Using footage that shows a Black toddler running in front of a White baby, the (misspelled) chyron in the video reads:
"TERRIFIED TODLER RUNS AWAY FROM RACIST BABY."
The video then cuts to "what actually happened," and features the two toddlers running to embrace.
Watch below.
The clearly doctored video was flagged by Twitter as "manipulated media."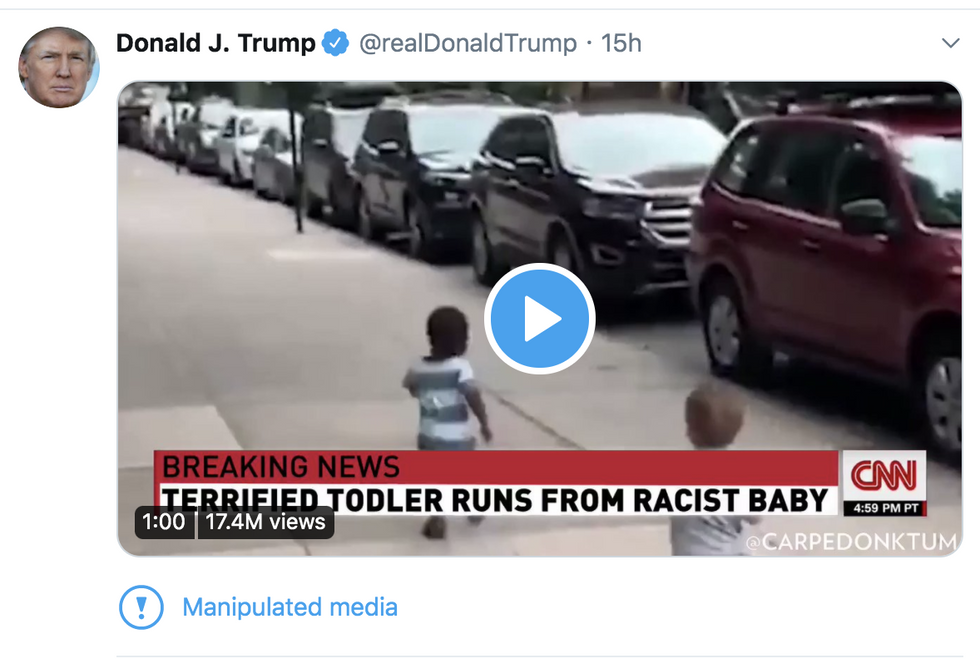 Twitter
The interaction between the two toddlers comes from an already viral video that many have used in the past to prove that racism must be taught.
CNN accurately covered the video in 2019.
Twitter flagged Trump previously for glorifying violence after he tweeted "when the looting starts, the shooting starts" about protesters in Minneapolis after George Floyd's murder by police. Before that, Twitter flagged him for tweets making false claims about mail in voting and voter fraud.

The irony that Twitter flagged a video decrying fake news for being actual fake news wasn't lost on anyone.
People mocked Trump for the misspelling in the chyron.
It didn't sit right with people that the President was dragging toddlers into a political fray over a video that was intended to be heartwarming.
At the time of this writing, the President has tweeted or retweeted eight times in the past hour.