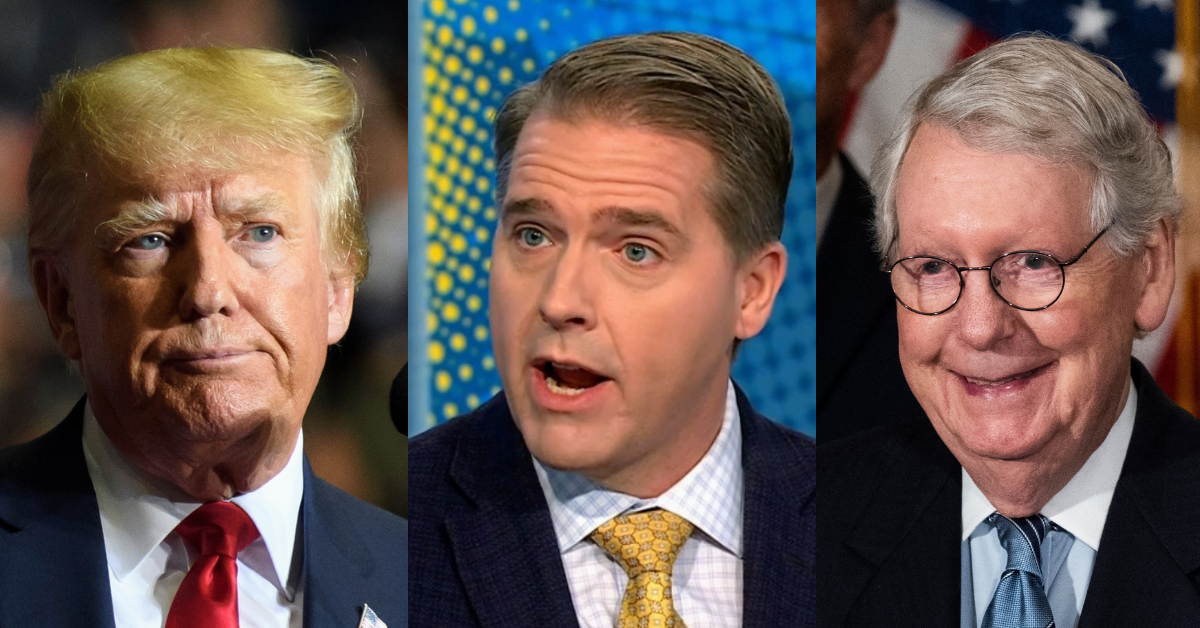 Jeff Swensen/Getty Images; CNN ;Tom Williams/CQ-Roll Call, Inc via Getty Images
Scott Jennings—former GOP advisor, conservative pundit and former aide to Senate Minority Leader Mitch McConnell—had some pretty scathing things to say about former Republican President Donald Trump during a discussion on CNN's State of the Union on Sunday.
Jennings said all Republicans should completely disavow Trump over an "unhinged" post he made on his social media platform, Truth Social.
You can see Trump's post here: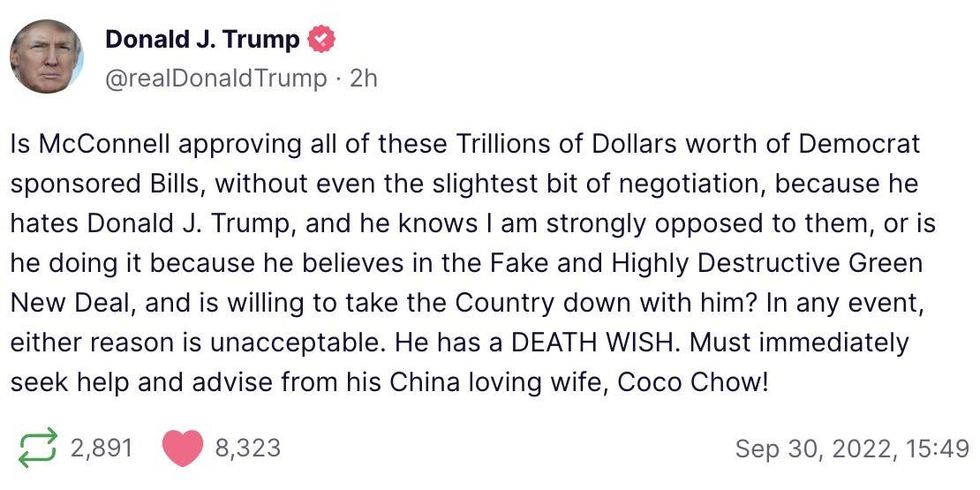 @realDonaldTrump/Truth Social
Trump's post accused Kentucky Senator McConnell of working against him and supporting the Green New Deal, of all things.
"Is McConnell approving all of these Trillions of Dollars worth of Democrat sponsored Bills, without even the slightest bit of negotiation, because he hates Donald J. Trump, and he knows I am strongly opposed to them, or is he doing it because he believes in the Fake and Highly Destructive Green New Deal, and is willing to take the Country down with him?"
He concluded with racism and an implied threat:
"In any event, either reason is unacceptable."
"He has a DEATH WISH."
"Must immediately seek help and advise [sic] from his China loving wife, Coco Chow!"
This is far from the first time Trump has verbally attacked McConnell's wife Elaine Chao who served as Trump's Secretary of Transportation.
Chao resigned from her position in Trump's administration shortly after the Capitol riot. Trump has had a grudge against McConnell and Chao since they condemned Trump's behavior on January 6.
According to the Wall Street Journal, Trump and McConnell haven't spoken since.
Jennings reframed Trump's comments in a pretty eye-opening way.
"It's hard to know where to start, with the assassination instructions or the blatant racism."
"If you read that whole thing out loud, if you were on the street and heard someone muttering that on a street corner, you wouldn't say, 'Hmm, let's hand this person the presidency or the Republican nomination for president.'"
"You'd say call 911 because it sounds like an unhinged, deranged person is on the loose and out on the street and may be a danger to themselves and others."
He continued:
"It's outrageous, beyond the pale. Every Republican ought to be able to say so. It's not good for the party. It's not good for him."
"On the right, right now, it is really in vogue to pass around clips of Joe Biden looking like he's confused or sort of out of it, whatever. You tell me that doesn't sound like deranged, unhinged, confused, whatever — it's the same."
"If you want to say these things about Joe Biden, look at Donald Trump's words right now and tell me this guy sounds like he's got his stuff together."
You can see Jennings' remarks here:
CNN State of the Unionyoutu.be
People on Twitter were just as free with their criticism.
CREW (Citizens for Responsibility and Ethics in Washington) called for the Truth Social app to be pulled from app stores after Trump's threatening post.
In addition to his remarks about Trump's post, Jennings commented on Florida Senator Rick Scott's unwillingness to reject Trump for his racism or promotion of violence.

When asked by State of the Union host Dana Bash if Trump's comments were appropriate, Senator Scott chose not to criticize Trump directly.
Scott said:
"The President likes to give people nicknames."
After further questioning by Bash, he added:
"It's never, ever OK to be a racist."
"I think you always have to be careful, you know, if you're in the public eye … how you say things."
"You want to make sure you're inclusive."

"I hope no one is racist. I hope no one says anything that's inappropriate."
In response to Scott's comments, Jennings said:
"But there's something very easy about this."
"And what's easy is to say: 'This is not good. It's not helpful. It's not good politically. It's not good personally. This is bad for the party, bad for the country."
"And it's not becoming of a former President and somebody who wants to have the job again."