It's no secret that President Donald Trump is erratic on Twitter, frequently announcing resignations of his administration officials to hurling baseless accusations at his enemies.
But this time, it's not the content of his tweet that's raising eyebrows, but rather the account he retweeted.
---
A Twitter bot known as "DJT Butt" is nothing more than a bot account that retweets every tweet by Trump. The account's bio reads:
"I am @realDonaldTrump's butt. Whatever he says, it's really me that's saying it. Follow me, or I will nuke you! #PutinPower #MAGA"
The account saw a substantial boost in followers today because Donald Trump retweeted this video of Congressman Jim Jordan (R-OH) railing against House Intelligence Chairman Adam Schiff (D-CA) and the ongoing impeachment inquiry against Trump.
RT realDonaldTrump "RT AmericaNewsroom: THE HEADLINER: Jim_Jordan comments on the latest in the impeachment inquiry… https://t.co/hxJs0eJBpT

— DJT Butt (@DJT Butt) 1571704576.0
The President has tweeted or retweeted 25 times since, so while DJT Butt's fame was fleeting, it didn't slip completely under the radar, thanks to Trump's ineptitude.
The president just retweeted an account called "DJTrumpsButt" happy Monday https://t.co/qmb95F4whV

— Miriam Elder (@Miriam Elder) 1571704924.0
@DJTrumpsButt @realDonaldTrump Hahahaha @DJTrumpsbutt more proof that @ realDonaldTrump is stupid. https://t.co/PTbfcJUngA

— Bexx (@Bexx) 1571707204.0
@DJTrumpsButt @realDonaldTrump You know this is your butt talking!

— Jesus Silva, Jr. (@Jesus Silva, Jr.) 1571759730.0
@mslauralibrary @DJTrumpsButt @realDonaldTrump Putin power... Lol. He will remove this when he finds out oops sorry… https://t.co/B54PVkdr7M

— Maverick (@Maverick) 1571759580.0
Nothing to see here. Just Trump RTing an acct w the handle @DJTrumpsButt which is an IFTTT bot account that tweets/… https://t.co/KMBX9mhPVd

— Scott (@Scott) 1571759308.0
While retweeting an account dedicated to his butt is fun to laugh at, it's part of a broader pattern of odd behavior on Trump's Twitter. Though Trump rarely favorites tweets, the ones he has favorited are nearly all critical of his performance as President, which he quickly unfavorites.
Most recently, he favorited a tweet about Admiral William McRaven's recent column in the Washington Post: "Our Republic Is Under Attack from the President."
realDonaldTrump liked this tweet: https://t.co/bJHOUpPgFz

— Trump Alert (@Trump Alert) 1571353203.0
And let's not forget the typos and gibberish, like the infamous "covfefe."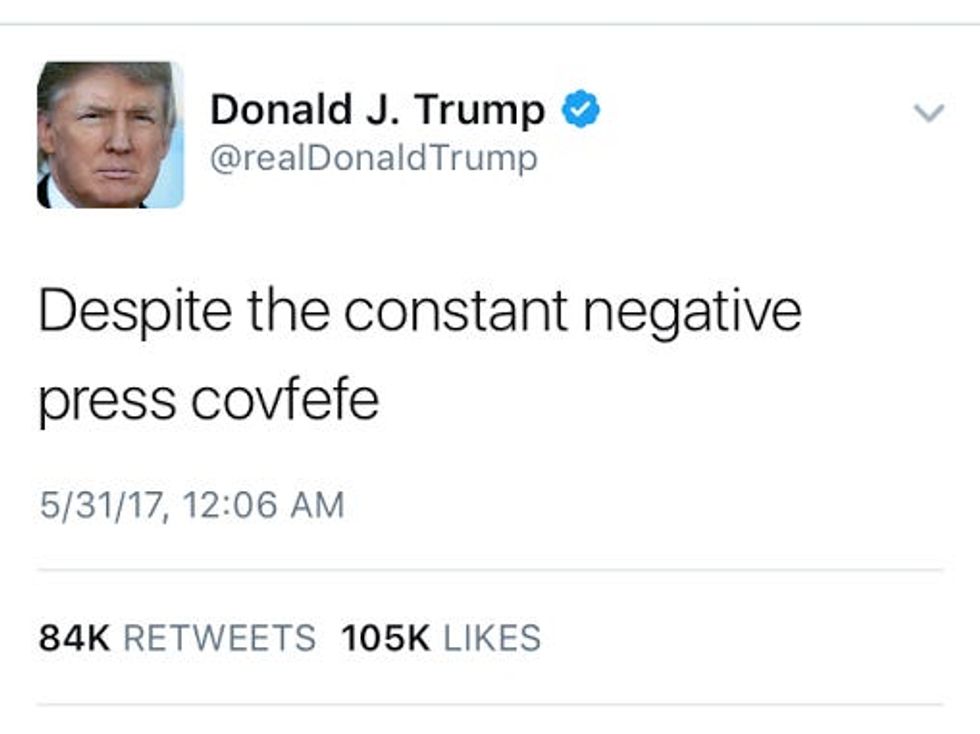 We're sure retweeting an account dedicated to his butt isn't the last time the President will make an ass of himself on his favorite website.