More transgender characters have appeared in mainstream film and TV in the past two years than Hollywood has seen in decades. Yet at the same time as trans women like Laverne Cox, star of Orange is the New Black, and Caitlyn Jenner, part of the Kardashian empire and star of her short-lived reality show I am Cait, have become household names, Hollywood continues to cast transgender roles, particularly trans women, with cisgender male actors —people whose gender matches the biological sex they were assigned at birth. Movies like Dallas Buyers Club, The Danish Girl, and the forthcoming Anything all feature cisgender male actors playing trans women, as does the show Transparent, though the latter takes place at the beginning of its lead character's coming out. While many within Hollywood argue that "acting is acting," transgender actors and activists strongly disagree.
Jen Richards, an Emmy-award nominated actor, writer and activist, with roles in the forthcoming new legal show Doubt on CBS, alongside Laverne Cox, and ABC's Nashville, among many others, tells Second Nexus that she feels "exasperated and disappointed" every time another cisgender actor gets the part for a trans woman. "Trans women see themselves as a type of woman. I am a trans woman, not the same as every other woman, but I am a type of woman. When you cast Matt Bomer, Eddie Redmayne or Jared Leto [as trans women] you are saying that a trans woman is a type of man," she says. For that same reason, she takes far less issue with women actors playing trans women, despite issues of authenticity, because, "If women were playing trans women, it would reinforce the notion that trans women are women."
---
She does not see these casting decisions as harmless. When people see trans women as a "type of man," because male actors play them, Richards points out it leads to real-world violence against trans women. Richards sees this issue as "part of our intensely homophobic culture and this air of toxic masculinity that seems to permeate every aspect of our society right now." She feels that "for a certain subset of heterosexual men" who are attracted to trans women, "they reflect the guilt or shame that is the result of society's influence. In order to reassert their masculinity, they do it through destroying the object of what caused that crisis, which is the trans women themselves."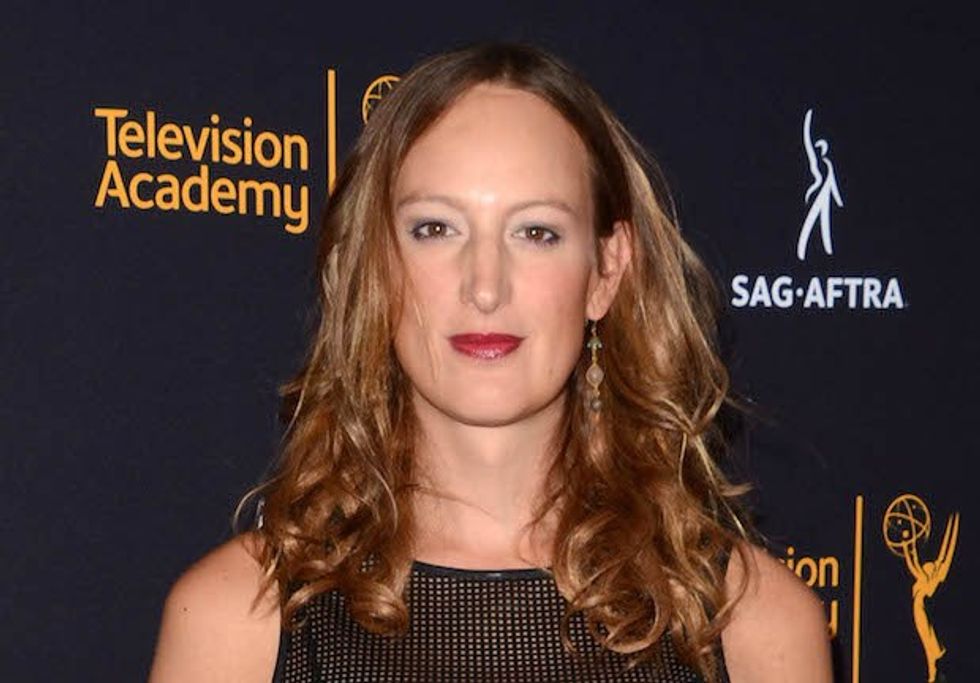 Jen Richards. (Credit: Source)
The statistics are sobering. According to a report by the Human Rights Campaignreport, 21 transgender people were murdered in the United States in 2015. In 2016, there have already been at least 19 murders. Most of these are women of color, often sex workers, often young and vulnerable. "Trans women, and especially trans women of color, are vastly, disproportionately the victims of violence, sexual abuse, and hate crimes. We face inordinate rates of poverty, homelessness and discrimination," says Hailey Jane Bobella, a trans woman living in Austin, Texas.
This year alone there have been several pieces of discriminatory legislation proposed, and even passed, to force transgender people to use bathrooms that correlate with their sex assigned at birth, but do not take into account how they identify or appear. Richards is from North Carolina, which passedHB-2, a law that enforced "single sex, multiple-occupancy of bathroom and changing facilities in schools and public agencies."
"As of right now, when I step outside the airplane in Raleigh, I'm supposed to use the men's room," she says with obvious frustration in her voice. "The reason that law was passed was
because people had a blind spot, and in that blind spot they projected their own fears, which were stoked by a right wing that was looking to gather votes for their particular agenda."
The only way to stop both violence, and aggressive legislation of this sort, she says, "is to replace fear with familiarity." This is why Richards is especially excited about starring on the show Nashville, which is popular in her home state and other parts of the south. "When they see me on the show and realize, 'Oh, she's just a woman with a past like any other woman,' then it starts to take some of the fear away. They'll start to realize how absurd that kind of legislation is."
A Question of Authenticity
There will always be those who argue that a good actor can inhabit any character well, whether or not this is ethically okay. Indeed, even Richards understands why Transparent cast cisgender actor Jeffrey Tambor as Maura Pfefferman, who comes out as a trans woman after their three children are grown. Jill Soloway, creator of the Amazon Prime-based TV show, based Transparent on her own family. Like Maura, Jill's parent came out as transgender to their family. "I know their parent, I was in Chicago at the same time as them, and I understand the casting of Jeffrey Tambor. It's not ideal, no, but I don't know who else could have done that role and carry a show, because it's such a big part," says Richards. At the time of casting, Faith says Jill Soloway was not yet sure the direction the character would take--i.e., whether there would be physical transition involved, as well--and wanted the freedom to dip back into Maura's past, living as a man.
Faith Soloway, a writer for Transparent and Jill Soloway's sister, tells Second Nexus that "Jeffrey Tambor is the actor who actually most reminds Jill of our parent." When Jill got word that Amazon was interested in their pilot, Soloway says, "Jill sprang into action really quickly. I don't think she quite realized the time of the trans movement has doubled and tripled. We've gone through the fastest kind of learning that's happened politically with what you should do with trans material." Soloway says that if the show were being cast right now, today, "[Jill] would cast a trans person in the part."
To make sure they were hearing the trans community and meeting their needs, the show has gone on to hire numerous trans writers, producers, directors and actors who are regularly in the writing room and on set at all times. "We also got behind getting the Writer's Guild to cover trans health, and have done as much as we could to do outreach in the trans community," she adds.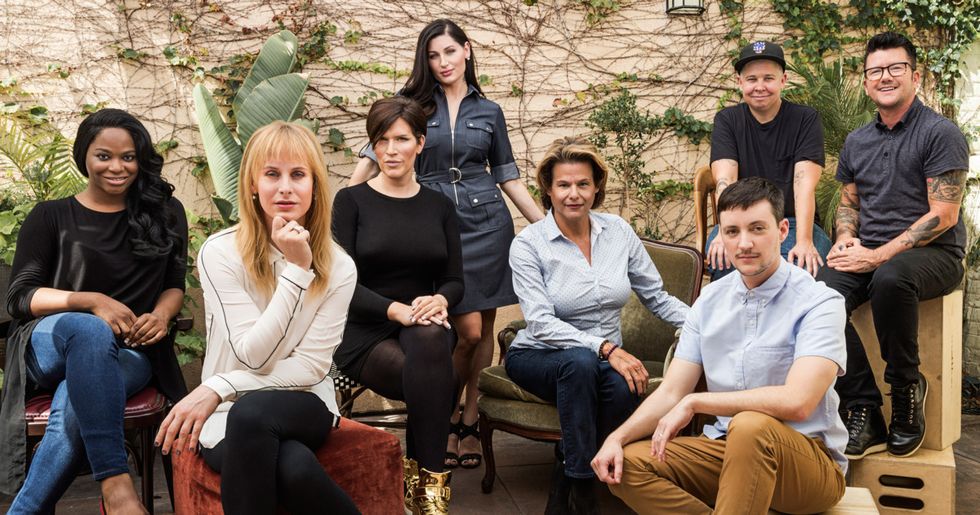 The trans writers, producers, directors and actors behind Transparent (Credit: Source)
The Soloways' parent, whom they call "Moppa" has given the show their blessing.
Soloway says she has also heard from older trans people "seeing themselves, their stories reflected and have had an outpouring of parents say 'Thank you, I can explain this to my child.' And from children, 'Thank you, I can now get my parent more.'"
However, it's still not an ideal choice according to many trans people. "As a trans woman and writer, I am a firm believer that only we can represent ourselves, our struggles, our
fears, our unique outlook on life, and our passions and goals with accuracy," says Daliah Husu, a trans woman and author of the memoir I Am Woman: Surviving the Past, the Present, and the Future. She admires Tambor's performance in Transparent, but is "convinced that Mr. Tambor has had intense coaching by someone who is transgender." Moreover, she'd like to see more roles made available to trans actors.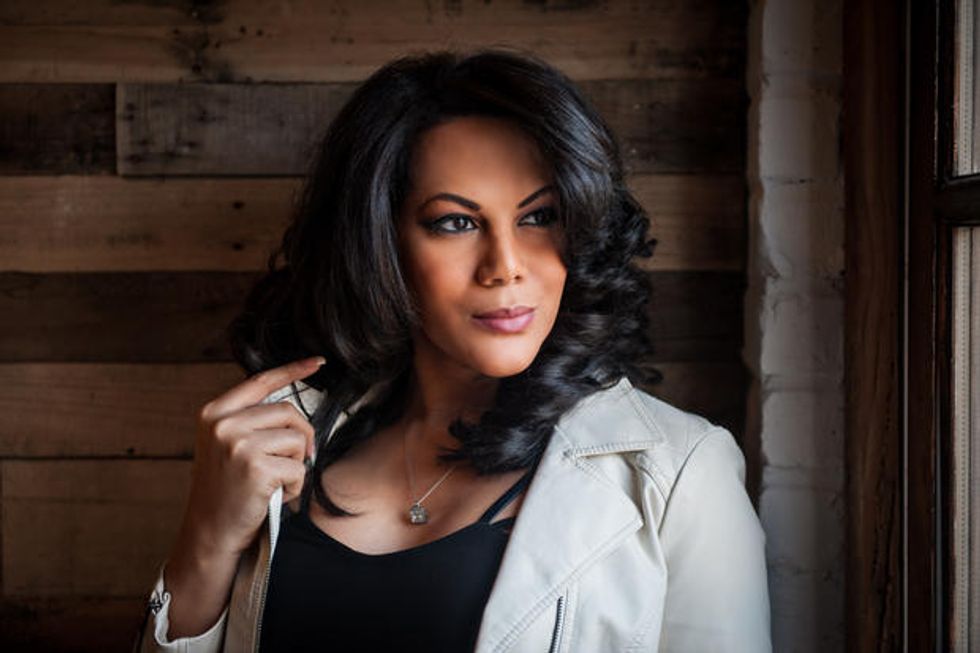 Daliah Husu (Credit: Source)
Hollywood's defense has been that there aren't enough "bankable" trans stars to carry feature films. Richards scoffs, "How do you get to become a bankable star unless someone takes a risk on you in the first place?"
While it may be true that there aren't enough bankable trans actors, Richards says, "It's still cowardice. Hollywood will consistently pat itself on the back and applaud itself for being so progressive. Then they totally fail when they think there might be any money at risk."
Bobella is also understandably impatient with the progress of change. "Even as Modern Family featured a trans child on a recent episode, played by a trans actor, and even as Jeffrey Tambor mentioned in his recent award speech for Transparent that he would be happy to see no more cis actors in trans roles, we have people from all strata of society legislating us out of existence, murdering us with malice, refusing to recognize the damage done by those who would coopt our identity for the purposes of their catharsis and entertainment."
Despite everything, Richards is optimistic. "I see change in a positive direction. The kind of change that will eventually result in more widespread inclusivity, acceptance, less violence and more economic opportunity. It's just a matter of how short or long the timeline is."
In the meantime, as Hollywood and society both limp toward long-overdue change, Bobella would like to reinforce the point that "Trans people are real. We have a lot to say, and our identities are not a joke, or a crutch to make cis people recognize things about themselves. We deserve a voice."