​Paul Shepherd is an Idaho state representative who wants Congress to impeach any federal judges who allow same sex marriage. Now, the site hosted at the former home of Shepherd's official website is an LGBT resource center.
Dylan Hailey, a 21-year-old college junior, noticed earlier this month that Shepherd's hold on www.paulshepherdusa.com was expiring, so he snatched it up Tuesday and redesigned it as a place to expose Shepherd's anti-gay policies and as a place where LGBT youth can get support. It's a response to a resolution introduced by Shepherd earlier this month that would urge Congress to impeach judges who support marriage equality.
---
"I read about him on Reddit last week when he pushed that resolution urging Congress to impeach judges that don't agree with his policies and then wanted to look more into him," Hailey told me. I also ​heard about it on Reddit, for the record. 

"When I went to his campaign site I realized he had not renewed it, so I called up my registrar and got it first. He likely bought it for an extended period of time and forgot to renew it or the staffer in charge of it forgot or quit," he added.
Shepherd's ​official Twitter account shows that this was once, indeed, his domain name. Here's what the site looked like before Hailey took it over: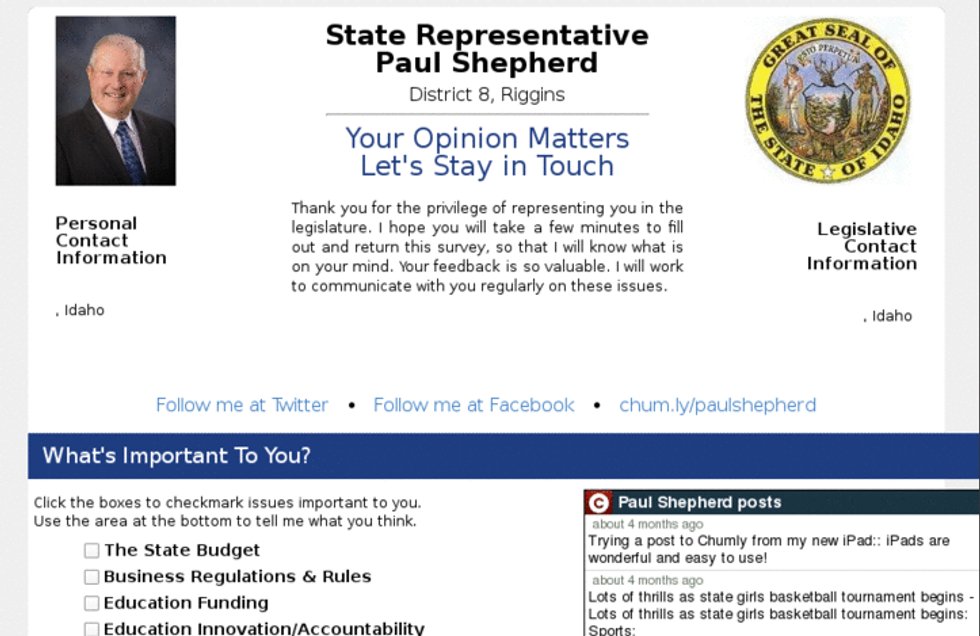 Here's what it looks like now:

Squatting on politicians' domain names isn't anything new—in fact, the pro-Obama man in Arizona who ownswww.tedcruz.com came back into the spotlight earlier this week after Cruz announced he is running for president.
Hailey's site still contains contact information for Shepherd and information about him (I have reached out to Shepherd and have not heard back yet), but it also has a link to an open letter from LGBT activists in Idaho asking him to reconsider his "irrational fear" of LGBT people.
It alsocontains a link to the gay marriage resolutionthat originally tipped Hailey off.
Hailey, who runs the popular Support Boards website—a series of private message boards where people can seek, well, support on the internet—says he's been designing websites since he was 13 and hopes to build out the Paul Shepherd site over the coming weeks.
"We are working on designing one big site that will be a resource for everyone to look up their local or national elected officials, have their contact information, their stance on policies related to equality and privacy, controversial bills they've sponsored, etc," he said.
If Shepherd comes calling, Hailey is willing to give him the site back, on one condition.
"I would love to see him make a donation to an LGBT rights group. If he did that I'd gladly give him his domain back right away," Hailey said. "If he refuses but wants to buy it back anyway then all the proceeds would go to an LGBT group, likely a local one in his area."
Originally published inMotherboardby Jason Koebler.