[DIGEST: NPR, Grubstreet, NPR, KEYT]   
Despite historically low unemployment rates, transgender people face unemployment at a rate twice that of the general population. Continuing stigma and discrimination, as well as bathroom laws in many states that prohibit transgender people from using the bathroom of their choice, make the job search complicated and intimidating for many trans people.
---
One businessperson in California decided to make things a little easier, first at her own business, and then on a statewide level. Michaela Mendelsohn, who owns six El Pollo Loco franchises in Southern California, transitioned from male to female in 2004, and hired her first transgender employee in 2012. When that employee told her how hard it had been to find a job, Mendelsohn increased her outreach to trans jobseekers.
"Most of them were instantly hirable, very qualified. They'd been out on dozens and dozens of interviews. [But] because someone recognized they were transgender when they showed their ID that didn't match their gender identity, they found some reason not to hire them," Mendelsohn said.
Today, 8 to 10 percent of her workforce of 150 identifies as transgender. But there's only so much one employer can do, so Mendelsohn connected with the California Restaurant Association to start a program that matches restaurants who need help with transgender people who need jobs. The California Trans Workforce Project helps educate employees on the value transgender employees bring to the workplace, and educates them on inclusivity and civil rights. The program is thought to be the first of its kind in the country, and Mendelsohn hopes it becomes a model for the rest of the country and expands beyond the hospitality industry. (A side note: Mendelsohn served as a consultant to the transgender actress Laverne Cox on Orange is the New Block.)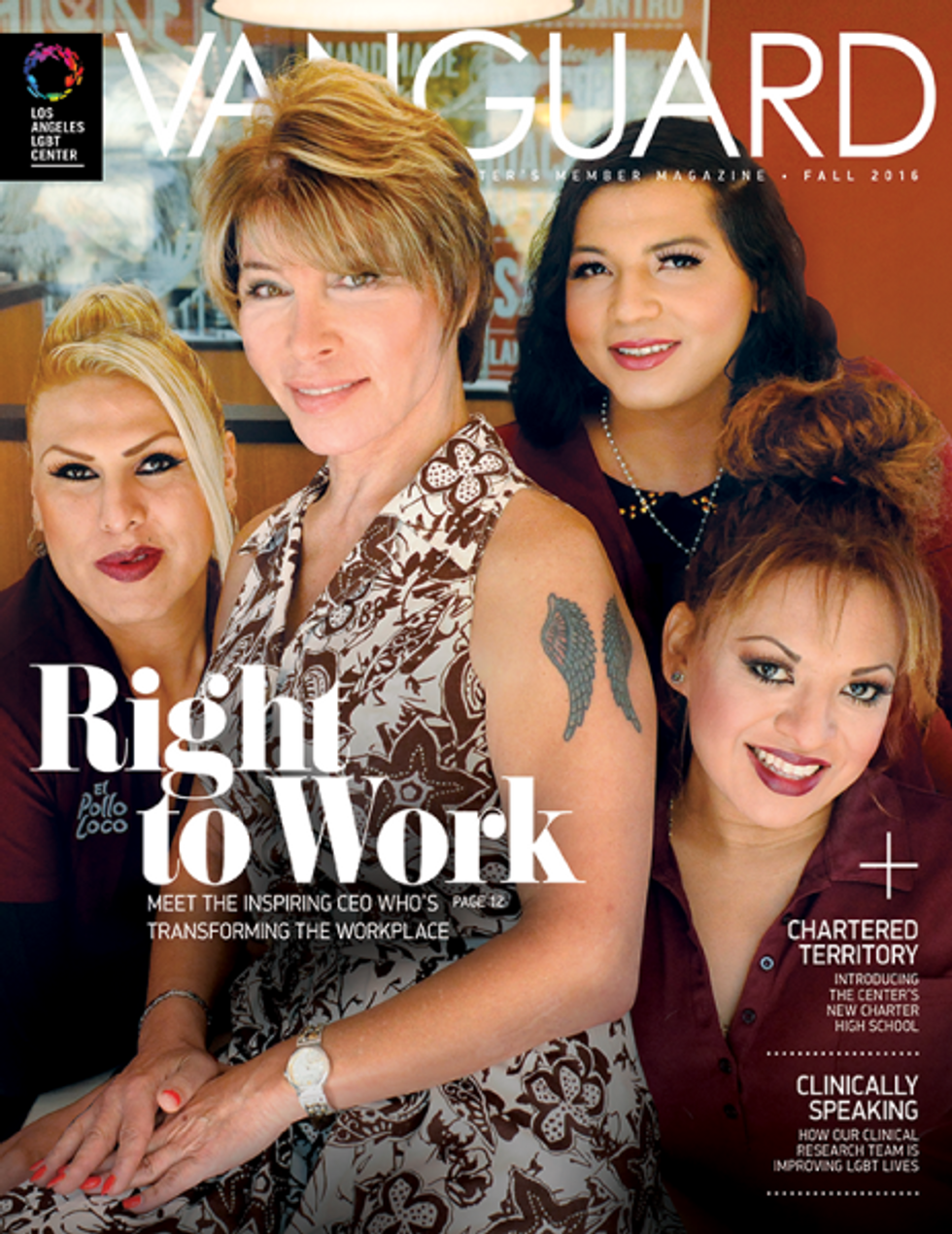 Credit: Source.
Restaurants that participate in the program will receive a certification from the State's Department of Fair Employment and Housing, indicating they've completed a training program. A hiring grant that covers the trans employee's first 60 hours of wages is also available. Mendelsohn, whose employees wear name tags and use bathrooms in accordance with their gender identity, says her trans employees have been an asset to her business, returning her support with loyalty and outstanding customer service.
"Because these [workers] are so happy to be out as their authentic selves in the workplace for maybe the first time in their lives, the customers completely see how happy they are," she said. "We had so many compliments on our call-in line from customers about these employees, our business started growing and doing better."
Not all customers are thrilled to encounter transgender people in the public world, however. Part of the California Trans Workforce Project certification involves training on how to deal with customers who object to the existence of trans people in the employment world. Mendelsohn has limited patience for such attitudes.
"You always hear the thing, 'The customer's always right'? In my restaurants, the customer's always right unless they attack you personally."