Over the last two months, Texas Governor Greg Abbott has signed two bills that will egregiously affect the lives of LGBTQ children and adults in the state of Texas. These two bills are just the tip of the iceberg. According to LGBT advocates, as many as25 to 30 anti-LGBT bills have been proposed in the Texas legislature.
Most recently, the Republican governor signedHouse Bill 3859, which makes it legal to refuse adoptive rights to qualified Texans based on their sexual or gender identity, their faith or marital status—i.e., not only are single parents at risk, but so are married couples where either partner was previously divorced. The bill would allow adoption agencies to tout religious objection to deny placement to any prospective parent. It also allows welfare agencies to refuse to provide certain kinds of care to a child based on the provider's religious beliefs. In essence, itsanctions discrimination against LGBTQ couples who hope to adopt. Further, it gives child placement agencies that are beneficiaries of taxpayer money the power to claim "religious objections to certain groups of people—effectively giving them a license to deny adoption and fostering opportunities to LGBTQ, single, or non-Christian parents."
---
The bill has wide-ranging effects onnot only child placement services (adoption agencies), but group homes, counseling services, care for abused children, and other resources for children with complicated family situations, according to Think Progress.
The Human Rights Campaign "strongly condemned" Governor Abbott for this bill. "After a legislative session full of attacks on LGBTQ Texans, today, Gov. Abbott has codified anti-LGBTQ discrimination into law by signing HB 3859,"said Marty Rouse, national field director for the Human Rights Campaign and a foster and adoptive parent.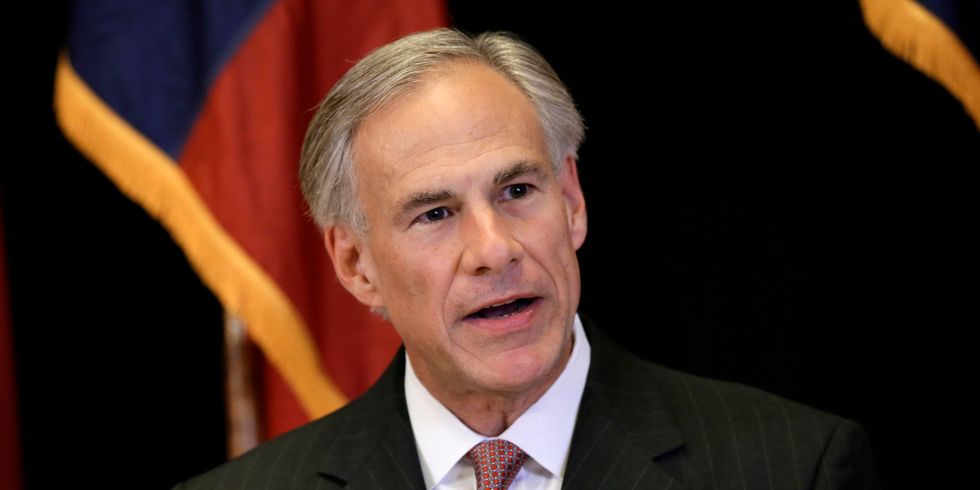 Greg Abbott. (Credit: Source.)
HRC's own research has found that that LGBTQ youth are "overrepresented in the foster care system," because their own families have rejected many of them due to their LGBTQ status. They are "especially vulnerable to discrimination and mistreatment while in foster care." HRC asserts that HB 3859 will only heighten the hurdles already faced by these LGBTQ youth.
The bill could also allow LGTBQ youth to be placed with foster parents whose religious beliefs teach discrimination against LGBTQ individuals, subjecting them to potential criticism, discrimination and so-called "conversion therapy" which has been shown to wreak deep psychological damage to the child.
And if these steps aren't draconian enough, non-LGBTQ religious youth may also feel the impact of the bill. Under its terms, child welfare organizations would be permitted to place
children who are members of religious minorities (Jewish or Muslim children, for example) into Christian schools. This could mean forcing children to relinquish ties to their religious roots, which may be one of the last connections they share with their family of origin, in favor of one they neither practice nor believe. Thiscould be considered detrimental to the right to freedom of religion, and can have long-term consequences for the child. HB 3859 allows service providers to alienate children from their beliefs and their heritage in the name of religious freedom.
The Texas foster care system is already under scrutiny. In 2015, a federal judge ruledthat Texas violated the constitutional rights of foster children by exposing them to an unreasonable risk of harm in a system where children "often age out of care more damaged than when they entered." U.S. District Judge Janis Jack of Corpus Christi said that "years of abuse, neglect and shuttling between inappropriate placements across the state had created a population [of former foster youth] that cannot contribute to society, and proves a continued strain on the government through welfare, incarceration or otherwise."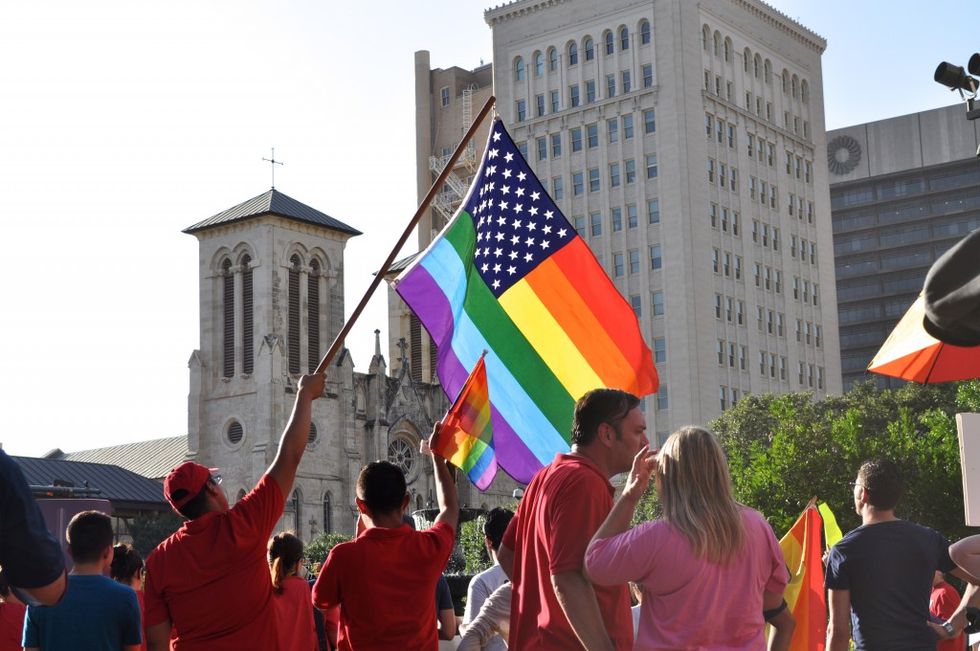 Credit: Source.
Child welfare agencies are obligated to remove children from their existing abusive or unhealthy family situations and provide better services through fostering, adoption, or services that work with the family and allow the child to return home. In Texas, however, some28,000 wards of the state remain in the system until adulthood. For LQBTQ youth, in particular, this often means growing up hiding their identity, living in terror of being found out, or being forced to live a lie by way of threats and even violence at the hands of peers and often caregivers.
"As a gay child in the foster care system, I spent my childhood in facilities like this. My CPS caseworker told me at one point that I could either 'keep being gay or straighten up if I wanted to be placed with a foster family,"said journalist Kristopher Sharp, a former LGBTQ youth who grew up in the foster care system in Texas and experienced what he calls "a cycle of abuse" that can have long lasting effects long after children leave foster care. "Homelessness, unemployment, instability, and incarceration are the norm once foster
children become adults," he said. Sharp spent his childhood shuttling between nearly 25 different foster homes and facilities, "each of them imbued with the same culture of abuse, neglect, and blatant disregard for the well-being of the children placed under their care."
At best, he says, HB 3859 creates "an atmosphere of confusion and discouragement for families who want to foster or adopt in a state that desperately needs more families to do so." In the worst case scenario, it robs children of their childhoods and even livelihoods "by unduly denying LGBT, single, or non-Christian parents opportunities to save children from the cycle of abuse and neglect they will almost certainly encounter growing up in the Texas foster care system."
Anti-LGBTQ Bathroom Bills
That's not the only anti-LGBTQ rights bill in the pipeline. In April, Texas put forth Senate Bill 6, also known as "the bathroom bill" which would have forced people to use bathrooms in public schools and government buildings based on their "biological sex." It would prohibit transgender, non-binary and gender fluid people from using the bathrooms that most align with their gender identity. The bill is similar to one that passed in North Carolina, which also received a large public outcry from advocacy agencies and LGBTQ folks themselves.
Credit: Source.
An advocacy group calledEquality Texas expressed dismay and vowed to fight the policy with activism and fundraising. "There is no middle ground on discrimination. We cannot tolerate any effort that seeks to demonize, stigmatize, and endanger our transgender family members, friends, coworkers, students, and neighbors. We will not give up in our efforts to prevent the passage and enactment of such a dangerous and immoral law."
SB 6 ultimately stalled in the Texas Senate, but anti-LGBT lawmakers came back with a new bill, HB 2899. The sole function of this bill is to ban cities from passing non-discrimination
protections, which would also nullify any existing municipal nondiscrimination ordinances of that kind.
The Texas chapter of GLAAD objected to this newly renovated bill,saying, "The newly proposed HB 2899 is even worse than SB 6 because it invalidates all existing local non-discrimination ordinances that protect LGBTQ Texans and gives anti-LGBTQ state lawmakers full control over future LGBTQ local non-discrimination laws. HB 2899 is another harmful 'solution' in search of a problem and will accomplish one thing: further putting the lives of all LGBTQ Texans in jeopardy."
HB 2899 would essentiallygive Texas license to discriminate against LGBT people. School regulations would have severe consequences for LGBT students, who would no longer be protected by law from bullying. And trans/non-binary students would lose their legal right to use the restrooms that match their gender identity.
The way the law is worded, this law could also threaten groups such as veterans and pregnant women, due to local laws protecting them in public spaces.
The city of San Antonio added veterans as a protected class three years ago, when they also extended their anti-discrimination laws to the LGBT community. City officials would no longer be legally required to enforce those protections if the bill becomes law.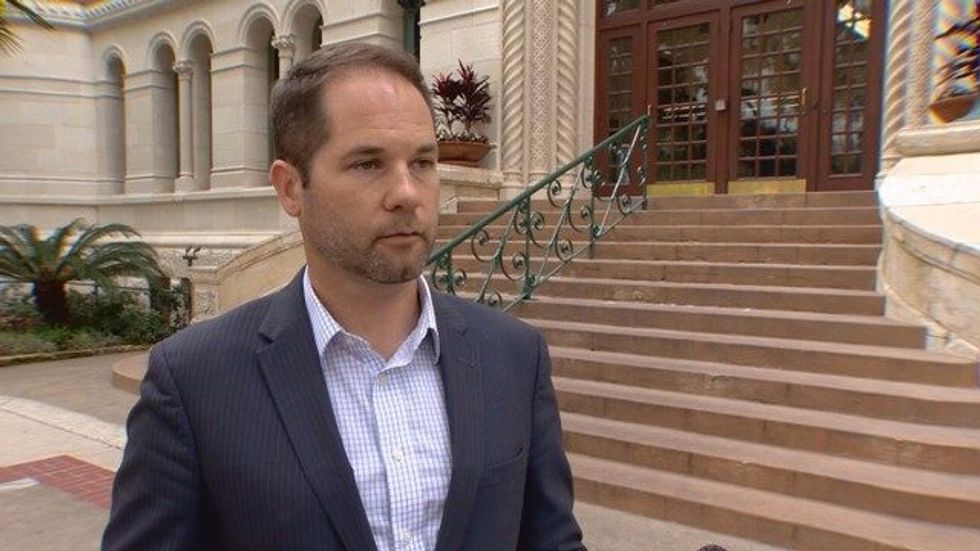 Jeff Coyle. (Credit: Source.)
"It does undo portions of our protections in this community,"said Jeff Coyle, Director of Government Relations for the city. "We're opposed."
Equality Texas and other groups continue tofight for the equality of all Texas citizens, but especially the LGBTQ community, saying, "Texas will be at its strongest when discrimination is prohibited in employment, housing, and public accommodations and all Texans are treated fairly and equally."