At a campaign rally in New Hampshire, Donald Trump assured his voters that all they had to do was watch voters, they didn't need to vote themselves.
24 October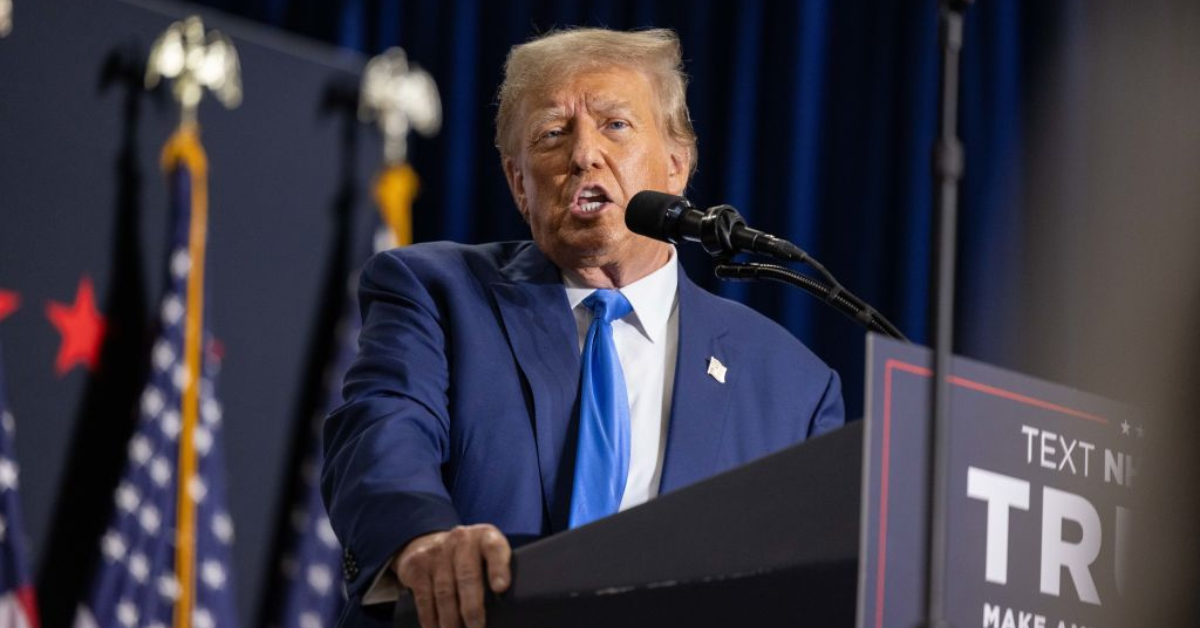 Scott Eisen/Getty Images
Former President Donald Trump was mocked online for a recent speech he delivered in Derry, New Hampshire, in which he included an unusual assertion that his supporters need not bother with voting in the upcoming election because, as he claimed, he already had "plenty of votes."
Trump suggested that his followers should instead focus on observing his opponents' supporters.
He said:

"We've gotta be careful. You've gotta get out there and watch those voters."
"You don't have to vote, don't worry about voting. The voting, we got plenty of votes."
You can hear what Trump said in the video below.

And as you can imagine, people had just one thing to say to Republicans.
Well, Donald Trump told his followers "You don't have to vote, don't worry about voting. The voting, we got plenty of votes." You heard him, MAGA! Listen to your cult leader. DON'T vote for Trump in 2024! pic.twitter.com/4ui5meRK02
— Harry Sisson (@harryjsisson) October 24, 2023
Well then, there's really no need for Republicans to bother voting anymore. Hey MAGA, did you hear that? Your "strawberry blonde" messiah has told you that you voting isn't important. So by all means, please, listen to the man, and avoid voting at all cost. Do it for your…
— Tonya Bailey (@tbailey1976) October 23, 2023
Trump tells republicans" don't worry about voting". I hope every single Republican does EXACTLY what he says. I mean, hell, they're stupid enough to believe everything else he says.
— Dennis (@GrandpaDennisP) October 24, 2023
That wasn't the only absurd claim Trump made during his speech.

One of the most surprising moments in Trump's speech was when he compared himself to Nelson Mandela, the legendary South African leader who fought against racial apartheid and was awarded a Nobel Peace Prize. Trump suggested that, like Mandela, he was facing challenges and adversity and emphasized that he was doing it for a specific reason.
He said:
"I don't mind being Nelson Mandela because I'm doing it for a reason. We've got to save our country from these fascists, these lunatics that we're dealing with. They're horrible people and they're destroying our country."
Trump also targeted New York City Judge Arthur Engoron, who is presiding over the former president's civil fraud trial. Just last week, the judge threatened Trump with jail time for violating a gag order.
Trump also took aim at New York Attorney General Letitia James. He accused Judge Engoron of being a "Trump-hating" judge and expressed that the judge was "intimidated" by Attorney General James.
The former President also used the opportunity to criticize President Joe Biden's handling of the recent Hamas attack on Israel, characterizing it as a "grotesque betrayal."
Trump went further, promising to develop a missile defense system similar to Israel's Iron Dome in the United States. He claimed it would be capable of intercepting missiles from countries such as China, Russia, and Iran.