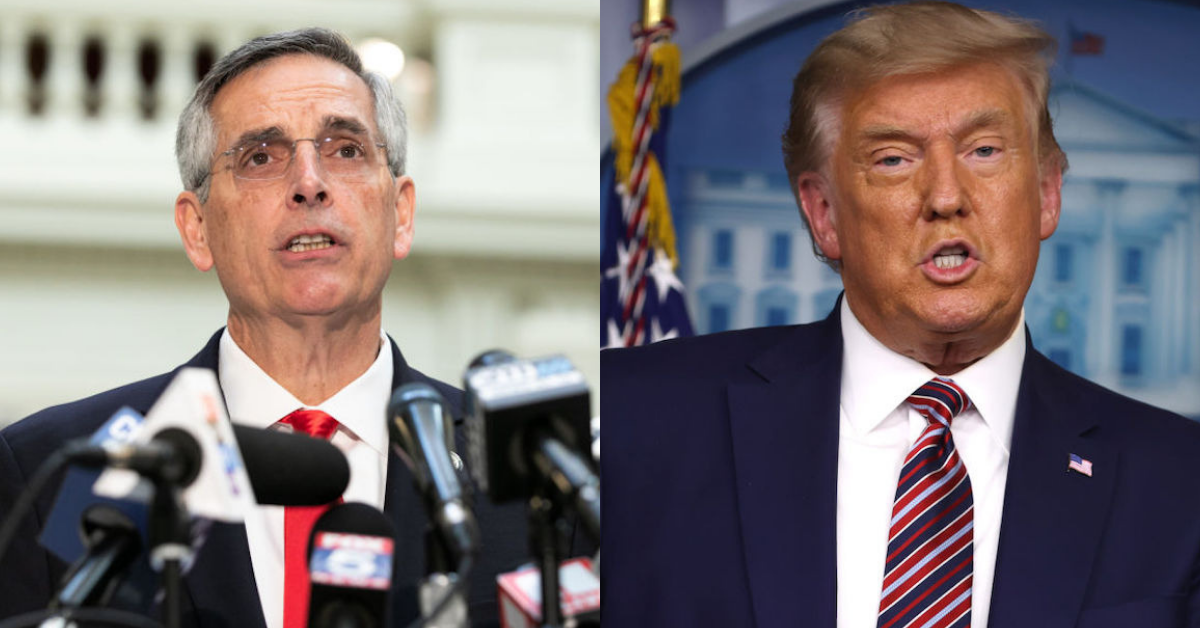 Jessica McGowan/Getty Images; Tasos Katopodis/Getty Images
In the wake of incumbent President Donald Trump's loss to Democratic challenger Joe Biden—who won the popular vote by over six million votes and garnered 306 electors for the December 14 electoral college vote—former allies of Trump found themselves on the receiving end of the President's ire.
In response to attacks against him for conducting a free, fair, and open election that failed to yield the results Trump wanted, Georgia Secretary of State Brad Raffensperger penned an opinion piece for USA Today titled:
"My family voted for Trump. He threw us under the bus anyway."
The subtitle was equally critical of the President's behavior after election night.
"I have fought to uphold the integrity of elections in Georgia. It doesn't matter if the attacks come from the guy I voted for or not."
In his OpEd, Raffensperger stated:

"By all accounts, Georgia had a wildly successful and smooth election. We finally defeated voting lines and put behind us Fulton County's now notorious reputation for disastrous elections."
"This should be something for Georgians to celebrate, whether their favored presidential candidate won or lost."
"For those wondering, mine lost—my family voted for him, donated to him and are now being thrown under the bus by him."
Without naming names, Raffensperger wrote that some people don't seem to understand how elections should be conducted.

"Elections are the bedrock of our democracy. They need to be run fairly and, perhaps more important, impartially."
"That's not partisan. That's just American."
"Yet some don't seem to see it that way."
"When I took office, I committed to running elections in Georgia with integrity. After any election, half of the voters will be happy and the other half will be disappointed."
"But I wanted to make sure everyone felt confident in the process and confident in the outcome."
While making allusions to "both sides," the Georgia official added:
"An onslaught of fake news and unrepentant disinformation threatened to tear the fabric of our country apart."
Addressing the audit and hand recount, he wrote:
"Even as Georgia embarked on its first statewide audit, a process that was only possible because of the state's new printed paper-ballot system, those who requested the full hand recount triggered by the audit of such a close race lined up to undermine its credibility."
"Those who had so long been beneficiaries of the electoral process sought to tear it apart at its very foundations."
While the Republican stated he was certain many of his fellow members of the GOP had integrity, he finished with the statement:
"In times like these, we need leaders of integrity to guide us through."
People agreed Trump threw anyone who didn't declare him winner or support his conspiracy theories or baseless lawsuits under the proverbial bus.
Others pointed out Trump was not alone in the GOP when it came to attacking Raffensperger.

Raffensperger's job is not done. Georgia now faces a run-off for both their Senate seats.
Republican incumbents Kelly Loeffler and David Perdue face challenges from Democrats Rev. Raphael Warnock and Jon Ossoff respectively on January 5, 2021. The vote will determine if the Republicans retain control of the Senate.