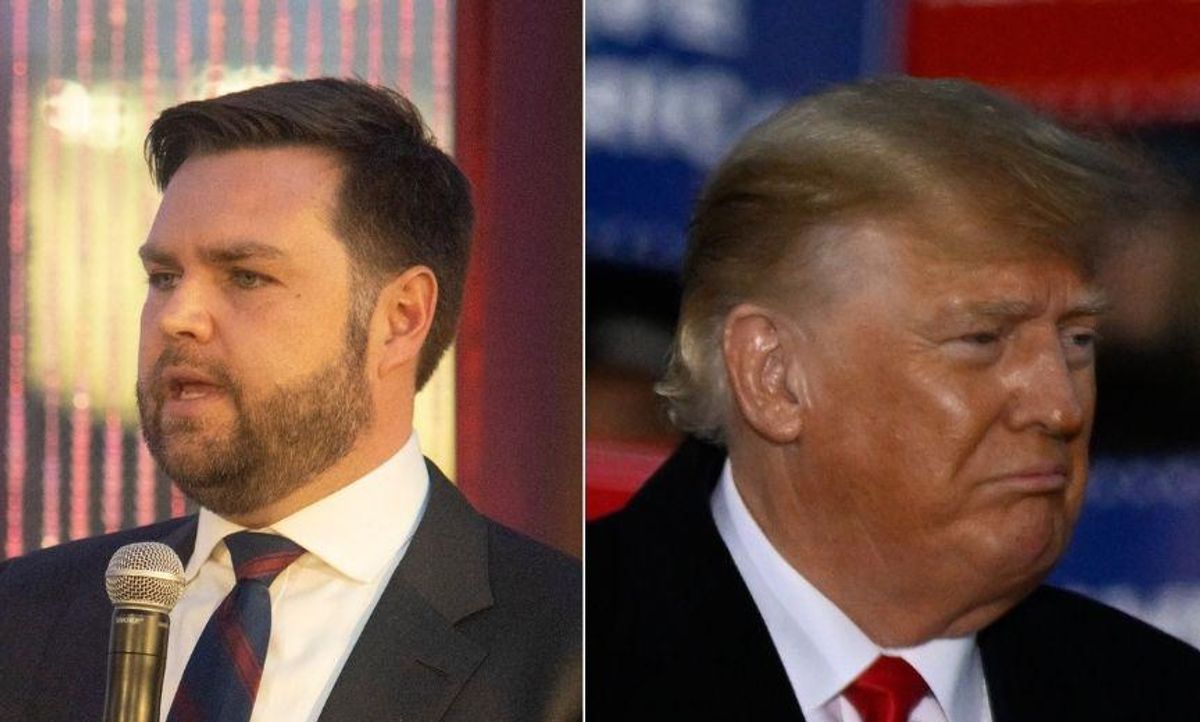 Andrew Spear/Getty Images // Peter Zay/Anadolu Agency via Getty Images
The crowded Republican primary to represent Ohio in the United States Senate saw a major shakeup this month after former President Donald Trump announced his endorsement of Hillbilly Elegy author J.D. Vance.
The endorsement came as a surprise not just because of Vance's lackluster performance in the polls, but also because of his past condemnations of Trump in 2016. Vance called Trump a " moral disaster " who was " reprehensible " for his views on immigrants, Muslims, and other marginalized groups.
Vance has since said he regrets his past criticisms of Trump, and the former president acknowledged these criticisms in the lengthy statement explaining his endorsement.
Now, new comments from Vance discussing Trump have resurfaced thanks to screen shots provided by Josh McLaurin, Vance's former roommate at Yale Law School who later served in the Georgia legislature.
The screenshot below is @JDVance1 's unfiltered explanation from 2016 of the breakdown in Republican politics that he now personally is trying to exploit.

The "America's Hitler" bit is at the end.

The public deserves to know the magnitude of this guy's bad faith. pic.twitter.com/79Z0qSWFWF
— Josh McLaurin (@JoshforGeorgia) April 18, 2022
Vance wrote in the message:

"But I'm not surprised by Trump's rise, and I think the entire party has only itself to blame. We are, whether we like it or not, the party of lower-income, lower-education white people, and I have been saying for a long time that we need to offer those people SOMETHING (and hell, maybe even expand our appeal to working class black people in the process) or a demagogue would. We are now at that point. Trump is the fruit of the party's collective neglect."
He concluded:
"I go back and forth between thinking Trump is a cynical asshole like Nixon who wouldn't be that bad (and might even prove useful) or that he's America's Hitler. How's that for discouraging?"
Not only are Vance's comments referring to Trump as "America's Hitler" a vulnerability for his campaign, but his evaluation of the Republican Party at the time could shed light on the viewpoints he's promoted since pursuing his political ambition.
Vance has defended the white supremacist "great replacement" theory. He's encouraged Americans to embrace the " virtues " of Kyle Rittenhouse. He's embraced anti-intellectualism and called professors " the enemy ."
Vance soon became the subject of widespread condemnation, with critics accusing him of embracing bigotry to gain power.
The thing about this revelation is that it's actually pretty solid political analysis by @JDVance1 . The @gop is & has for at least a generation been the party of working class non-college white people. This just proves again that Vance is as cynical about using them as Trump is. https://t.co/lbAja1tjud
— Joy-Ann (Pro-Democracy) Reid 😷 (@JoyAnnReid) April 18, 2022
JD Vance went from condemning the GOP's decades-long Southern Strategy & saying Trump could be "America's Hitler" to fully embracing both.

This isn't an anomaly. It's a microcosm of countless Republicans who proved their stated values were all talk. This is all an amoral grift. https://t.co/Oc9P2uqsPe
— Ahmed Baba (@AhmedBaba_) April 18, 2022
People like JD Vance have only one guiding principle in life: "How do I accumulate more power?"

They'll say anything, do anything, debase themselves, sell out their own family just to amass more power

Their only ideology is self-interest https://t.co/rI6hdQwi8r
— Lindy Li (@lindyli) April 19, 2022
So privately, JD Vance thinks Trump is "America's Hitler"as we can see 🔽 in text to his old roommate. But he is so ambitious & unprincipled that publicly he worships at Trump's feet https://t.co/DsRI2uwpU1
— Mia Farrow (@MiaFarrow) April 19, 2022
They were flabbergasted Vance actively sought the endorsement of a man he compared to Hitler.
Neither Vance or Trump have said anything about the comments yet, but Vance has released an ad touting Trump's endorsement.