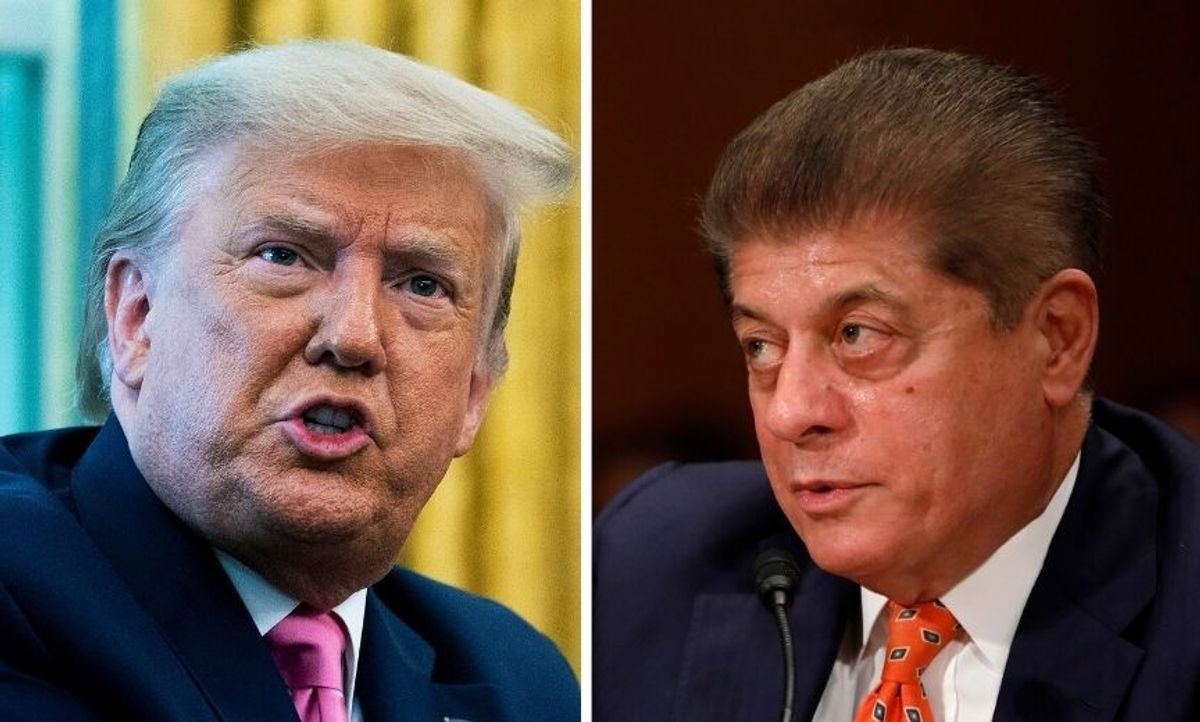 Doug Mills-Pool/Getty Images // Aaron P. Bernstein/Getty Images
Fox News legal analyst Andrew Napolitano isn't shy about his opposition to President Donald Trump. Citing the Constitution of the United States, Napolitano was a vocal supporter of both the Russia Investigation and the President's impeachment.
Now, Napolitano is speaking out against Trump's recent efforts toward so-called "law and order."
The Trump administration's Department of Homeland Security recently deployed federal troops to the city of Portland, Oregon, where protests against the murder of George Floyd by police are in their second month.
The unidentified officers began detaining protesters without cause, putting them into unmarked vehicles and taking them to undisclosed locations. There was no correspondence with local authorities.
Trump praised the team of federal officers on Monday, saying they did a "great job" at containing the protests, which he claimed were violent.
In reality, the insidious tactics only outraged more Oregonians, and the size of the protests has doubled since the officers' deployment.
Nevertheless, Trump insisted that the effort—which has since resulted in a lawsuit from the Oregon Attorney General—was a success, and that it would be implemented in other cities.
Trump said:

"We'll have more federal law enforcement, that I can tell you. In Portland, they've done a fantastic job. They've been there three days and they really have done a fantastic job in a very short period of time, no problem."
The President specifically cited cities like New York, Chicago, and Oakland.
Napolitano isn't on board with that at all.
In an appearance on Fox News, Napolitano said:

"What happened in Portland over the weekend, it was not only unlawful and unconstitutional, it's just plain wrong. Sending armed, untrained police into the streets wearing fatigues without the knowledge or consent of the local police actually caused more violence."
He continued:
"The federal government can't do what it doesn't have the authority to do, and it shouldn't do anything without the coordination of the locals."
Napolitano's take is at odds with that of acting DHS Secretary Chad Wolf, who insists that he doesn't need a state's permission to sic militarized, unidentified soldiers upon its residents.
People seem to be siding with Napolitano.
The deployment of militarized federal forces is making people uneasy, to say the least.
The militarized agents are expected to deploy to Chicago as soon as this week.