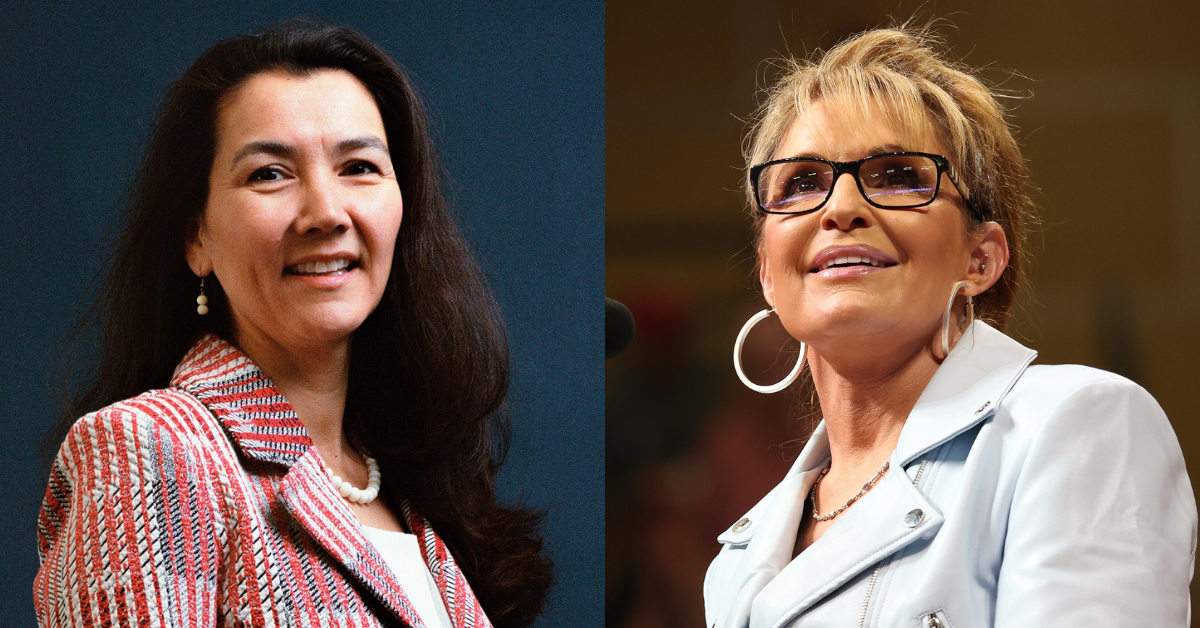 Ash Adams for The Washington Post via Getty Images; Justin Sullivan/Getty Images
Late Wednesday night, it became official: Mary Peltola, the sole Democratic candidate in an open primary field, won the at-large House seat for the state of Alaska, which was left vacant after the death of longtime Representative Don Young.
Peltola defeated her top opponent Sarah Palin by three percentage points in Alaska's first ranked choice election. She is the first Alaska Native to ever win statewide office and the first woman to hold the at-large Congressional seat in the state's history.

The win is seismic and caps a list of surprising election wins and performances by Democrats since the Dobbs decision overturned Roe v. Wade, which has angered and motivated women voters and led recently to an upset rout of an anti-abortion measure in deeply red Kansas.
To put Peltola's win in some perspective, a Democrat has not held the single at-large Alaska House Congressional seat in 49 years—by no small coincidence, the same year that Roe was first decided.

There are some takeaways that the parties are sifting through this morning. Let's review some of the larger questions and considerations.
Peltola's message resonated with voters across parties
Peltola is not a typical politician.
For starters, she declined to get into the mud with her open primary opponents, who spent much of their energy attacking one another. She has worked across the aisle consistently and considers Sarah Palin a friend, having served with her in the statehouse at the time they were both expectant mothers.
She reportedly even texted Palin on the final day of the campaign urging her to dress warmly.
Peltola told the press:
"I think respect is just a fundamental part of getting things done and working through problems."
The New York Timesdescribed her campaign as "relentlessly upbeat."
Peltola launched her campaign in a markedly local, folksy way, with her ad highlighting fish and the teachings of her native Yup'ik community.
Referencing a bipartisan rural caucus of Alaska lawmakers, she said:
"Dry fish and pilot bread—that's how I get other legislators in the room."
Her ads describe her as not only "pro-choice" but "pro-fish" because of her work to protect local salmon from foreign trawling.
And her website asks, "Do you support fish, family, & freedoms?"—in that order.
When independent candidate Al Gross placed fourth in the primary and dropped out of the race, he endorsed Peltola in part because of her deep ties to and deep care for the state.

But on key policy questions, Peltola distinguished herself from her competitors, leaning into abortion rights and climate change as issues affecting ordinary Alaskans. She vowed to defend both a woman's right to choose and the sanctity of natural habitats if elected to the House.
Palin lost because of strong negatives
It was supposed to be her big return to politics, and Sarah Palin ran as expected, meaning as an unapologetic troll.
Palin said to her supporters:
"We have been mocked and ridiculed and falsely accused and told to sit down and shut up."
"The stuff that you've heard about me—it's a lie. I'm way worse than what you've heard."
In contrast to Peltola's theme of respect, Palin demonized the opposition, claiming:
"[I]t's no longer Democrat versus Republican. This is all about control versus freedom."
Then, she added:
"It's good versus evil. It is a spiritual battle."
Donald Trump got into the act as well, endorsing Palin and campaigning for her while labeling her "legendary" at a July rally in Anchorage. Trump also rather characteristically gaffed on a phone tele-rally with her supporters by praising the job she did while Vice President.
In the spirit of MAGA, and somewhat foolishly given the ranked voting system (more on that below), Palin attacked her Republican opponent, Nicholas Begich III, as a RINO, meaning Republican In Name Only.
But voters were more likely to remember that after her party's ticket, on which she was the improbable vice-presidential nominee, lost to Obama/Biden in 2008, Palin abandoned the state outright.
As The Guardian drily noted:
"Since then, she has starred in several reality TV specials and in The Masked Singer, dressed as a fuzzy pink bear."
Her approval ratings in the state were underwater by the time of the general election for the open House seat, with 51 percent of voters saying they didn't like her.

Ranked choice voting worked in favor of the moderate
Peltola's humbler, grassroots campaign was enough to put her into first place in the first round of voting, ahead of Palin by a surprising nine percentage points. But Palin was still predicted by many to pull ahead given that the third place candidate would have his votes redistributed based on the second choices made by his voters.
But things didn't go the way people expected.
According to Axios, 30 percent of Begich's voters listed Peltola as their second choice instead of Palin, apparently regarding the more moderate Democrat as preferable to the bombastic Trump pick. Another 21 percent of his voters didn't list any candidate at all as their second choice.
That meant there wasn't enough support from Begich voters for Palin to pull into the lead. It turns out, fiercely independent-minded Alaskans showed that they could in fact vote very independently from party affiliation.
Unsurprisingly, even though a largely Republican leaning base of voters approved an overhaul of Alaska's voting system in 2020, including a switch to ranked choice voting that was chiefly championed by a former Republican state legislator, today the GOP is blasting that very system.
This reminds me a bit of how Pennsylvania Republican legislators sued to invalidate their own mail-in voting law in that state.
Arkansas Republican Senator Tom Cotton, after seeing the results of the Alaska general election, blasted ranked choice voting as "a scam to rig elections."
He added, falsely:
"60% of Alaska voters voted for a Republican, but thanks to a convoluted process and ballot exhaustion—which disenfranchises voters—a Democrat 'won'."
There is more than a little irony to Republican leaders warning about voter disenfranchisement, particularly in a system specifically designed to not let votes be wasted or discarded.

Republicans had better learn two things, and quickly, from this race if they want to seize back Congress.
First, when given a choice between an extremist MAGA politician with high negatives and a moderate Democrat, many "Republican" voters will choose the Democrat, just as they did in the Alaska special election.
In a general election without ranked choice voting, this could manifest itself in low turnout for the extremist—equivalent to the 21 percent of would-be Republican voters who would rather vote for no one than for Sarah Palin.
Second, reproductive rights are very much on the ballot and likely will motivate huge numbers of pro-choice voters in the wake of Dobbs, enough to tip some red districts blue, even when the district comprises an entire state.
Peltola will face-off again with the top primary winners in November to seek to hold onto her newly won seat, so voters will get a second chance to express their views on the candidates and these issues in just a matter of months.
But for now, it's worth noting that Sarah Palin lost to Peltola by three points in a state that voted for Donald Trump by 10 and was widely predicted as a GOP hold by +8 points.
That's a huge swing, and Cook Political has now moved the entire at-large seat from "Likely R" to "Toss Up."