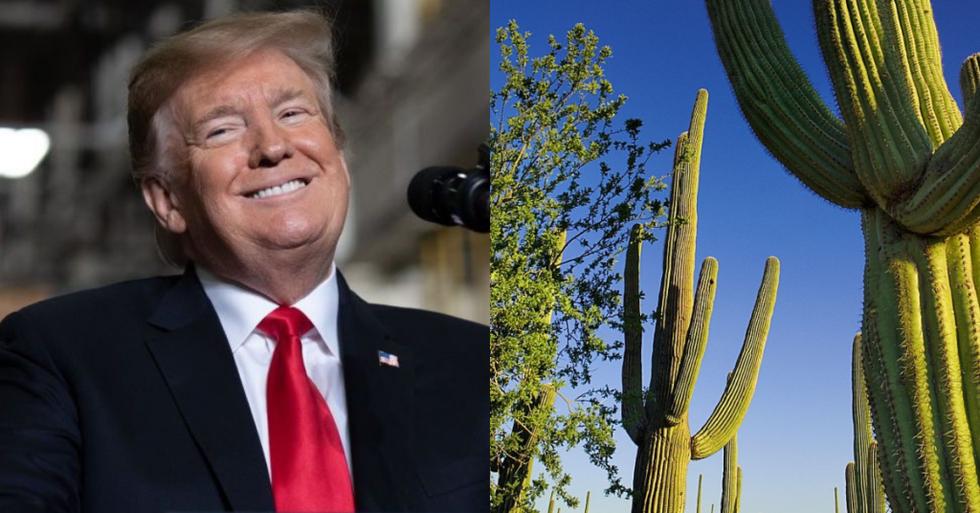 ; FlowerPhotos/Universal Images Group via Getty Images
Saguaro cacti have a relatively long lifespan—often exceeding 150-175 years with their first arm sprouting around age 75-100—and can reach 40 feet in height. Thanks to conservation efforts, the once endangered plant native to the Sonoran desert of Arizona and parts of eastern California has gone from endangered to thriving.
Harming or vandalizing a saguaro in any manner is a class four felony and punishable with a possible 3 year, 9 month maximum sentence.
Unless you're destroying them to make way for President Donald Trump's border wall.
With Trump's wall announcement came news it would be exempt  from all environmental regulations and protections due to Trump's "national emergency."
Footage of what that means was made public as video of crews destroying hundred year old seguaros in the Organ Pipe Cactus National Monument spread on social media.
The footage shot by Kevin Dahl—Arizona Senior Program Manager of the National Parks Conservation Association (NPCA)—soon drew outrage. Army Corps officials previously stated the agency would relocate saguaros, organ pipe, ocotillo and other types of cacti out of the wall construction site.
But when Dahl visited Organ Pipe Cactus National Monument bulldozers were hard at work knocking down the multi-ton saguaros and other desert plants and piling them all into slash piles.
Dahl said:
"At that point, what they were doing was destruction, not construction."
Dahl also spoke of the Tohono O'odham Nation whose remaining tribal lands lie just east of the national monument.
Hon'mana Seukteoma, an Indigenous activist, stated:
"In O'odham stories, ha:sañ (saguaro cactus) are our people. They give us so many blessings and we respect them so deeply."
"Seeing this ha:sañ ripped out of the ground for this border wall construction breaks my heart. The Tohono O'odham Nation doesn't want this border wall! We don't want this border wall for the destruction and desecration of the land it will bring to us."
And more than saguaros are in peril.
In addition to environmentalists, archeologists and anthropologists are also fighting to preserve the 16,000 years worth of historical sites also in the wall's path of destruction.
As mentioned, destruction or vandalism of a saguaro is a felony. Entering the United States without proper paperwork is at most a misdemeanor and not illegal if the person is seeking asylum.
The series by documentarian Ken Burns, The National Parks: America's Best Idea, is available here.
Keep reading...Show less