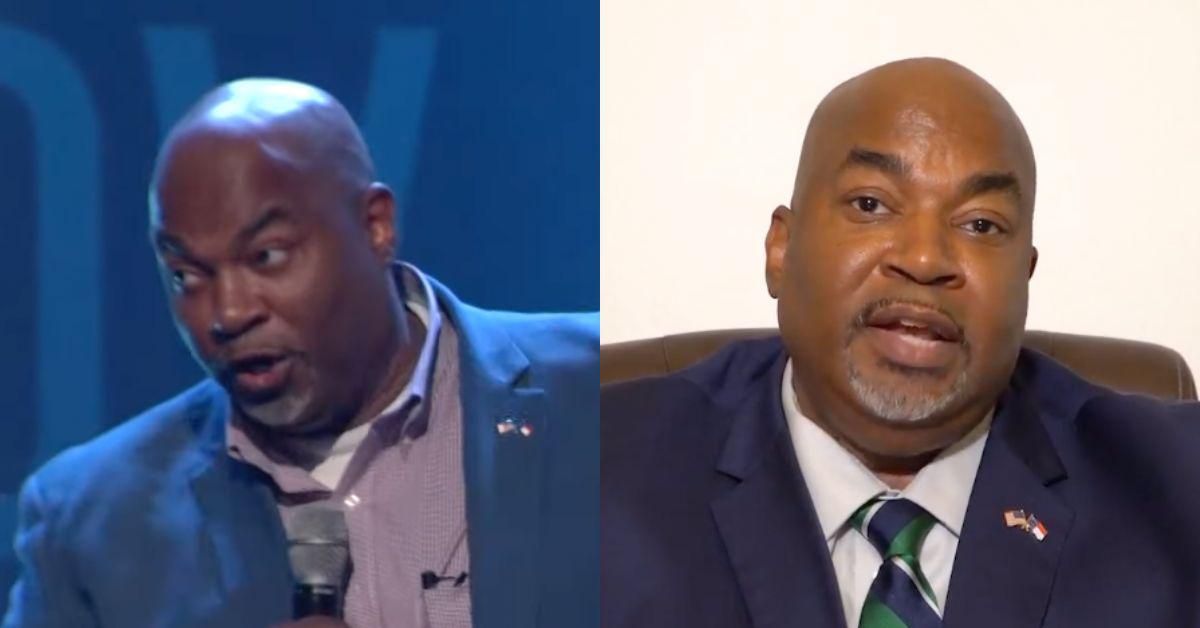 Freedom House Church/YouTube; Lieutenant Governor Mark Robinson/Facebook
Republican North Carolina Lieutenant Governor Mark Robinson is under fire after a sexist sermon claiming only men should be allowed in leadership positions.
Robinson, who is also a megachurch pastor and is believed to be planning a run for governor of the state in 2024, told his Charlotte-area congregation "we are called to be led by men" and told his congregation he knew the comments would get him "in trouble."
In the wake of the controversy around his sexist comments, Robinson posted a video statement to Facebook in which he claimed his words were misinterpreted and cited his own mother as the greatest leader he's ever known.
See it below.

In his statement, Robinson used his mother as proof that he's not sexist.
He said:

"For those of you all who know my life story you know that the person I count as the greatest hero of my life, it is my mother."
Robinson went on to extol the "mighty way" his mother "stepped up" to support him and his siblings after his father's death before claiming his words were being twisted into a sexist screed by "reporters."
He said:
"For someone to insinuate that I don't believe that women can be leaders in their homes and in their communities and in their churches and in their state and their nation is absolutely 100% ridiculous."
But Robinson's comments in the sermon were pretty hard to twist.
He told the congregation at Charlotte's Freedom House Church:
"We are called to be led by men."

"God sent women out … when they had to do their thing, but when it was time to face down Goliath, [he] sent David.
"Not Davida—David."
He went on to say God chose Moses to lead the Israelites, "not Momma Moses—Daddy Moses" before going on to chide people for "listen[ing] to the doctrine of social justice instead of listening to the doctrine of Jesus Christ."
And just in case his views were not crystal clear, he added:

"My God tells me that when I face adversity that, number one, I am to stand up like a man! M-A-N!"
In his Facebook video, Robinson concluded his comments by chiding the reporters supposedly twisting his words for not focusing on real problems like gas prices and baby formula shortages.
Robinson's Facebook response did little to assuage the controversy surrounding his comments.
People lambasted his response on Twitter.
"We are called to be led by men. God sent women out when they had to do their thing, but when it was time to face down Goliath, (he) sent David. Not Davita — David." - Mark Robinson, literally on video https://t.co/6UsIHyv3BS
— Sara Pequeño (@sara__pequeno) June 7, 2022
Day late and a dollar short. We know exactly who you are.
Want to comment on why this guy talks about common-sense gun laws? This affects us, but it's a no from you. https://t.co/QUG3nOZJY9
— Betsey Duggins (@DugginsBetsey) June 7, 2022
I heard message; it had vibes of hate which matches past comments by u. Had AR love and something against social programs. some folks become self-sustained and gave back using them. You spoke of Moses and David signifying God only called men. What about Judge Deborah and more?
— Joyce (@4RealDeal) June 7, 2022
So, the reporters should focus on the issues that you, the Lt Gov of our state, are not?
— Richard Broaddus (@RichardBroaddus) June 7, 2022
We have you on video saying QUOTE:

"God calls men, not women, to lead."

not only are you a misogynist bigot, you're a bald-faced liar too#ncpol https://t.co/0EyIkhkBjd
— Cackilack Dev (@CackilackDev) June 7, 2022
Response to @TravisFain's very good story (link in comments) on things this NC 2024 gov hopeful has said lately. Whenever Robinson says something controversial, he calls attention to it ("I probably shouldn't say this"), so complaints about attention are ??? #ncpol #ncga #wral https://t.co/uRuFeDv4EF
— LauraLeslieWRAL (@LauraLeslieWRAL) June 8, 2022
Robinson is no stranger to controversy over his statements.
In public comments and social media posts he has proudly crowed about his ownership of AR-15 assault rifles, suggested former First Lady Michelle Obama is secretly a man, called gay people "filth" and inferior and denied the existence of systemic racism and climate change.