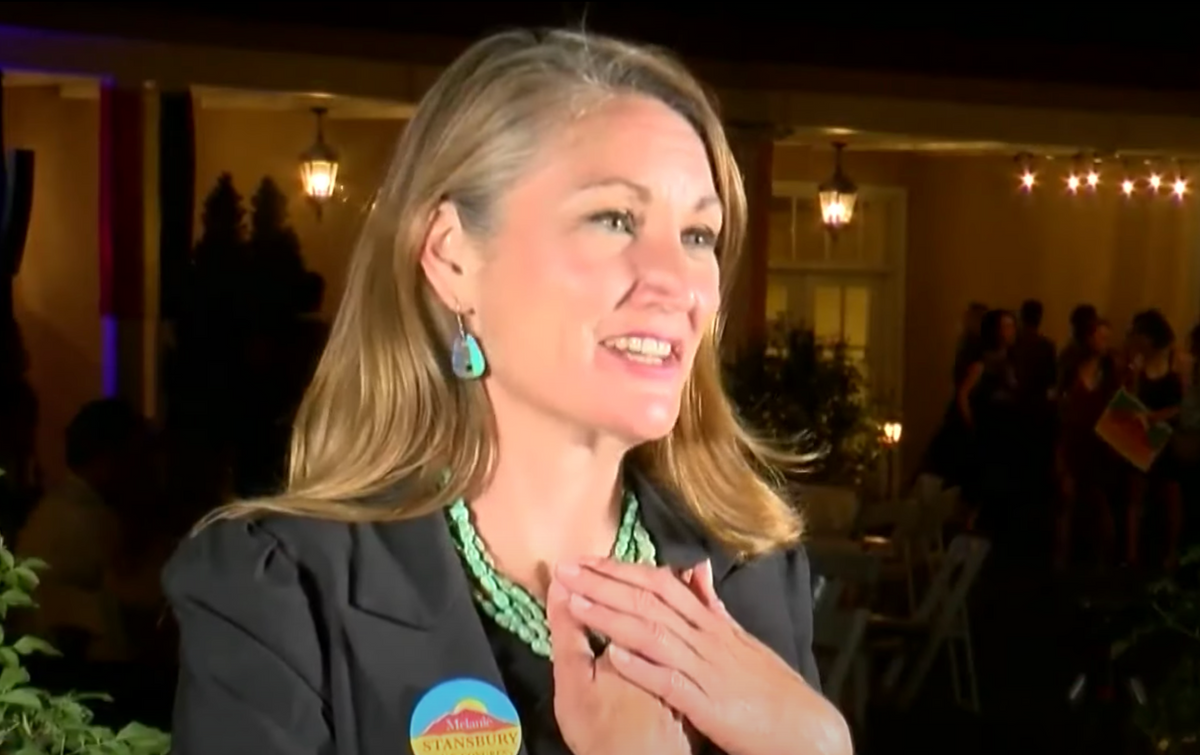 KRQE
Democrats are breathing a sigh of relief and even sporting wide grins this week as they digest the numbers from New Mexico First District's special election. State Rep. Melanie Stansbury crushed Republican state senator Mark Moores by a margin of nearly 25 points, with 60.3 percent of the vote for Stansbury and just 35.5 for Moores.
While it's premature to draw many conclusions from the nation's first head-to-head special federal election (the others have been open elections, not one Democratic candidate facing one Republican one), there are some interesting takeaways about the numbers, the voting patterns, and the themes that were tested before the voting public.
New Mexico's First District, where the election was held to replace the seat vacated by now-Interior Secretary Deb Haaland, is a solidly blue one. Absent a catastrophe, analysts and party leaders presumed the Democrats would hold it; the key question was by how much.
If Democrats underperformed there, it would be taken as a sign that they're further losing the messaging war and failing to build the enthusiasm needed for the 2022 midterms, which historically have cut against the party in power. With the GOP needing to flip just five seats to make Kevin McCarthy Speaker, all eyes were on the NM-1 results as they came in. Any movement toward the GOP could translate into disaster in 2022.
To set the expectations bar, election analysts typically look at how strongly a particular district went in the most recent elections. In New Mexico's First, Joe Biden won by 23 points in 2020, and then-Rep. Deb Haaland won by 16. Hilliary Clinton carried it by 17 points in 2016. The fact that Stansbury beat all of those margins with a 25 point spread was heartening to Dems. This means that the base still rallied, relative to Republican voters, and importantly turned out, even when it was already clear who would win, and even when no presidential race was at stake.
Another metric analysts review is called "partisan lean," meaning the average margin difference between how the district votes and how the country votes overall. In the case of the NM-1, that "lean" is 18 points in favor of the Democrats, according to the number crunchers at FiveThirtyEight. The spread put up by Stansbury beat this handily, confirming that Democratic enthusiasm in this special election was actually greater than the historical average.
In 2017, we witnessed a great deal of Republicans underperform in the federal special elections, which became a harbinger for the Blue Wave in 2018. By contrast, Democrats weren't performing nearly as strongly in special elections in 2019, which hinted that they might lose seats in 2020, as they did. These early tests are often key to ascertaining the mood of the country as well as voter enthusiasm.
A further takeaway relates to voting behavior. Both sides were watching the patterns here closely. As they did in 2020, Democrats trounced Republicans in early voting, with around 54,000 early Dem ballots compared to 28,000 GOP ones, with another 10,700 undeclared. And as they did in 2020, the GOP voted more heavily on Election Day, closing the gap a bit. The heavy use of early voting by Democrats in this race may lend urgency to efforts by the GOP, especially in the states they control, to curtail such options further in order to blunt the advantage Democrats have successfully built with early voting.
Another Democratic concern coming out of 2020 had been an erosion of support from Latino voters, especially in Texas. New Mexico's First is also a heavily Hispanic district, and a marked shift there by those voters could spell big trouble in 2022. While the racial breakdown of voters isn't yet known, the fact that Stansbury put up such large numbers indicates that no substantial erosion among these voters occurred, even when they were asked to support a non-minority candidate like Stansbury, and despite the appeal of a law-and-order candidate like Moores.
Finally, party strategists will be reviewing the key themes the two sides tested out. Republican Moore is a seasoned, conservative state senator and a friend to the oil and gas industry. Stansbury is a state representative who worked as an environmental policy expert and as a White House aide during the Obama administration. Their candidacies unsurprisingly drew some stark contrasts.
Moores took a tough-on-crime approach in the race—one that almost completely dominated his rhetoric. He hoped this theme would resonate well in Albuquerque, which is seeing rising crime rates and violence. He blasted Stansbury in TV ads and the debates, charging that she wants to "defund the police" after she expressed support for a proposal from criminal justice reformers that would reduce funding for the police, abolish ICE, and close federal prisons. Stansbury was put on the defensive, having to run her own ads featuring a retired sheriff's deputy to shore up her pro-law enforcement record while pointing to her own legislative record of supporting public safety.
Stansbury emphasized broader themes of economic fairness and fighting climate change, running a largely positive campaign, especially toward the end of her campaign when her coffers were full and her opponent's nearly empty.
In the end, Moores' attacks failed to narrow the advantage at all. Nor were they enough to overcome Stansbury's strong cash advantage, which was buoyed by support from the national Democratic Party as well as individual donations from Democrats eager to show a big win in this important first head-to-head test. A last-minute push by national figures including Jill Biden, who made a personal appearance in Albuquerque for Stansbury, also provided her campaign a strong tailwind going into the finish.
The parties will be studying the relative weakness of Moores soft-on-crime attack and the more successful but nuanced support for police reforms Stansbury raised in her defense. These might give some GOP candidates pause as they and their consultants decide whether or not to go all-in on crime as a theme. The mood of the nation may have shifted in the wake of the George Floyd murder and subsequent nationwide protests. And with the reopening of the nation and strong, positive approval ratings for the Democrat's legislative agenda, negative or fear-based attacks might well backfire, even in higher-crime districts like New Mexico's First.