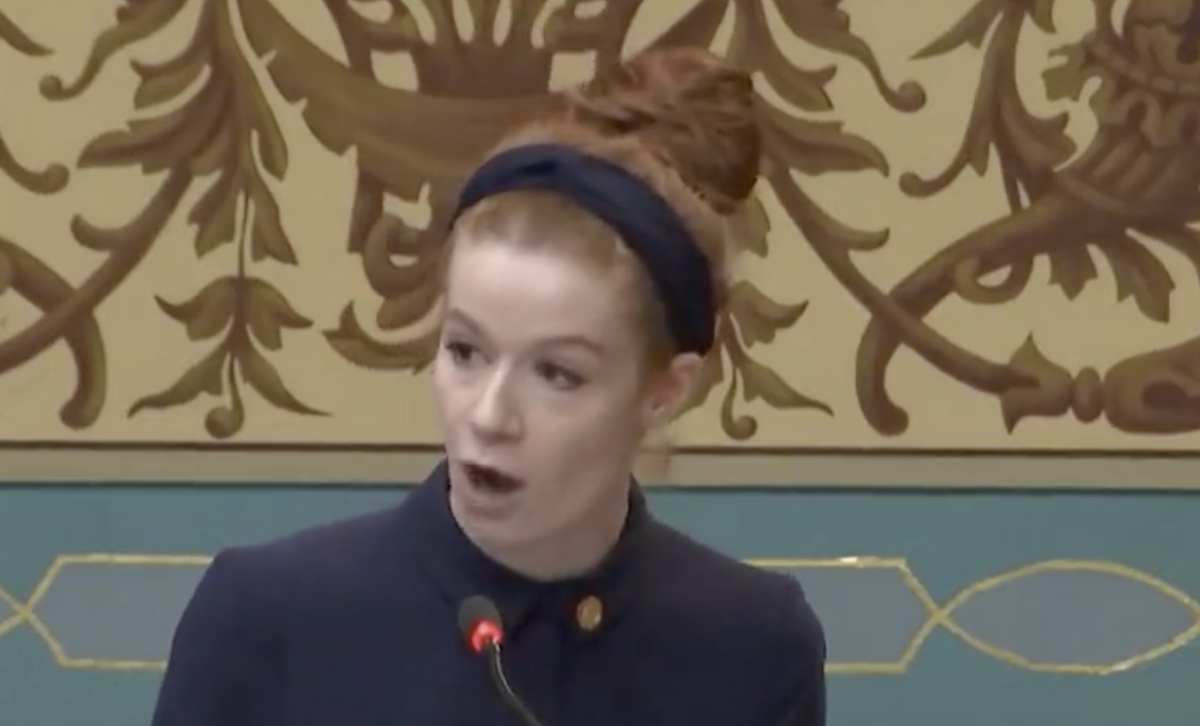 @MalloryMcMorrow/Twitter
As Republican elected officials across the country continue to target LGBTQ children, the homophobic trope that LGBTQ people "groom" children to be LGBTQ themselves has gotten a grim revival.
Christina Pushaw, the spokesperson for far-right Florida Governor Ron DeSantis, attempted to defend the state's "Don't Say Gay" bill, which imposes broad bans any "instruction" of sexuality and gender in early grades, by claiming its critics were "groomers" and even pedophiles. This same rhetoric is now routinely lobbed by other right-wing media personalities and members of Congress.
The trope is now part of the discussion in the Michigan State Senate after right-wing state senator Lana Theis attacked her Democratic colleague Mallory McMorrow in a fundraising email.
Invoking the conservative moral panic over LGBTQ people and critical race theory, Theis wrote:
"These are the people we are up against. Progressive social media trolls like Senator Mallory McMorrow (D-Snowflake) who are outraged they can't … groom and sexualize kindergarteners or that 8-year-olds are responsible for slavery."
The email came after Theis delivered an incendiary invocation featuring similar claims before the Senate session that prompted three Democratic state senators, including McMorrow, to walk out of session in protest.
McMorrow recently addressed the matter on the Senate floor in a blistering speech calling out Republican hysteria over critical race theory and LGBTQ young people.
McMorrow said in part:

"I didn't expect to wake up yesterday to the news that the senator from the 22nd District had, overnight, accused me by name of grooming and sexualizing children in an email fundraising for herself. So I sat on it for a while, wondering 'Why me?' And then I realized because I am the biggest threat to your hollow, hateful scheme, because you can't claim that you are targeting marginalized kids in the name of 'parental rights' if another parent is standing up to say no."
She then accused Theis of targeting her for pushing back against false accusations that critical race theory teaches white children to blame themselves for slavery and to consider themselves oppressors.
After describing ostracism she and her family faced from church officials in her youth, McMorrow continued:

"So who am I? I am a straight, white, Christian, married, suburban mom who knows that the very notion that learning about slavery or redlining or systemic racism somehow means that children are being taught to feel bad or hate themselves because they are white is absolute nonsense. No child alive today is responsible for slavery. No one in this room is responsible for slavery, but each and every single one of us bears the responsibility for writing the next chapter of history."
McMorrow's rebuttal was met with widespread praise on social media.
Others encouraged their followers to watch it as well.

These conservative attacks are unlikely to subside any time soon, but with rebuttals like McMorrow's, it could prove harder to convince voters than they anticipated.