After Christine Geiger, owner of Studio 8 Hair Lab in Traverse City, Michigan, posted that anyone who 'identifies as anything other than a man/woman' is 'not welcome' at her salon, she met instant backlash.
12 July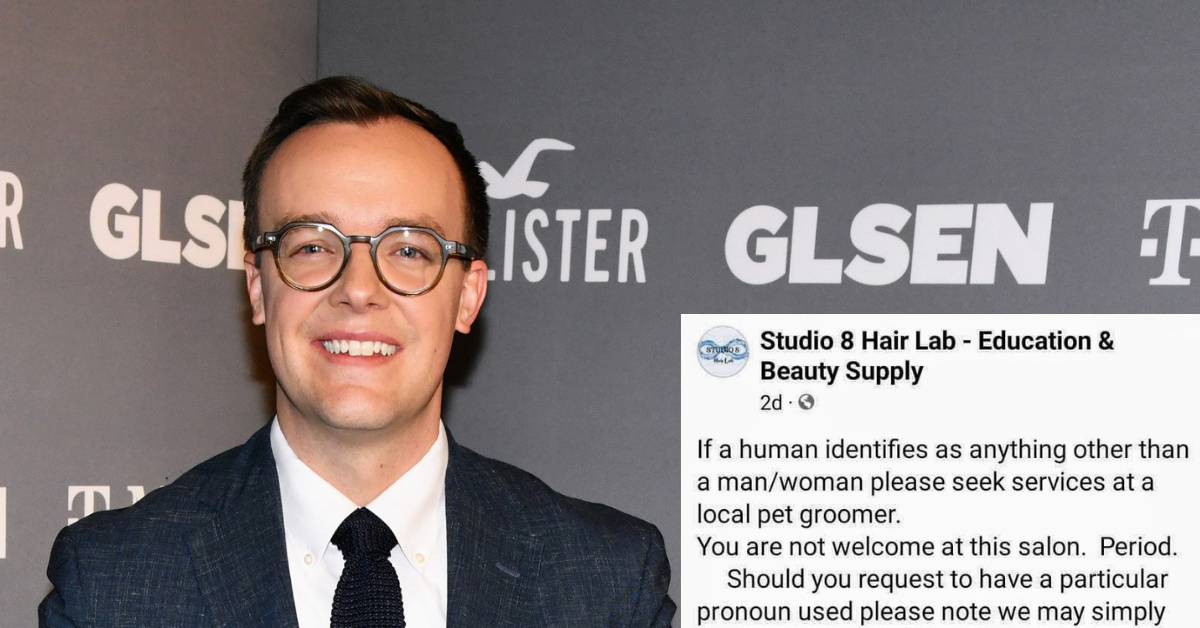 Craig Barritt/Getty Images for GLSEN; Studio 8 Hair Lab/Facebook
Author, educator and activist Chasten Glezman Buttigieg added his voice to a chorus decrying a hair salon owner in his birthplace of Traverse City, Michigan.
Christine Geiger—owner of Studio 8 Hair Lab of Traverse City—decided to join the ranks of business owners posting public declarations of their intent to discriminate on social media, then immediately crying victim when their actions have consequences.
Her statement quickly drew local, then national, then international attention. Glezman Buttigieg was born in Traverse City, Michigan and grew up in nearby Chums Corner. The Buttigiegs also bought a home in Traverse City in 2022—after their children were born—to be closer to Chasten's parents.
Chasten Buttigieg posted his response to Christine Geiger's declaration of discrimination on Facebook...
...and Twitter.
The northern Michigan salon owner took to Facebook to publicly declare her business' intent to discriminate in a poorly worded rant. She wrote her Traverse City Studio 8 Hair Lab—as there are several independent salons also using the Studio 8 name—will "refuse services" for anyone who doesn't identify as a "man/woman" or anyone who uses pronouns.
It seems she was going for homophobia and transphobia, but that could have been conveyed more clearly if it's going to be her new business model.
After backlash, Geiger deleted her Facebook business page and made the business' Instagram account private, but not before screenshots were taken of her rant.
You can see Geiger's emoji-laden Studio 8 Hair Lab Facebook post here: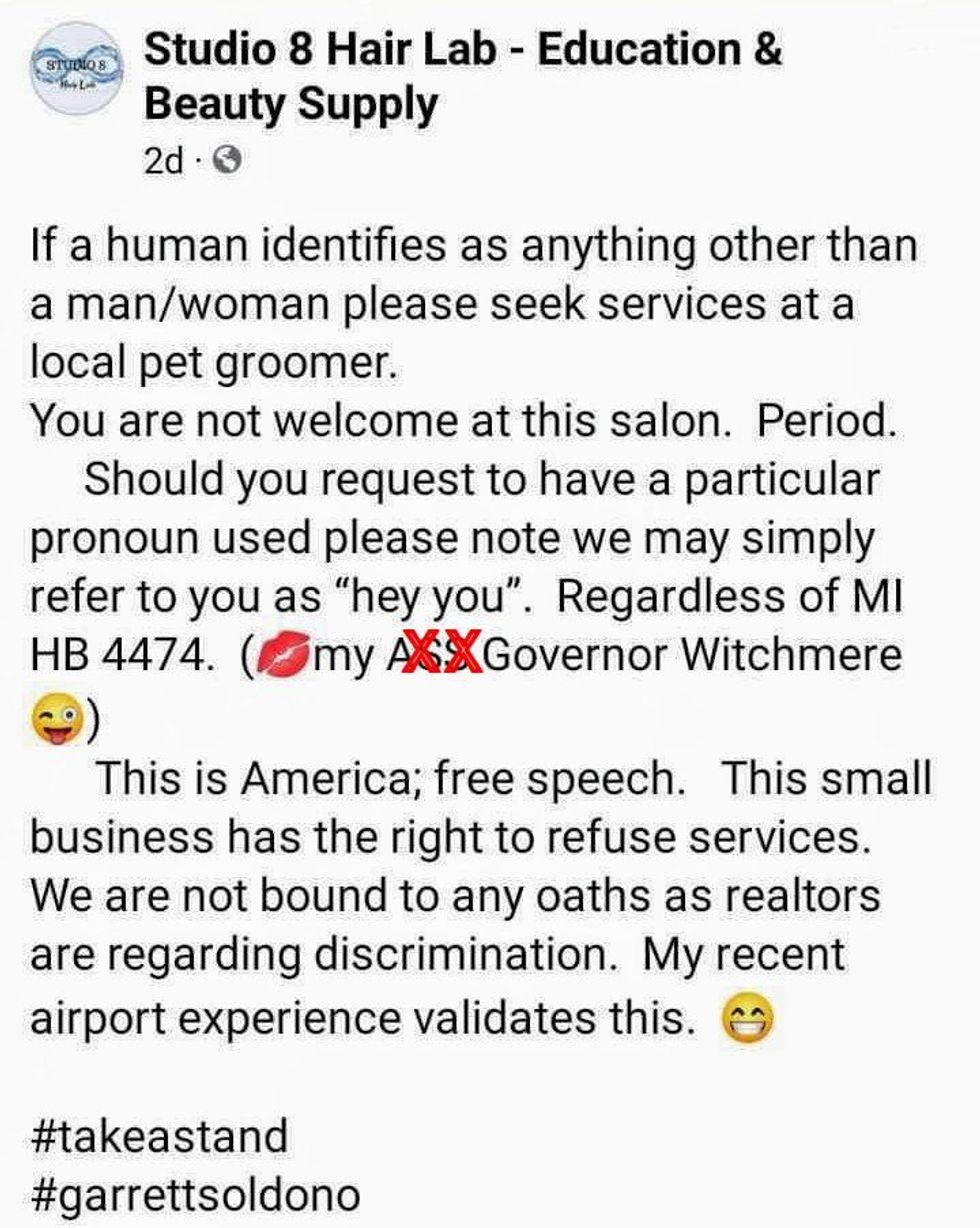 Studio 8 Hair Lab/Facebook
Geiger wrote:
"If a human identifies as anything other than a man/woman please seek services at a local pet groomer. You are not welcome at this salon. Period."
"Should you request to have a particular pronoun used please note we may simply refer to you as 'hey you'. Regardless of MI HB 4474. (💋[kiss] my A** Governor [Gretchen Whitmer] Witchmere 😜)"
Local station 9&10 News contacted Geiger who said she is taking a stand against being forced to use pronouns such as: they/them, he/him and she/her. This leaves just I/me and you as acceptable pronouns for customers at Studio 8 Hair Lab.
Geiger's manifesto continued:
"This is America; free speech."
While Geiger does have the right to speech free of federal government sanction—except as prohibited by law—she doesn't have freedom from the consequences of her sounding off on social media on her official business page.
This is an area that proves confusing for many who decide to post a public declaration of their intent to discriminate. After their business suffers they often claim their free speech has been violated.
But the First Amendment to the United States Constitution doesn't prohibit other private citizens from responding to their free speech nor force people to continue to support the free speaker's business.
Geiger finished her declaration off with unexplained references to realtors and airports followed by an attempted shout out to Republican right-wing politician Garrett Soldano.
But she misspelled his name in her hashtag #garrettsoldono. Soldano—with an a—founded Stand Up Michigan to protest pandemic protocols then ran for governor in 2022, but he lost in the GOP primary.
Geiger concluded:
"This small business has the right to refuse services. We are not bound to any oaths as realtors are regarding discrimination. My recent airport experience validates this. 😁"

"#takeastand #garrettsoldono"
As feedback for her business model poured in, Geiger updated the description on her business' now private Instagram page to read:
"A private CONSERVATIVE business that does not cater to woke ideologies."
She also attempted to clarify her stance in a Traverse community Facebook group with the comment:
"I am admitting that since I am not willing to play the pronoun game or cater to requests outside of what I perceive as normal."
She later referred to the LGBTQ+ community as pedophiles, parroting Christian nationalist rhetoric about groomers. Geiger then attempted to backpedal by claiming she supported "LGB" but not "TQ."
In addition to Buttigieg's response, Traverse City state Democratic Representative Betsy Coffia also denounced Geiger's declaration.
In an official statement, Representative Coffia wrote:
"To compare our LGBTQ+ neighbors to animals and pedophiles is breathtaking hate and bigotry from a studio in my community. It is also dangerous because it dehumanizes fellow Michiganders at a time when violence against LGBTQ+ residents simply for who they are is already on the rise."
"Had this salon owner read the bill she references, she would have seen they in no way criminalize the use of wrong pronouns; the bill protects every Michigander from hate-based violence and ensures accountability and justice for all, while specifically exempting constitutionally protected speech."
"The statements posted online perpetuate hate that has no place in Traverse City or anywhere else in Michigan. I will continue doing everything in my power, at home and in the Capitol, to ensure the rights of all Michiganders are protected and upheld. It is all of our responsibility to ensure Michigan is a welcoming and safe place for everyone."
And Traverse City's LGBTQ+ organization Polestar issued this statement:

"Studio 8 Hair Lab's recent comments comparing members of the queer community to animals are not welcomed in Traverse City, Period."
"Hate has shown time and time again to be a losing business strategy and we must not allow this blight to take root in our town."
"Statements like the one from Studio 8 undermine the hard work that has been put in to make Traverse City the absolute best that it can be."
People on Facebook also had harsh rebukes for Geiger.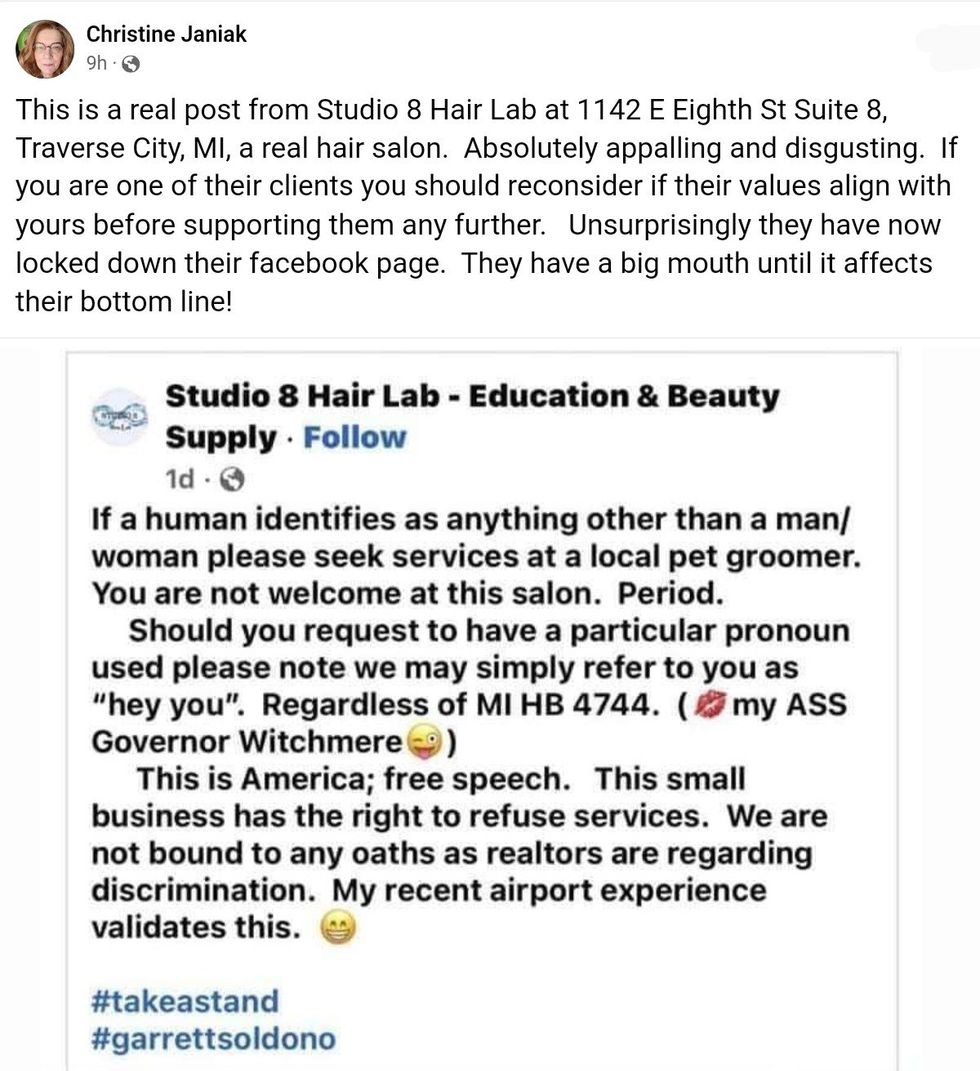 Christine Janiak/Facebook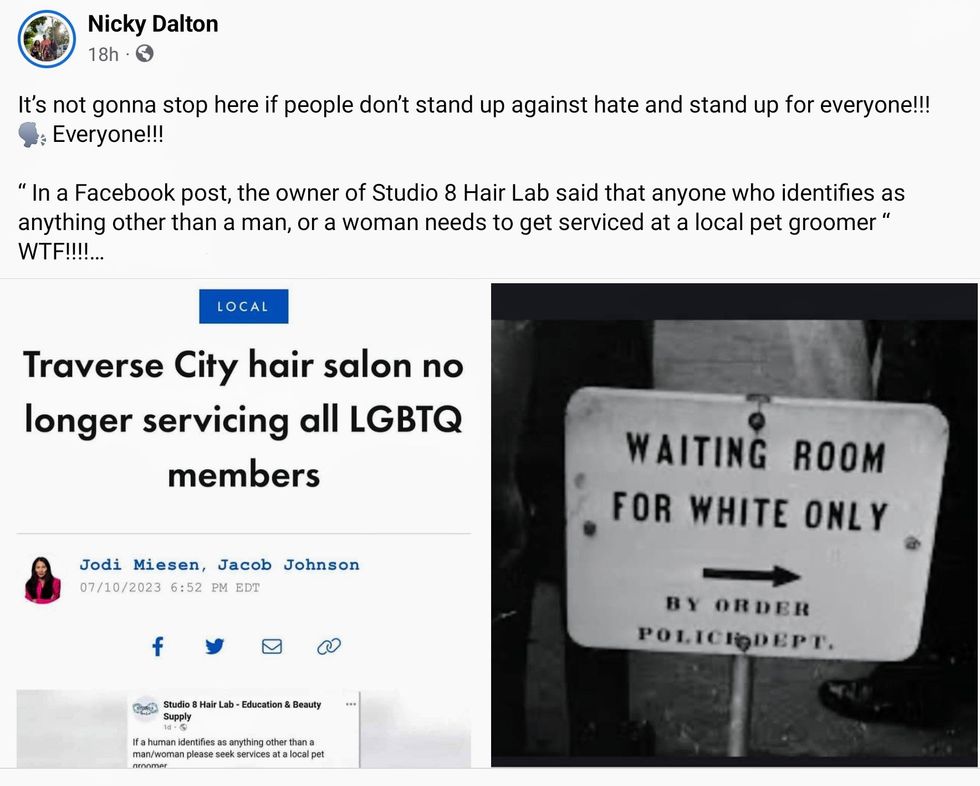 Nicky Dalton/Facebook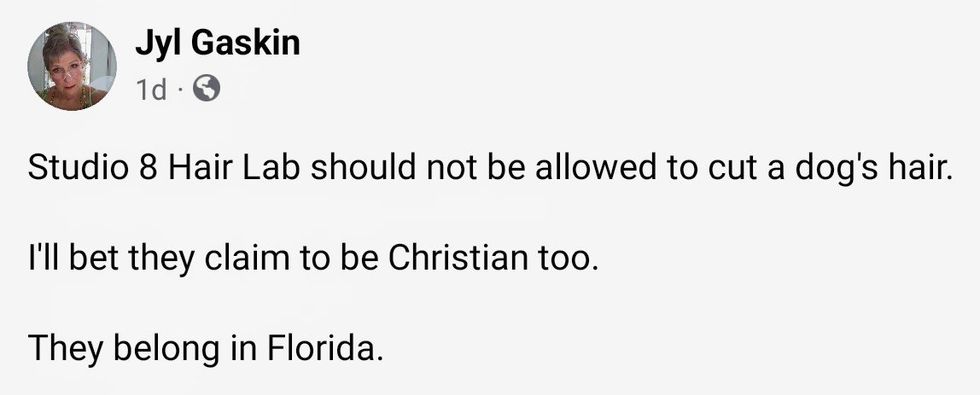 Jyl Gaskin/Facebook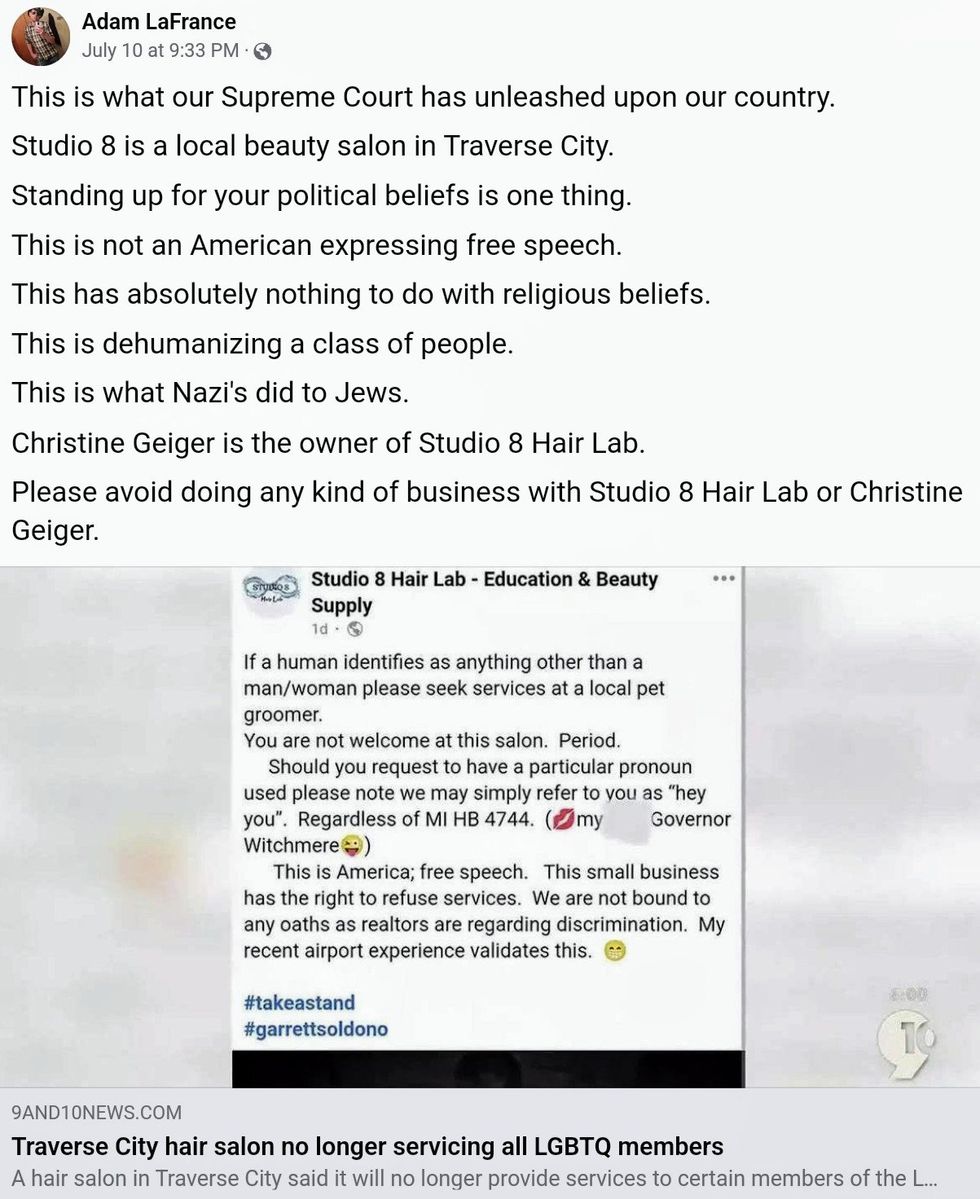 Adam LaFrance/Facebook
Despite the uptick in hate speech on Elon Musk's social media site, Geiger was also criticized on Twitter.
And despite Geiger's claim she is above the law...
How Geiger's declaration will affect her business' bottom line is unknowable at this time.

She is certain to have supporters among her fellow bigots, but will there be enough to sustain her business?
Only time will tell, but the track record for her predecessors doesn't bode well unless she starts serving chicken sandwiches.