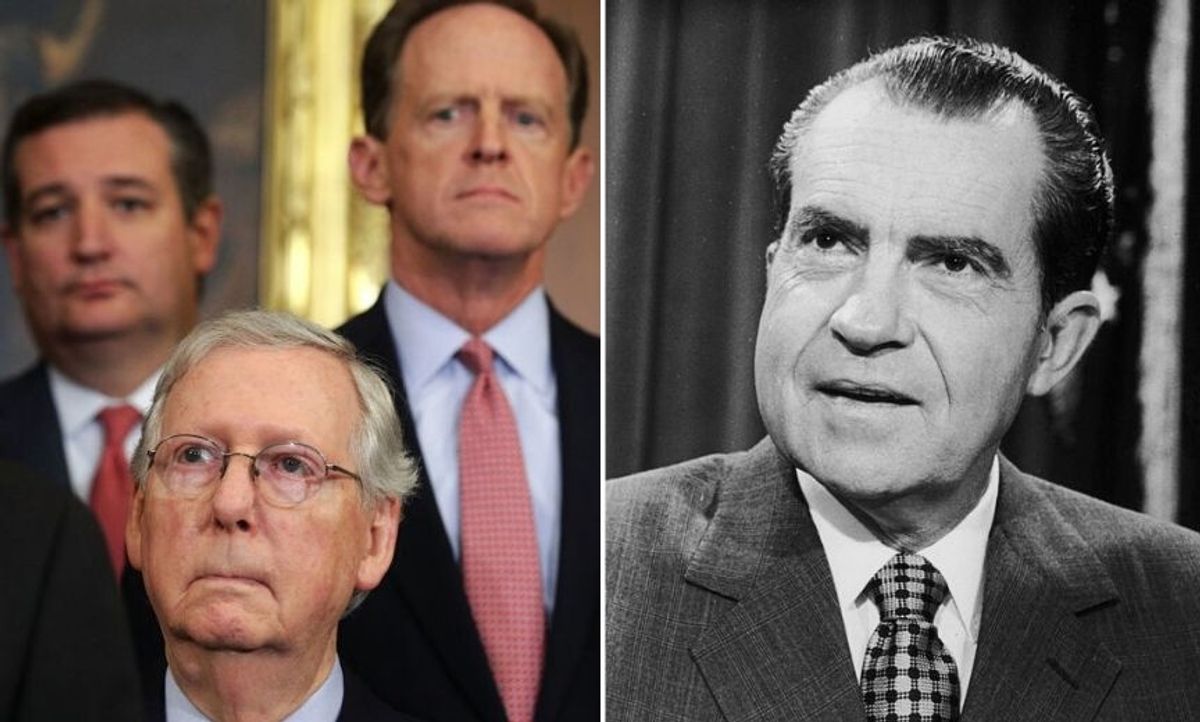 Alex Wong/Getty Images // Hulton Archive/Getty Images
If you've been following the impeachment inquiry and subsequent Senate trial of President Donald Trump, you've heard lawmakers remind viewers that Trump's impeachment—the third ever impeachment of a U.S. president—is historic.
Now, a new article from Just Security is proving them right by bringing up headlines from the obituaries of Nixon-era politicians.
Republican former President Richard Nixon was never officially impeached. The House of Representatives opened an impeachment inquiry and the House Judiciary Committee—including a third of its Republicans—voted in favor of three articles of impeachment against him.
Before the articles could go to the House floor for a vote, Republican lawmakers told Nixon that his impeachment and conviction were an inevitability and pressured him to design, which he ultimately did.
Though Nixon resigned before his official impeachment, the moment defined many of the lawmakers who oversaw it when they passed away decades later, as indicated by their obituary headlines:
"Former Rep. Joseph Maraziti, 78, Defender of Nixon on Watergate"
"Wiley Mayne; House GOP Member Who Voted Not to Impeach Nixon"
"Sandman, Nixon Supporter, Dies"
"Lawrence J. Hogan Sr., Md. Republican Who Called for Nixon's impeachment, Dies at 88"
"M. Caldwell Butler, a Key Vote Against Nixon, Dies at 89"
"R. McClory; Backed Nixon's Impeachment"
"Thomas Railsback, Congressman Who Broke with GOP to Back Nixon Impeachment, Dies."
"Charles Wiggins, 72, Dies; Led Nixon's Defense in Hearings"

Senators will soon face a critical vote on whether or not to allow a debate to hear witnesses and whether or not to subpoena firsthand witnesses like former National Security Advisor John Bolton, who recently made explosive allegations against the President in an upcoming memoir.
While most Republican Senators are staunchly against hearing additional witnesses, some Republicans—like Senators Mitt Romney (UT) and Susan Collins (ME)—are signaling a vote in favor.
The vote could prove as consequential to their legacy as it was for Republicans in the time of Nixon.
The stain will never leave their family names. Ever. https://t.co/OIB84zOqlK

— Lincoln's Bible (@Lincoln's Bible) 1580331976.0
All the perfumes of Arabia cannot sweeten their little hands and here we go again.... https://t.co/9UBrnfZWq4

— Fresh Hell (@Fresh Hell) 1580334359.0
History has its eyes on you, Senators. https://t.co/e9r4J7Ak5j

— Indivisible MN-03 (@Indivisible MN-03) 1580326626.0
#GOPSenators what is yours going to say about you ? https://t.co/Qn7LEuoSax

— John Reese (@John Reese) 1580334184.0
.@SenatorBurr @SenThomTillis Think how you want to be remembered. Think about it now. Because your day to choose i… https://t.co/4Kddhb6N4z

— David Foulser (@David Foulser) 1580334201.0
History will note.... https://t.co/eZh1iTBROG

— Amanda Weaver (@Amanda Weaver) 1580333977.0
GOP Senators ought to take note: How they vote on whether to allow witnesses into the trial and whether to acquit… https://t.co/mEz3RQnFk1

— Defend American Democracy (@Defend American Democracy) 1580334620.0
@LindseyGrahamSC @senrobportman @tedcruz @RandPaul Share this with your colleagues. Just in case you're thinking th… https://t.co/MWuKICxeoH

— Lynne Matlack (@Lynne Matlack) 1580334478.0
Senators have a day and a half left of questioning the House impeachment managers and the President's defense team. A vote on whether to proceed in the effort to hear from witnesses is expected Friday.
Keep reading...Show less