[DIGEST: CBS, Sports Illustrated]
San Francisco 49ers quarterback Colin Kaepernick made headlines for staying seated during the singing of national anthem last week. When asked why he refused to stand, he replied: "I am not going to stand up to show pride in a flag for a country that oppresses black people and people of color. To me, this is bigger than football, and it would be selfish on my part to look the other way. There are bodies in the street and people getting paid leave and getting away with murder." The NFL issued a statement shortly afterward saying that players are "encouraged but not required to stand" during the anthem, but Kaepernick's protest immediately drew criticism from football fans as well as his fellow sportsmen.
---
One of Kaepernick's harsher critics is New York Giants wideout Victor Cruz, who said that while he does not dispute Kaepernick's right to protest, he would "respect the flag." The "flag is the flag," Cruz told reporters. "Regardless of how you feel about things that are going on in America today, and the things that are going on across the world with gun violence and things of that nature, you've got to respect the flag, and you've got to stand up with your teammates. It's bigger than just you, in my opinion… I think you go up there, you're with a team, and you go and you know you pledge your allegiance to the flag and sing the national anthem with your team and then you go about your business, whatever your beliefs are."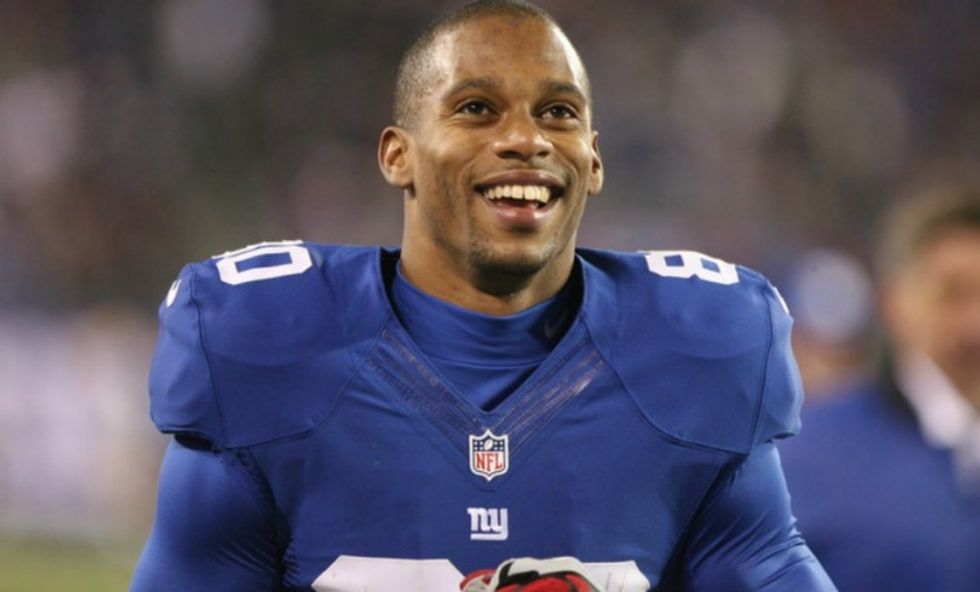 Victor Cruz. (Credit: Source.)
Although Buffalo Bills coach Rex Ryan did not specifically reference Kaepernick in his response, he told reporters Sunday that he highly encourages players to stand during the national anthem. "I think first off, it's an important thing for me," Ryan said. "I think it's a way of showing respect for the men and women who have served our country and are currently serving our country and that's kind of how I look at it. But I have and I understand now that there's some religious beliefs that don't necessarily allow that."
Ryan was firm, however. "[But] at the same time, you know, you've got to look at the gifts that we have, the opportunity that we have to play a great game is through the men and women that serve our country. I think that's an opportunity right there just to show respect, and I think that's why when you see our team, every one of us are on that line and that's kind of our way of giving thanks."
Football fans have also weighed in on the controversy––by burning Kaepernick's jersey. Instagram user nate3914 bought a San Francisco 49ers No. 7 jersey and recorded himself burning it. "People die every single day defending that flag that you refuse to stand for, and I won't stand for that," he said in the video. Another man recorded himself saluting, standing at attention and watching Kaepernick's jersey burn as the national anthem plays in the background. The video went viral.
Salty 49ers fan burns #Kaepernick's jersey. Oh brother... https://t.co/zp9aLasYAW

— Erick Fernandez (@Erick Fernandez) 1472350764.0
Seattle Seahawks defensive lineman Michael Bennett threw his support behind Kaepernick, saying he cannot understand why anyone would criticize Kaepernick's right to state his beliefs. "I think it's a guy standing up for what he believes in," Bennett said. "I think this is America,
so he has the right to have any type of beliefs he wants. Anybody that has a problem with it, I think they shouldn't have a problem with it, because at the end of the day, it's freedom of speech, and freedom of action, and that's what makes America great. He's just doing what he wants to do."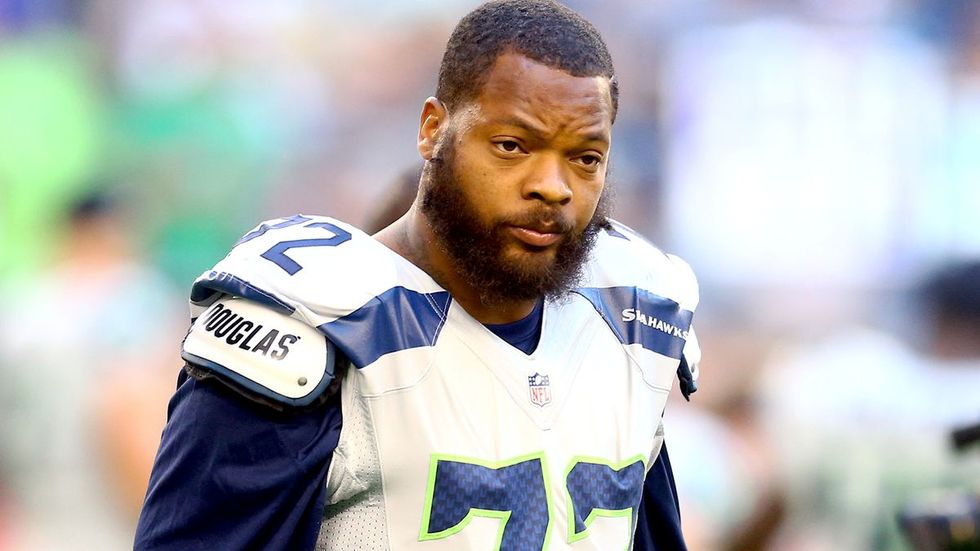 Michael Bennett. (Credit: Source.)
Kaepernick himself doubled down, conducting an 18-minute question-and-answer session with Bay Area reporters in the hope of clarifying the reasons behind his protest. "I mean, ultimately it's to bring awareness and make people realize what's really going on in this country," he said. "There are a lot of things that are going on that are unjust, people aren't being held accountable for, and that's something that needs to change. That's something that this country stands for freedom, liberty, justice for all. And it's not happening for all right now." Kaepernick said he would continue to sit. "I'm going to stand with the people that are being oppressed," he said. "To me this is something that has to change and when there's significant change and I feel like that flag represents what it's supposed to represent in this country is representing the way that it's supposed to––I'll stand."
When asked for a response to those who view his stance as disrespectful to the armed forces, Kaepernick said he has "great respect" for members of the military who "fight for liberty and justice for everyone."  But they, he continued, "are dying in vain because this country isn't holding their end of the bargain up, as far as giving freedom and justice, liberty to everybody. It's something that's not happening." Kaepernick said he has "seen circumstances where men and women that have been in the military have come back and been treated unjustly by the country they fought for and have been murdered by the country they fought for, on our land. That's not right."
When asked if he has ever felt personally oppressed, Kaepernick said there had been instances when he felt he was "ill-treated." But the stand, he insisted, is not because he feels "put down" in any way. "This is because I'm seeing things happen to people that don't have a voice, people, that don't have a platform to talk and have their voices heard and affect change. So I'm in a position where I can do that, and I'm going to do that for people that can't."