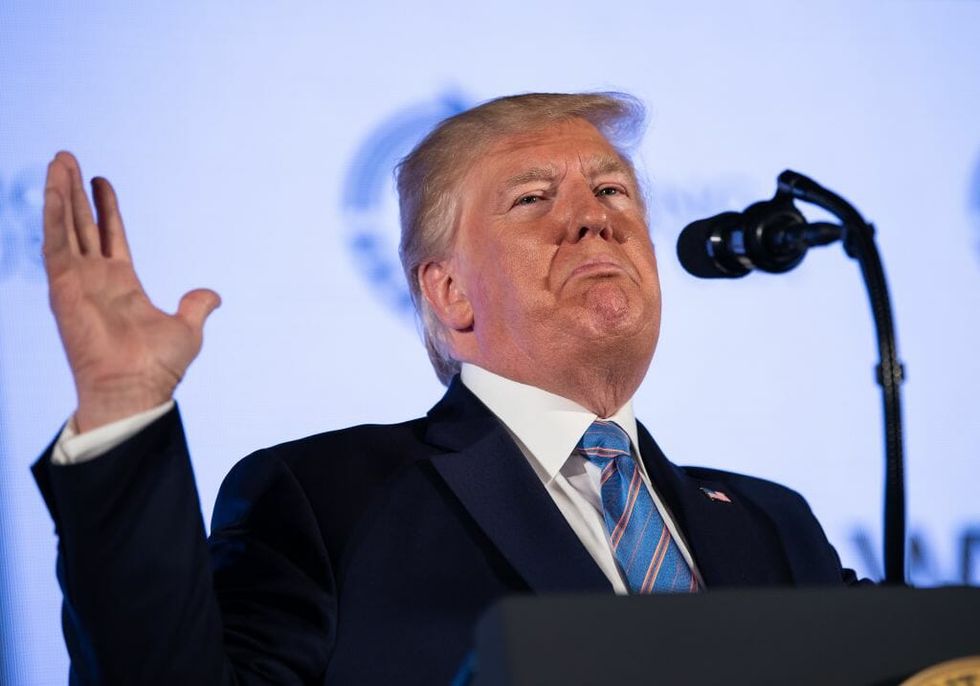 US President Donald Trump addresses the Turning Point USAs Teen Student Action Summit 2019 in Washington, DC, on July 23, 2019. (Photo by NICHOLAS KAMM / AFP) (Photo credit should read NICHOLAS KAMM/AFP/Getty Images)
Despite long-held beliefs that Democrats launching impeachment proceedings against President Donald Trump would backfire, public support for the President's impeachment continues to rise as more information regarding Trump's corrupt dealings with foreign leaders comes to light.
Trump's impeachment got an unexpected—albeit likely accidental—endorsement this morning from its own subject: President Donald Trump himself.
In a caps-ridden tweet touting a boost in median household income, the President ended with a sentence that seemed to support his own impeachment:
"Impeach the Pres."
Read the bizarre assembly of words below.
Just out: MEDIAN HOUSEHOLD INCOME IS AT THE HIGHEST POINT EVER, EVER, EVER! How about saying it this way, IN THE HI… https://t.co/eeLFQHSr3z

— Donald J. Trump (@Donald J. Trump) 1571153525.0
Soon, "Impeach the Pres" was the top trending topic in the United States, with people eager to seize upon the gaffe.
So @realDonaldTrump just called for his own impeachment🤣😂🤣😂 I couldn't agree more! Impeach the Pres https://t.co/HYQSid1ZWS

— David Leavitt (@David Leavitt) 1571158968.0
Trump: Impeach the Pres Nancy: on my way Donny Boy https://t.co/Imr2s48ZUd

— DKT (@DKT) 1571157194.0
nancy: he is basically self impeaching everyone: lol thats not a thing trump: impeach the pres everyone: https://t.co/V5YnL5M956

— m i t h (@m i t h) 1571162686.0
@realDonaldTrump - Impeach the Pres. glad to hear you're on board

— Flat Space Denier (@Flat Space Denier) 1571162695.0
While his intent may have been something completely different, people were surprised that Trump said something they agreed with.
It was bound to happen one day; I agree 100% with @realDonaldTrump. ==> Impeach the Pres <==… https://t.co/9rnWzRSAOj

— Grant Stern (@Grant Stern) 1571162183.0
Not sure that the 48 word intro is really necessary (Twitter is all about brevity, right?) Anyway, couldn't agree m… https://t.co/ujF0IjS9rD

— jeremy dangerhouse (@jeremy dangerhouse) 1571153944.0
@realDonaldTrump Wow. I finally agree with you. We definitely should impeach the president.

— I AM NOT DISTRACTED🍑 (@I AM NOT DISTRACTED🍑) 1571162764.0
As for Trump's claims that median household income is the highest ever, the President's claim is misleading. According to the Washington Post, household income is "roughly the same as it was 20 years ago," when adjusted for inflation. Median income is rising only at around half the rate that it rose in 2017.
@realDonaldTrump That will be very meaningful for people who don't know that a dollar now is worth what 12 cents wa… https://t.co/kV0jGVN42S

— JRehling (@JRehling) 1571157099.0
@realDonaldTrump September 10, 2019 Today's report from the Census Bureau shows a marked slowdown in median househo… https://t.co/2a3ynnhdLp

— Benny the snitch (@Benny the snitch) 1571161742.0
Income inequality, however, is at its highest ever recorded.
Keep reading... Show less