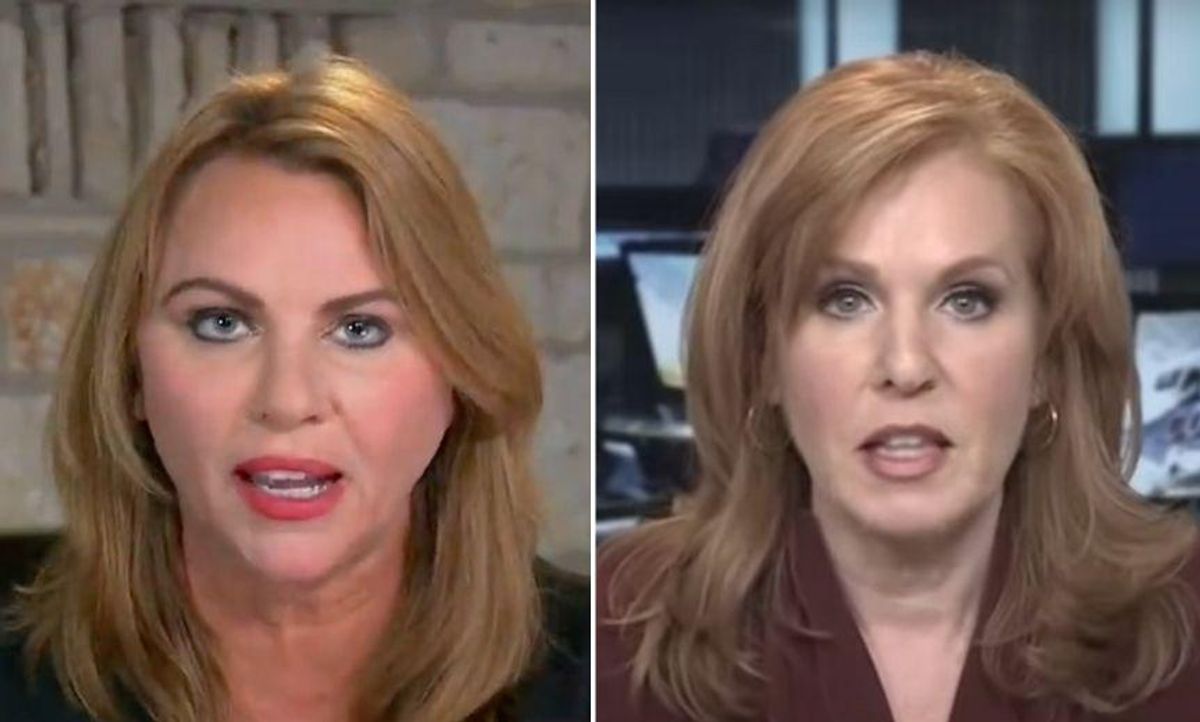 Fox News // Fox Business
Fox News' streaming service, Fox Nation, made headlines last week for all the wrong reasons after contributor Lara Logan embarked on a disturbing rant about National Institutes of Health official and top Biden medical advisor Dr. Anthony Fauci.
Logan compared Fauci to Nazi Dr. Josef Mengele, who committed depraved atrocities on concentration camp prisoners, earning him the alias "The Angel of Death."
Watch below.

Fox host Lara Logan says that people tell her that Dr. Fauci doesn't represent science, but represents Josef Mengele, the Nazi doctor known as the "Angel of Death" for performing medical experiments at Auschwitz: "I am talking about people all across the world are saying this" pic.twitter.com/fF2DAWfG7d
— Oliver Darcy (@oliverdarcy) November 30, 2021
Logan said:

"What you see on Dr. Fauci — this is what people say to me: that he doesn't represent science to them. He represents Josef Mengele. Dr. Josef Mengele, the Nazi doctor who did experiments on Jews during the Second World War and in the concentration camps. And I am talking about people all across the world are saying this, because the response from covid, what it has done to countries everywhere, what it has done to civil liberties, the suicide rates, the poverty, it has obliterated economies. The level of suffering that has been created because of this disease is now being seen in the cold light of day."
Immediately, Logan's comments sparked outcry, especially from Jewish advocacy and Holocaust memorial organizations, with Anti-Defamation League CEO Jonathan Greenblatt describing her comments as "outlandish and offensive" and the Auschwitz Museum calling them "utterly shameful."
For his part, Fauci called out Fox News for refusing to publicly discipline Logan for her comments.
But now, Logan is facing criticism from another Fox employee, Liz Claman of Fox Business.
Hate to ruin you Sun. but facts need to be stated. Nazi Josef Mengele performed experiments on Jewish twins; personally killed 14 twins in one night by injecting their hearts w/chloroform. Performed vivisection without anesthesia, removing hearts and stomachs of victims. (1)
— Liz Claman (@LizClaman) December 5, 2021
(3) Nazi Josef Mengele attempted to change eye color by injecting chemicals into eyes of living subjects, killing those w/heterochromatic eyes so that the eyes could be removed and sent to Berlin for study. Let's stop w/ANY comparison to Mengele. Dayenu. That's Hebrew for ENOUGH
— Liz Claman (@LizClaman) December 5, 2021
People appreciated Claman's rebuke.
And she wasn't the only one to condemn Logan's comments.
Logan has yet to appear on Fox News since the disturbing comments.