After Donald Trump told Megyn Kelly that he didn't 'know' who gave Dr. Fauci his 'Presidential Commendation,' Ron DeSantis went on the attack.
15 September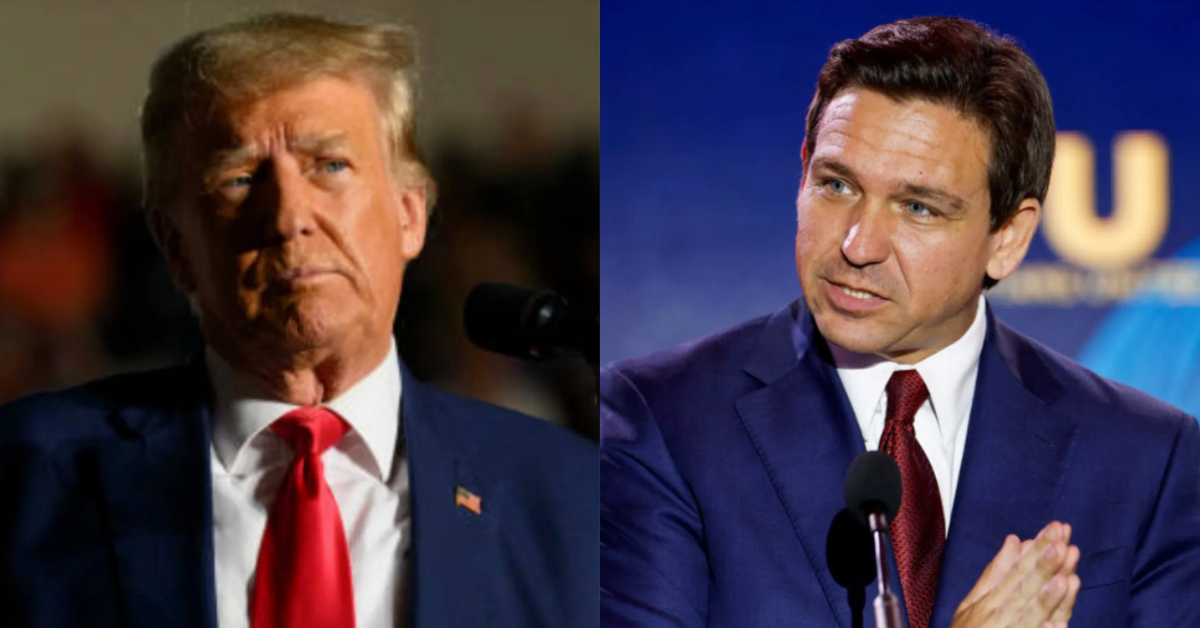 Jeff Swensen/Getty Images; Anna Moneymaker/Getty Images
Florida Republican Governor and 2024 presidential hopeful Ron DeSantis hit back at former President Donald Trump after Trump told commentator Megyn Kelly that he didn't "know" who gave Dr. Anthony Fauci his "presidential commendation."
DeSantis has been increasingly critical of Trump's handling of the COVID-19 pandemic, positioning himself as a strong alternative on the issue despite the fact his own COVID-19 response has been highly condemned following analyses that concluded the Florida government's decision not to shut down the state resulted in at least 87,141 deaths.
Trump, during an interview with SiriusXM's The Megyn Kelly Show, claimed he didn't know who gave the commendation to Dr. Fauci, head of the National Institute of Allergy and Infectious Diseases, even though Trump was President at the time.
He also suggested he had limited ability to directly influence the employment of civil servants under federal law, a statement that also did not acknowledge the fact that he had on his last day in office awarded Fauci and 51 others for their service on the Operation Warp Speed task force.
He said:

"I don't know who gave him the commendation. I really don't know who gave him the commendation. Someone probably handed him a commendation."
You can hear what Trump said in the video below.

DeSantis issued a mocking response shortly afterward in a radio interview with Jimmy Failla on FOX Across America:
"It literally says President Trump awards commendation. Is this the immaculate commendation or something like that? Did this just happen out of thin air?"
"Give me a break, people need to take responsibility for their actions. They need to they need to own what they did."
"And here's the thing that's important: Looking forward, you know, with me, all those mistakes will never be repeated again."
You can hear what DeSantis said in the audio below.
Many also criticized Trump's claims about an event he had obviously approved.

But DeSantis did not walk away unscathed either.
According to two former Trump administration communications officials, none of the individuals on the Operation Warp Speed taskforce would have been awarded a commendation in Trump's name without his approval.

Alyssa Farah Griffin, who was Trump's White House Communications Director until she resigned in 2020, said she was not certain if Trump had paid attention to what he'd signed off, adding that "to claim he had nothing to do with it is patently absurd."
Similarly, former White House Press Secretary Stephanie Grisham said in a text to CNN reporters that "nothing like that would ever go out w/o his knowing. Esp(ecially) if an announcement was released."