Jason Tondro took to Twitter to fact-check Lavern Spicer's claim Shakespeare never put 'pronouns in his plays.'
17 January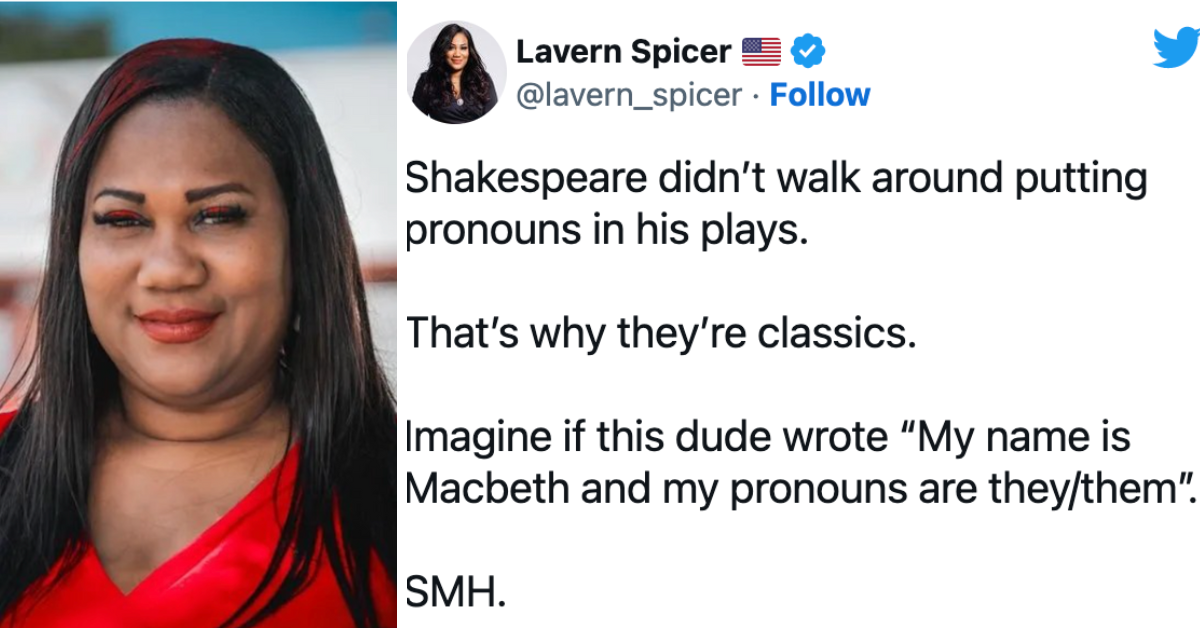 Lavern Spicer for Congress/Facebook; @lavern_spicer/Twitter
Far-right Republican Lavern Spicer—who recently lost her bid for election in Florida's 24th congressional district—was widely mocked online after another Twitter user fact-checked a tweet she made suggesting the late, great playwright William Shakespeare never used pronouns in his plays.
Earlier, Spicer claimed Shakespeare "didn't walk around putting pronouns in his plays," a distinction she said makes them "classics." She suggested it would have been ridiculous if the general Macbeth mentioned his pronouns are "they/them" in the play that bears his name.
You can see Spicer's tweet below.

Spicer likely did not expect to be fact-checked by Twitter user Jason Tondro, who tweets using the handle @doctorcomics.
Tondro pointed out Shakespeare "took great delight in confusing the audience about gender."
He pointed to two specific examples, the first being perhaps the most famous and "best" example, in which "a male actor dresses up as Viola, a young woman who dresses up as a young man who falls in love with another man and who is loved by another woman (who is played by a man)."
Tondro said his "personal favorite" example is from Othello, when a maid to the tragic Desdemona tells her women "behave badly" because they learned how to behave from men.
The catch of course is that in Shakespeare's day, female parts were played by men, so if you remember both women are being played by men, it's really men "holding up a mirror" to take other men to task for the way they've traditionally and historically employed gender roles to tear women down.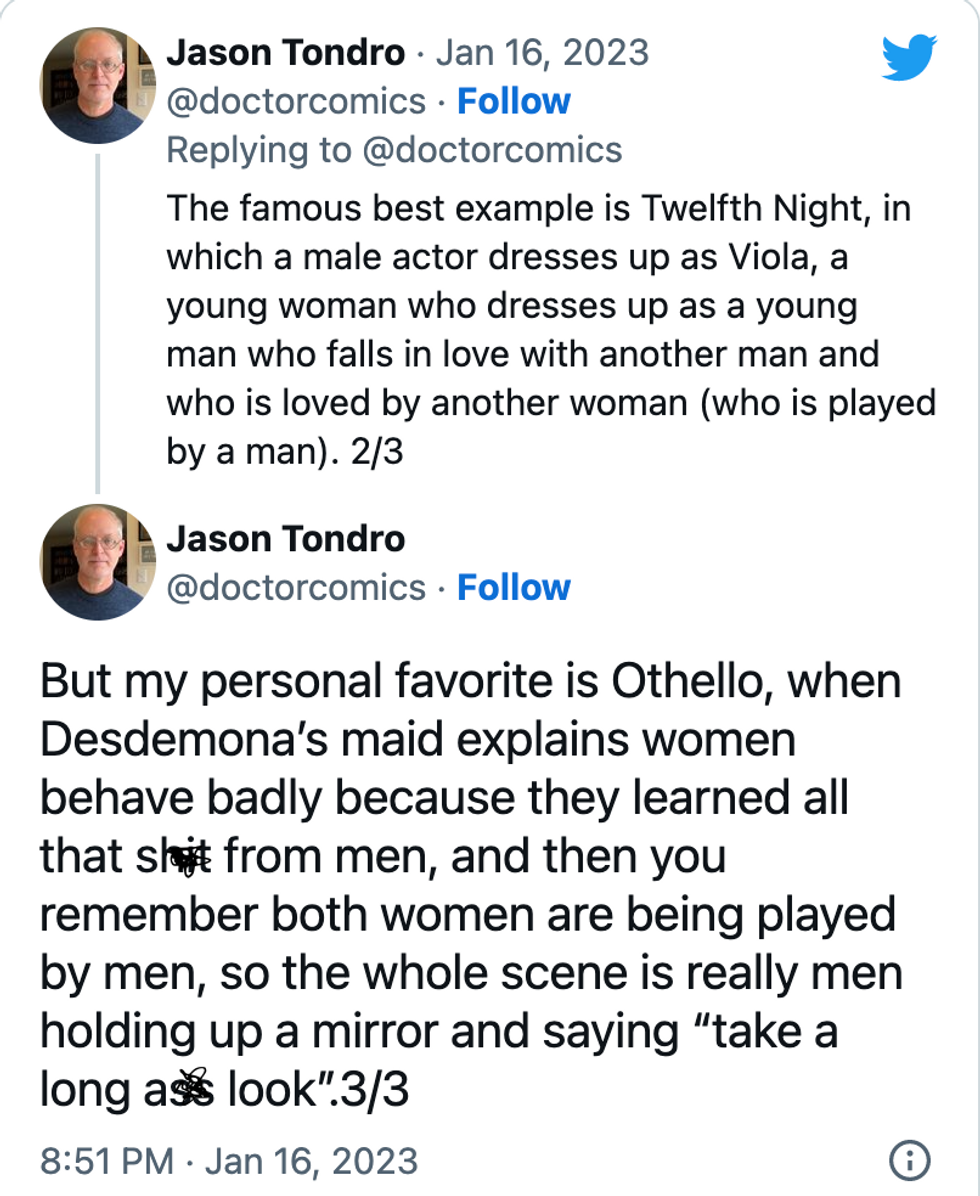 @doctorcomics/Twitter
Tondro—who wrote his replies to Spicer as he waited for his take-out to arrive—also pointed out Shakespeare used the singular "they" "before it became the target of a cultural war."
He also chuckled over Spicer's decision to cite Macbeth because the play contains the famous line "Unsex me here" which Lady Macbeth says when she asks the spirits to remove the weaknesses associated with being female after she senses her husband is apprehensive about committing murder to secure the Scottish crown.
Finally, he said he "could do a whole class lecture" on the monologue Beatrice delivers in Act IV of Much Ado About Nothing when she says, "Oh God, that I were a man! I would eat his heart in the market-place" in response to feeling confined by her gender while asking her love Benedick to kill Claudio, who wronged her friend Hero.
Tondro's takedown of Spicer's tweet quickly went viral and exposed Spicer to further mockery online.
Preferred gender pronouns are the pronouns a person prefers be used when they are referred to, in order to indicate their gender identity.

It has become increasingly common for people to display their pronouns in the workplace or on social media profiles. Because pronouns are not indicative of a person's sexual orientation, not everyone who shares their pronouns necessarily identifies as LGBTQ+.
Straight, cisgender people often choose to share and display their pronouns to let others, especially LGBTQ+ individuals, know they are in a safe space especially if their gender identity is often questioned or if they are regularly misgendered.
The use of gender pronouns in the workplace, for instance, help normalize and encourage discussions about gender in such a way that transgender and non-binary individuals can feel safe and included.