Elon Musk posted a poll asking whether banned journalists should be reinstated and then redid it once it didn't turn out the way he liked.
16 December 2022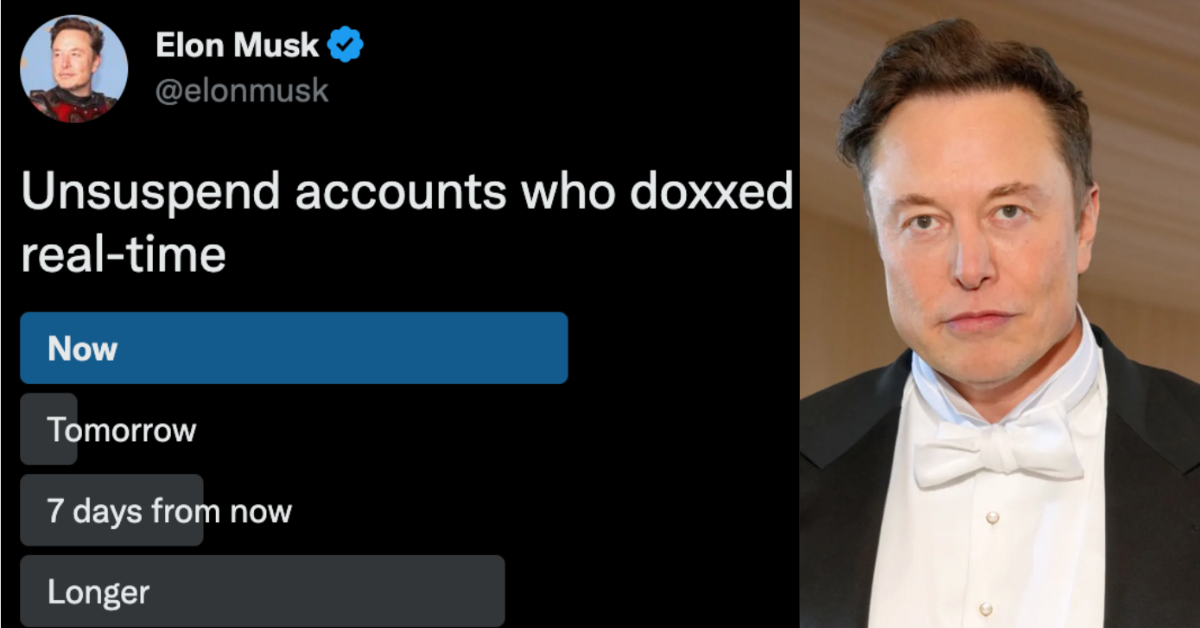 @elonmusk/Twitter; Kevin Mazur/MG22/Getty Images for The Met Museum/Vogue
Billionaire Elon Musk's Twitter poll asking whether banned journalists should be reinstated on the platform he has used to silence critics since acquiring it in October backfired tremendously.
Musk banned several prominent journalists from Twitter, including CNN's Donie O'Sullivan, The New York Times' Ryan Mac, The Washington Post's Drew Harwell and other journalists who have covered the saga unfolding at Twitter, which has been riddled with scandals since Musk acquired it.
Though Musk has not responded to requests for comment from any news outlets, he claimed the journalists violated his new "doxxing" policy by sharing his "exact real-time" location.
According to Musk, these violations are akin to providing "assassination coordinates," though he has provided no evidence he, as one of the world's richest men and a major public figure, is in any real danger.
But the lack of any evidence of this alleged plot did not stop Musk from courting attention from the Twitter community by way of a poll asking if the banned journalists should be reinstated.
More than 535,000 people voted in the poll and the majority of those who voted said the accounts should be reinstated "now."
The poll backfired when many used the opportunity to criticize Musk's actions, calling his "commitment to free speech" into question. So he redid the poll 40 minutes later, claiming there were "too many options", and...welll...it still didn't quite go as planned.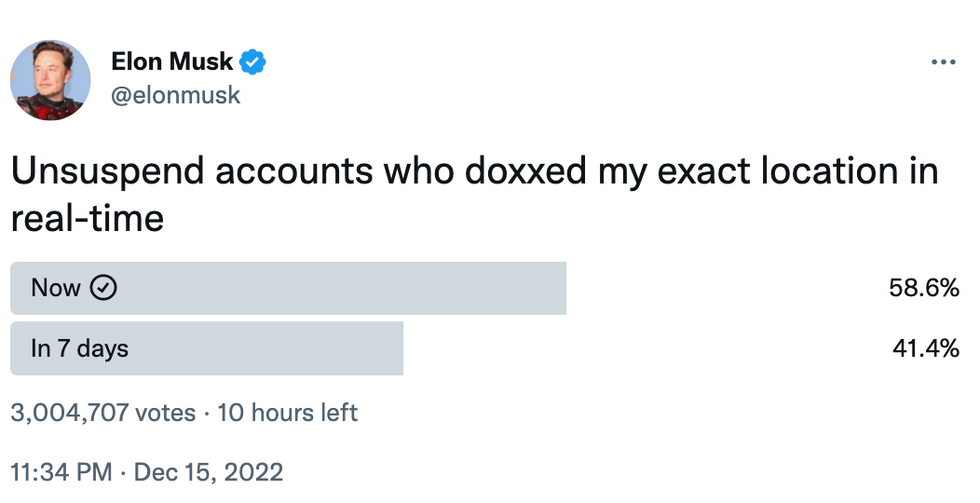 Twitter/@ElonMusk
Twitter users were quik to call Musk out.

An annoyed Musk later announced he would redo the poll because there were "too many options."
So he did just that.

But that didn't go over well either and the mockery continued.
The news Musk banned top journalists from Twitter comes shortly after he made headlines for banning the Twitter account @elonjet, the brainchild of young programmer Jack Sweeney that tracks the itineraries of Musk's private jet.

Sweeney confirmed the account had been suspended in a post published to his official Twitter account, which included a picture showing his account had been suspended because it "broke the Twitter Rules" and is now "permanently in read-only mode."
The account's suspension came mere days after Sweeney posted a thread on Twitter titled "My Twitter Files" in which he revealed he'd learned from an anonymous Twitter employee that his account had been subject to a shadow ban, which blocks users without their knowledge, typically by making their posts and comments no longer visible to other users.
Musk later decided to ban Sweeney from the platform altogether, an action that has only intensified existing criticism about his penchant for silencing his critics and spreading misinformation.
UPDATE: After the poll results, Musk reinstated the accounts of the journalists he suspended.