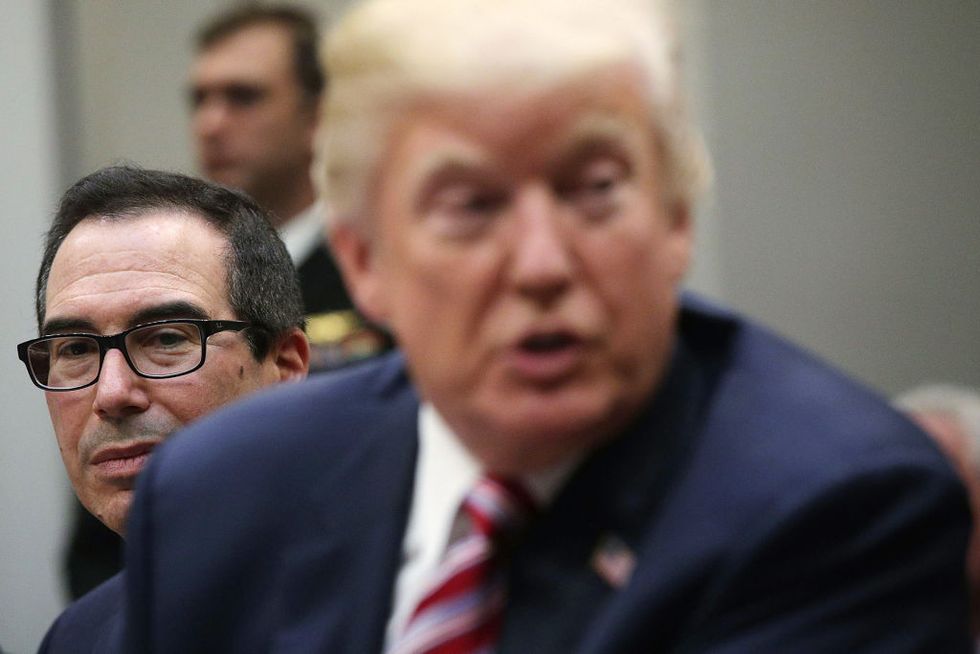 WASHINGTON, DC - OCTOBER 31: U.S. President Donald Trump (R) speaks to business leaders as Secretary of the Treasury Steven Mnuchin (L) looks on during a Roosevelt Room event October 31, 2017 at the White House in Washington, DC. President Trump participated in a "tax reform industry meeting." (Photo by Alex Wong/Getty Images)
With the federal budget deficit up to $205 billion (a 48% increase since this time last year), it's unsurprising that Republicans are looking to deflect blame.
That's exactly what Treasury Secretary Steve Mnuchin did in a recent interview with Bloomberg, asserting that in order to get enough money for an increased defense budget, non-military spending demands had to be conceded to the Democrats.
Mnuchin said:
"In an effort to get the military spending -- which the president thought was critical and which I fully support -- given the issues we have all over the world and the under-investment we have had in the last eight years, this required bipartisan support and the Democrats required big increases in non-military spending. So that's a major component of deficit today."
Under President Obama, defense spending had peaked in 2011, but congressional Republicans, at the behest of the Trump administration, set new records this year at over $874 billion.
Americans know who is to blame.
@bpolitics Regan tried it, 41 tried it and since DJT can't read of course it won't work either! The GOP does not k… https://t.co/nWMpTXfgD9

— Wes Brumwell (@Wes Brumwell) 1545170019.0
@business Try again dude...... 🙄

— Julie Tharalson, RD (@Julie Tharalson, RD) 1545177402.0
Many called out Republicans for lessening federal revenue through impractical tax cuts included in the Republican tax bill, which was passed one year ago.
@bpolitics Yes, it was so cruel when Democrats demanded that insanely expensive tax cut a year ago.

— Erin Altman (@Erin Altman) 1545169362.0
@thehill Its easy to blame Democrats, but @realDonaldTrump signed the omnibus and tax cuts with a Congress complete… https://t.co/CGUg9Rltyw

— Mark Masters (@Mark Masters) 1545171663.0
@bpolitics Tiresome in its predictability. Rs have nothing new. Cut taxes, drive up debt, blame Dems. Ad nauseum

— Jody Lee (@Jody Lee) 1545171112.0
Not to mention, Mnuchin has his own woes when it comes to misuse of funds.
Mnuchin's plane travel has cost taxpayers around $1 million, and he's met criticism for using military planes on flights to domestic locations instead of opting for a smaller aircraft.
One image encapsulated this misuse of money to the public.
#Mnuchin says he doesn't regret requesting a military plane for his honeymoon -- or his jaunt to Kentucky for the e… https://t.co/olEpmlOSdI

— Nick Walden Poublon (@Nick Walden Poublon) 1506900400.0
In addition, Mnuchin and his wife frequently flaunt the proximity of Mnuchin's job to the nation's funding.
Louise Linton, wife of Treasury Sec. Steven Mnuchin, told Elle she's just a "regular girl" and is "super-duper" sor… https://t.co/ujv9n4UIgQ

— AJ+ (@AJ+) 1518557312.0
Though Mnuchin may be blaming Democrats for the deficit, maybe he should examine how far the taxpayer dollar can actually stretch.
@NWPinPDX Entitlement but at no cost to him which is all the better. He asked for permission, got the ok, not sorr… https://t.co/lYmOBEt7Ef

— MaryE Sutton (@MaryE Sutton) 1506909340.0
@NWPinPDX @kimSturd What hè really says is FU ppl i do what i like and i dont care if its tax payers $$$

— semper aequum (@semper aequum) 1506958106.0
@HuffPostPol Corrupt, self serving hypocrites, cronies with no morality, are converting our taxes for personal use!… https://t.co/hxk0ovnSD9

— Dave N. Singh (@Dave N. Singh) 1507353453.0
@HuffPostPol He has control of America's cash machine and he knows how to use it. The eclipse trip was high-priorit… https://t.co/YQj3YQJFtj

— Moe Schutte🇨🇦 (@Moe Schutte🇨🇦) 1507353570.0
The deficit is slated to increase in 2019.
Keep reading...Show less