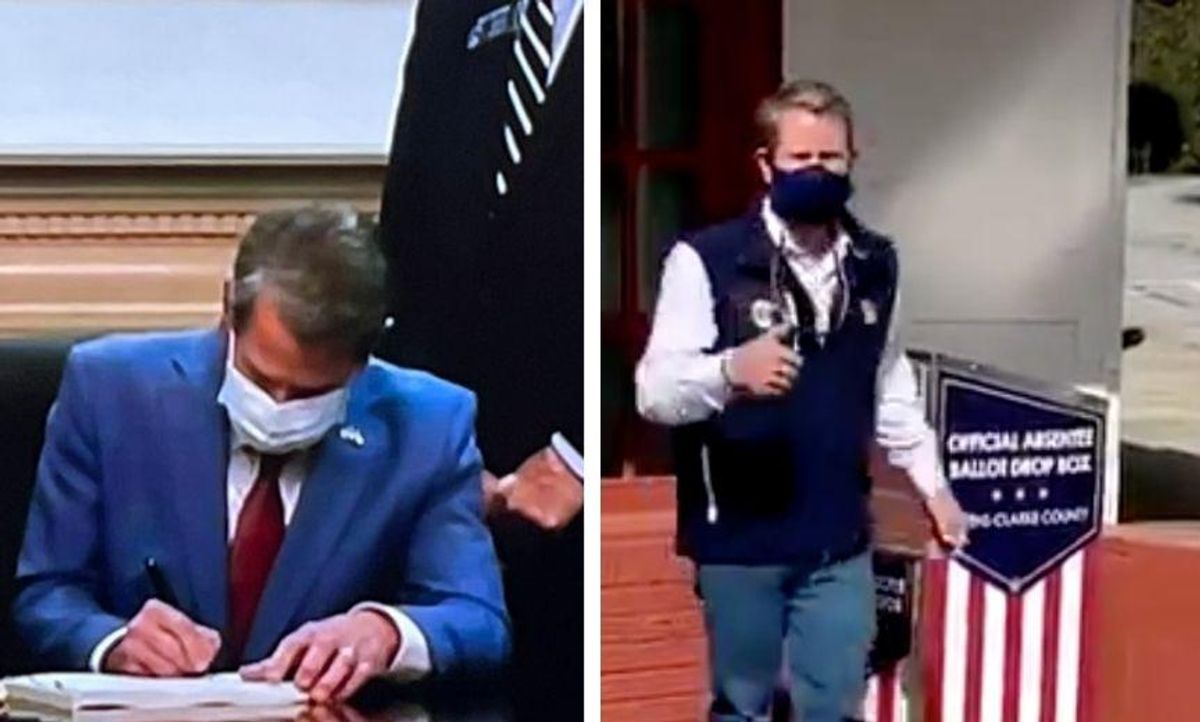 @jdice03/Twitter // @GovKemp/Twitter
After weaponizing voter suppression to win his gubernatorial race in 2018, Georgia Republican Governor Brian Kemp signed it into law on Thursday.
Thanks to the tireless work of activists like Stacey Abrams, Democrats saw sweeping victories in Georgia, which went blue for the first time since 1992 in this past presidential election, and delivered a pair of key victories that gave Democrats a narrow majority in the U.S. Senate.
As a result, Georgia's Republican legislature scrambled to pass an omnibus designed to limit the ability of likely-Democratic voters to cast their ballots, especially voters of color.
The bill, which Kemp signed on Thursday, expands voter ID demands, criminalizes giving food or water to voters in long lines, and limits the availability of ballot drop boxes for absentee ballots, an oft-used method of ballot delivery for those who are unable to vote in person due to age, disability, or immovable commitments.
If Kemp's determination to suppress the voices of Georgians wasn't enough, his hypocrisy on the issue of ballot drop boxes became even more infuriating in light of a resurfaced video.
Watch below.

The video, ironically encouraging his Twitter followers to vote, shows Kemp delivering his 2020 election ballot to a drop off box.
Ballot boxes were one of the primary targets in former President Donald Trump's effort to subvert the results of the 2020 election, which he lost to now-President Joe Biden. Trump claimed ballot boxes in places like Pennsylvania were a source of non-existent widespread fraud. This led his supporters to begin monitoring them and intimidating election workers who collected them.
The bill Kemp renders drop boxes only available outside of polling locations and usable only during regular voting hours.
With massive limits on ballot boxes now enshrined by law, Kemp's video hasn't aged well, to say the least.
Kemp has faced massive backlash for signing the bill and promoting voter suppression yet again.

The Senate is currently considering the For The People Act, a massive voting rights bill passed by the House, which would limit the ability of states to suppress their voters. Georgia's law has demonstrated the necessity of this bill, but it will take a bypass of the 60 vote threshold imposed by the filibuster to have a chance of passing.