In response to a Monday deadline imposed by the federal government regarding its so-called "Bathroom Bill," North Carolina has filed a lawsuit against the Department of Justice accusing the federal government of overreach and arguing that Title VII does not recognize transgender status as a protected class. "If the United States desires a new protected class under Title VII, it must seek such action by the United States Congress," the suit said in part. It lists Governor Pat McCrory and other state officials as plaintiffs.
The state could lose more than $1.4 billion in federal funding for not complying with the government's requests for alterations to the law. A further $800 million in federal loans are in danger if the DOJ finds that the law violates Title VII of the U.S. Civil Rights Act, which bars discrimination based on sex. 
---
Last week, the DOJ sent letters to both North Carolina Governor Pat McCrory and North Carolina's university leaders Wednesday alerting them that HB2, the Public Facilities Privacy and Security Act violates the U.S. Civil Rights Act. HB2 revokes the right of transgender citizens to use the bathroom that corresponds with their gender identity. But critics have accused North Carolina's legislature of piggybacking other anti-LGBT legislation onto that hot-button issue because the law also voids nondiscrimination ordinances intended to protect LGBT people across the state--a provision many view as itself unconstitutional in light of the U.S. Supreme Court decision in Romer v. Evans which invalidated a similar attempt in Colorado.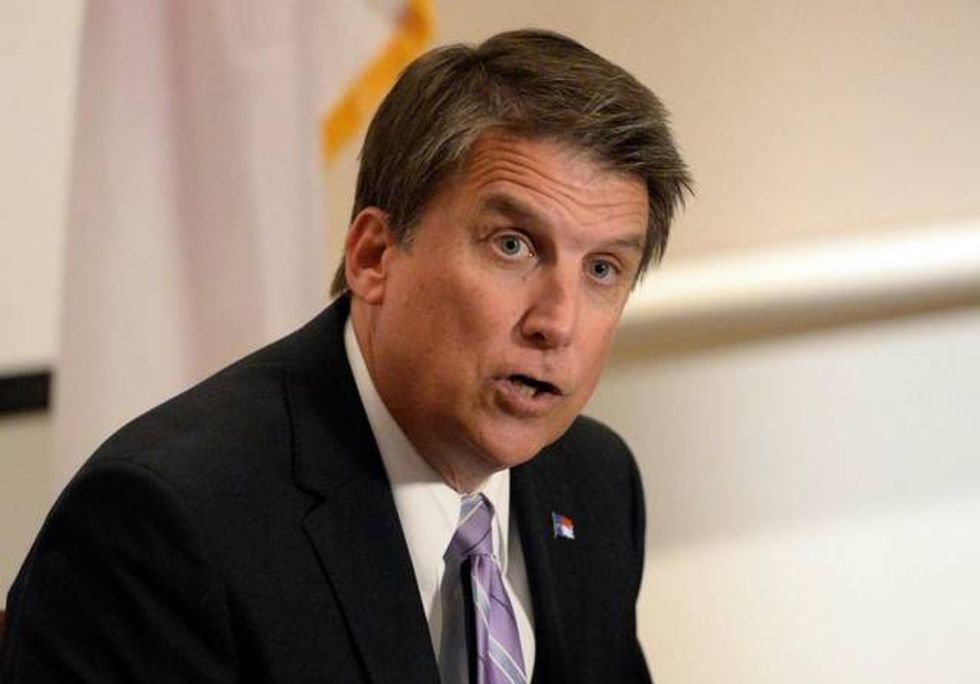 Gov. Pat McCrory. (Credit: Source.)
The Justice Department's letters indicate that "[a]ccess to sex-segregated restrooms and other workplace facilities consistent with gender identity is a term, condition or privilege of employment. Denying such access to transgender individuals, whose gender identity is different from their gender assigned at birth, while affording it to similarly situated non-transgender employees, violates Title VII," which bars employment discrimination.
Governor McCrory said Sunday he would decide how to respond to the deadline, but expressed little actual interest in doing so. His called the deadline "unrealistic" but the DOJ denied his request for an extension because he refused to publicly concede the bathroom law as discriminatory. McCrory criticized the DOJ for "trying to define gender identity," to which there is "no identification or definition." He did, however, admit he could not cite any case in which a transgender person used their gender identity to enter a bathroom and molest someone--something proponents of the law cite as grounds for the controversial bill. State lawmakers in North Carolina had joined pro-bathroom bill activists in South Dakota and Houston, Texas who claimed they were acting out of concern that women and children could be victimized by sexual predators posing as transgender to enter women's restrooms.
McCrory also scoffed at comparisons between laws that combat racial discrimination and the DOJ's assertion that federal law protects transgender individuals. "We can definitely define the race of people. It's very hard to define transgender or gender identity," he said.
Senate leader Phil Berger came to the governor's defense last week, expressing his annoyance with
"a federal administration that is so determined to push a radical social agenda that they would threaten federal funding," adding that people should feel "frustrated and angry" with the DOJ's interference.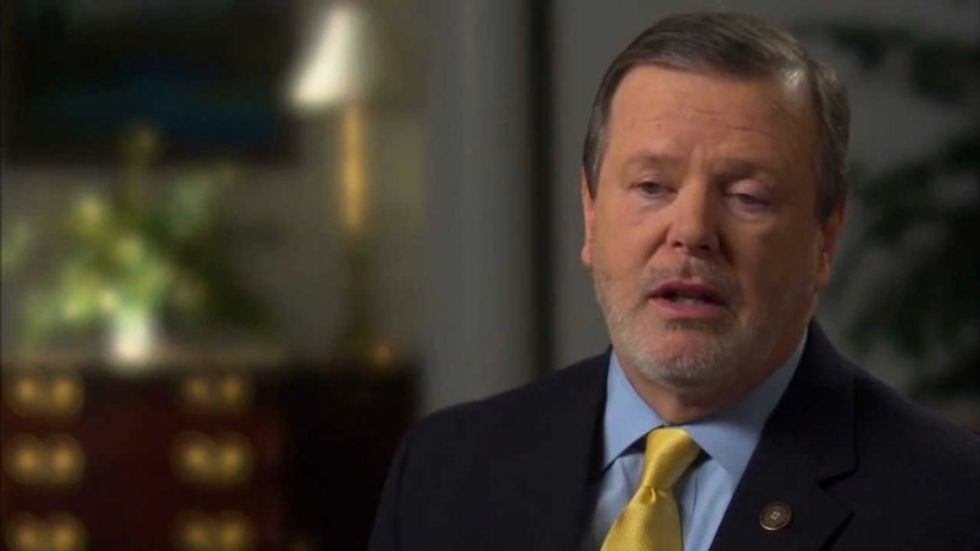 Phil Berger, (Credit: Source.)
Earlier last week, the Family Research Council launched a social media campaign which questioned the federal investigation. "It's absurd that President Obama is directing the investigative power of five federal departments to investigate the repeal of a law that punishes businesses for having restrooms designated for men only and women only," said Council President Tony Perkins.
Opponents of North Carolina's controversial legislation include the American Civil Liberties Union (ACLU) and Equality North Carolina and Lambda Legal, which filed a lawsuit on behalf of two transgender North Carolinians. One of them, Joaquin Carcano, was born female but now identifies as male. Carcano uses men's restrooms; under the new law, he will be forced to use women's rooms.
"You know, we all have to make adjustments in life," McCrory responded in March when briefed on Carcano's situation. "And we've had the proper etiquette situation for decades in our country, and all of a sudden through political correctness we're throwing away basic etiquette. I empathize with these people who have some very unique needs. But at the same time it doesn't mean everyone else should have to compromise a well-established etiquette of men in men's restrooms and showers and locker rooms."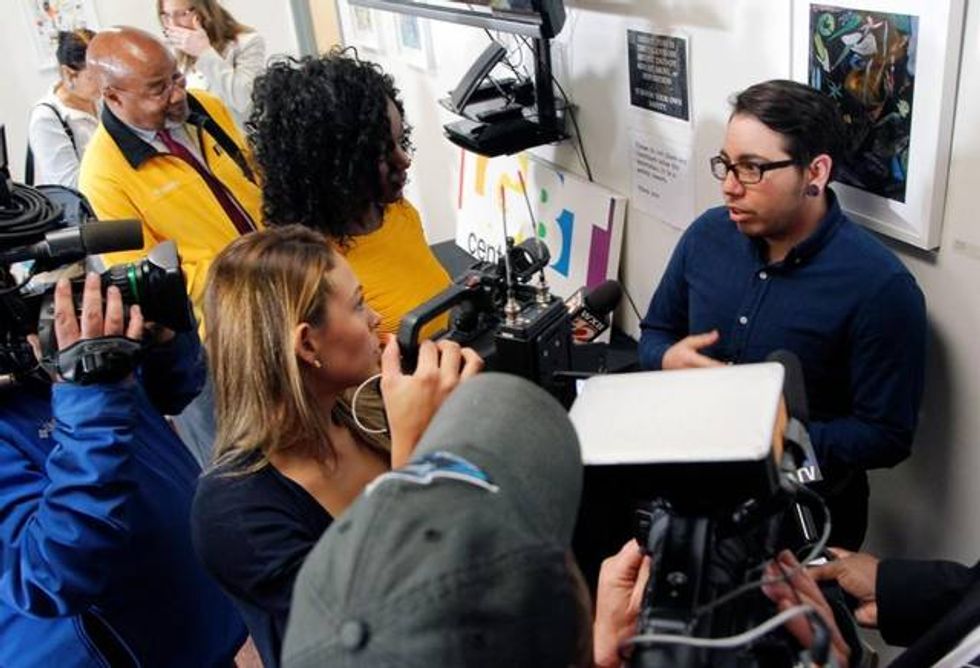 Joaquin Carcano speaks at a press conference announcing the lawsuit. (Credit: Source.)
"It is now clearer than ever that this discriminatory law violates civil rights protections and jeopardizes billions of dollars in federal funds for North Carolina," the ACLU and Lambda Legal said in response. "The only way to reverse the ongoing damage HB2 is causing to North Carolina's people, economy and reputation is a full repeal."
The state's reputation has begun to take a beating as a result of the measure. Bank of America, which has its headquarters in Charlotte, announced it was joining over 80 chief executives, including Twitter and Square CEO Jack Dorsey and Apple CEO Tim Cook, in opposing the new legislation. The CEOs voiced their concerns in an open letter to Governor Pat McCrory posted on the Human Rights Campaign (HRC) website. Recently, rockers Bruce Springsteen and Pearl Jam pledged to no longer perform in North Carolina until the law is repealed.
While the DOJ's letter and threat is unprecedented, it may be just the opening salvo. The agency plans to take similar measures across the country to task and to help ensure the rights of transgender individuals it says are protected under federal law. The move will emphasize a federal mandate prohibiting sex-based discrimination in educational programs and activities which benefit from federal funds. Jillian Weiss, an attorney who has defended the rights of transgender clients in court, believes the DOJ will next set its sights on Mississippi, which passed the Protecting Freedom of Conscience from Government Discrimination Act. That law, which allows individuals, businesses, non-profits, and government employees (including those providing counseling services, foster care and adoption services) to refuse services to LGBT people and anyone who has had extramarital sex on religious grounds, will go into effect in July. Whether North Carolina, Mississippi and other states passing anti-LGBT laws can continue their defiance in the face of federal pressure and the threat of boycotts remains to be seen and might indeed, if the impasses continue, become a factor in the upcoming general election.