On Wednesday, President Donald Trump visited the cities of Dayton, Ohio and El Paso, Texas. The two cities saw devastating mass shooting attacks over the weekend while President Trump was out of Washington DC at his New Jersey golf resort.
The press corps that travels with the President on Air Force One was told—first in Dayton then again in El Paso—there was no reason for them to leave the plane as the visits were to be completely about the victims and not a photo op for the POTUS and FLOTUS. But shortly after each visit, professional photos and video taken, edited and produced with accompanying music were posted to Twitter by Trump, the White House Twitter account and members of the Trump administration, one of whom described the visit to victims of gun violence as the President being treated "like a rock star."
---
People noted the progression to the final video featuring less footage of meeting or comforting victims and more and more displays of the President's apparent popularity—culminating in the last video being only about hospital personnel's enthusiasm over getting photos of Trump.
Not a single victim meeting is shown in the final video which compiles footage from Dayton and El Paso. The last video is now pinned on the Presidents Twitter page.
Watch the videos in order here.
We love you Dayton, Ohio! https://t.co/IaCZAdyuzL

— Donald J. Trump (@Donald J. Trump) 1565208157.0
Incredible afternoon in El Paso, Texas. We love you, and are with you, all the way! https://t.co/pTNhHapx86

— Donald J. Trump (@Donald J. Trump) 1565228604.0
My time spent in Dayton and El Paso with some of the greatest people on earth. Thank you for a job well done! https://t.co/TNVDGhxOpo

— Donald J. Trump (@Donald J. Trump) 1565233351.0
After making it clear no other cameras were allowed because it was not a photo op, people are crying foul over the production value—including soundtracks—put into the multiple videos.
@realDonaldTrump Just another photo op for you and Malaria, right Comrade? https://t.co/Z3XTZ2P1cB

— bob timmerman (@bob timmerman) 1565275448.0
Also a sticking point is the repeated emphasis by Trump and members of his staff on how popular the President is versus any mention of the tragedies, their causes or possible solutions to mass shootings in the United States.
Leaving El Paso for the White House. What GREAT people I met there and in Dayton, Ohio. The Fake News worked overti… https://t.co/ankLOw5aTq

— Donald J. Trump (@Donald J. Trump) 1565224312.0
This doesn't feel right. This video is released days after El Paso and Dayton, but you wouldn't know what it was ab… https://t.co/VxUeVdZk6c

— Keaton Raney (@Keaton Raney) 1565273195.0
Although in El Paso, apparently there was a reason no victim visits were included.
@realDonaldTrump People who get what you are didn't want to be part if your gross self-promoting videos, complete w… https://t.co/1DTXRZftLh

— Ichabod (@Ichabod) 1565275037.0
However if the sole point of the visit was to comfort victims and not a photo op, why still go if the victims refuse?
@realDonaldTrump You barred the press from accompanying you inside and instead, on taxpayers dime, your team assemb… https://t.co/XfeYYgGTVh

— Mia Farrow (@Mia Farrow) 1565269128.0
My god, the "Trump Triumphant" soundtrack. Who the hell produced this campaign video? https://t.co/B4XGiYPDL0

— Little Washita (@Little Washita) 1565271572.0
To many online, the Trump administration coverage of the visits looked very much like photo ops and campaign ads full of big smiles and thumbs up while the victims were little more than set dressing and props if they were shown at all.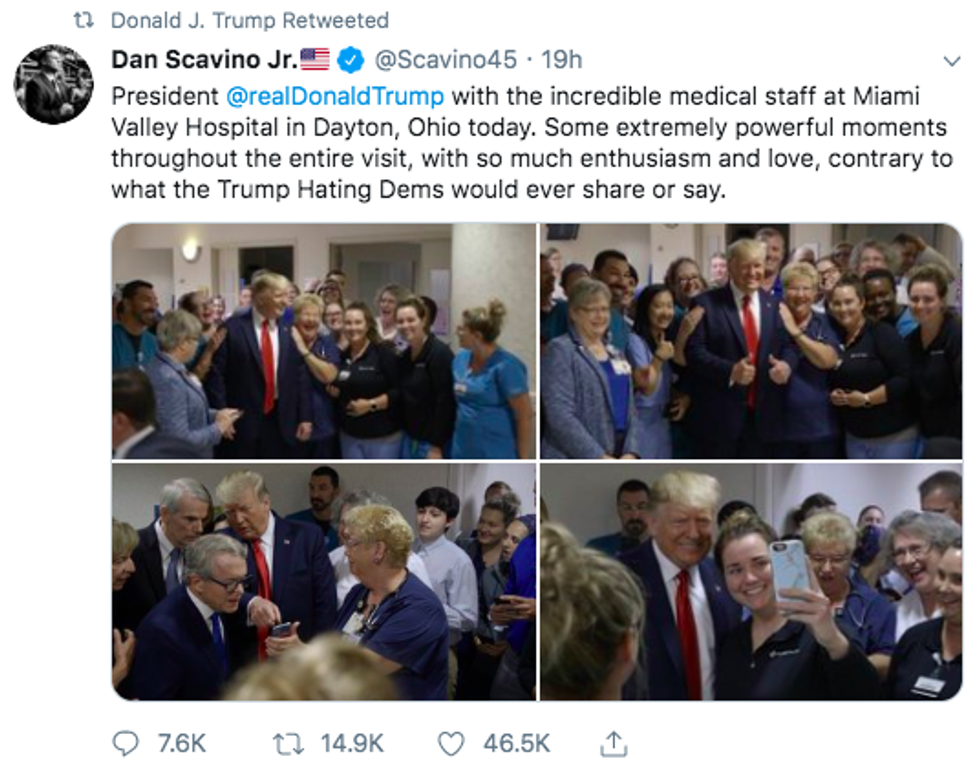 @Scavino45/Twitter
People were less than pleased with the tone and emphasis.
You turned this massacre into a campaign ad? Are you kidding me?!!! https://t.co/7pnAvRkBeh

— Charles M. Blow (@Charles M. Blow) 1565210360.0
@realDonaldTrump tRump came with we think FLOTUS (so much kidney work) and gave thumbs up for the cameras- smiled f… https://t.co/NaSKzj27sS

— Phillip- IMPEACH THE TRAITOR 🇺🇸 (@Phillip- IMPEACH THE TRAITOR 🇺🇸) 1565269783.0
@PhillipLiberal @realDonaldTrump He was only there to create a campaign ad.

— Vicky 🌊Resist Hate, ImpeachTrumpAndBarr (@Vicky 🌊Resist Hate, ImpeachTrumpAndBarr) 1565269907.0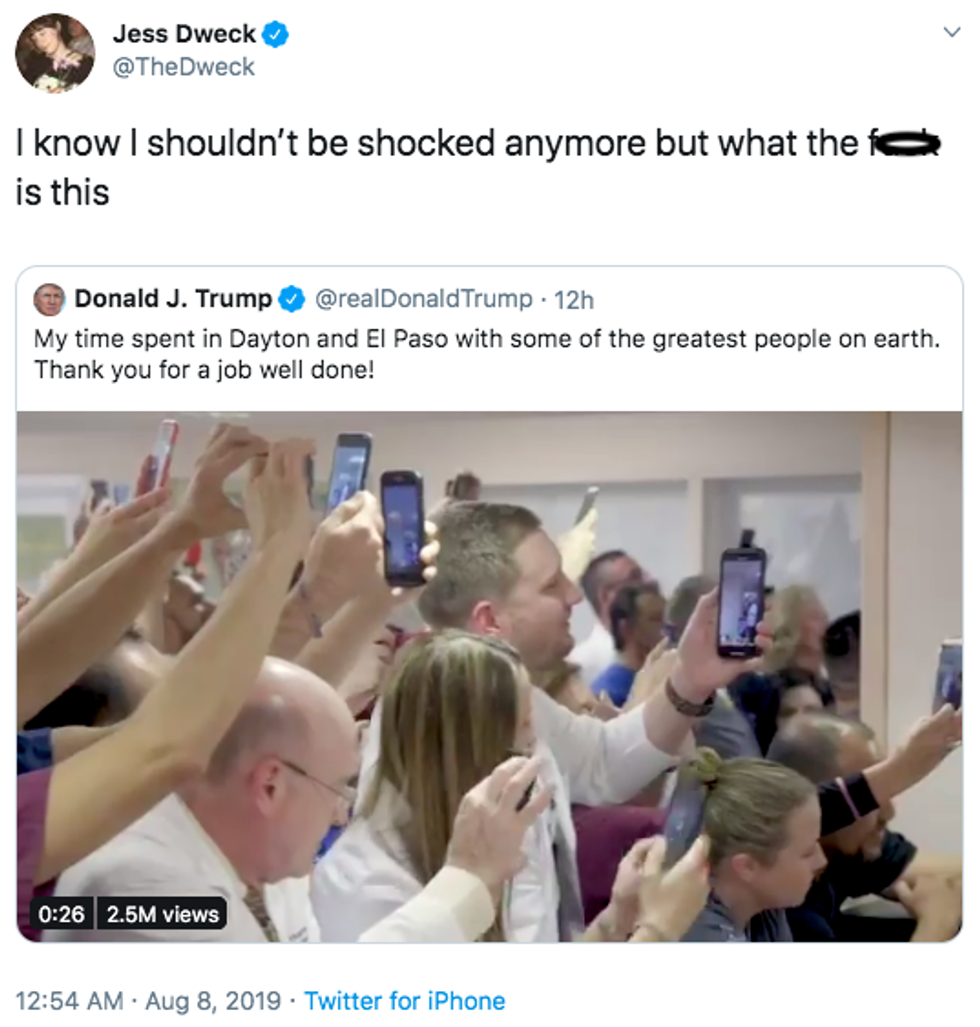 @The Dweck/Twitter
@realDonaldTrump People are being murdered and #DonaldTrump is using survivors for photo-ops. 😳 #ElPasoStrong #DaytonStrong

— Jules Morgan (@Jules Morgan) 1565233501.0

@jojo1654/Twitter
At least one of the mass shootings has been labeled a domestic terror attack by a White nationalist and a potential hate crime by law enforcement. The decision was based on the shooters statements during arrest and his online manifesto where the terrorist quotes talking points made popular by the President.
@realDonaldTrump This racist literally caused the carnage in El Paso, he just didn't pull the trigger. And some peo… https://t.co/fxxaJbWmu5

— Bruno Amato (@Bruno Amato) 1565234360.0
@BrunoAmato_1 @realDonaldTrump It's the TV is reality is TV is reality crowd. It's simply showtime in America.

— Adrienne (@Adrienne) 1565234564.0
The second attack is still under investigation as the perpetrator revealed no set motive, his online activities bounced around the political spectrum and died on scene after murdering his own brother, Jordan Cofer.
If you want to make a statement about gun violence in the United States, this shirt is available here.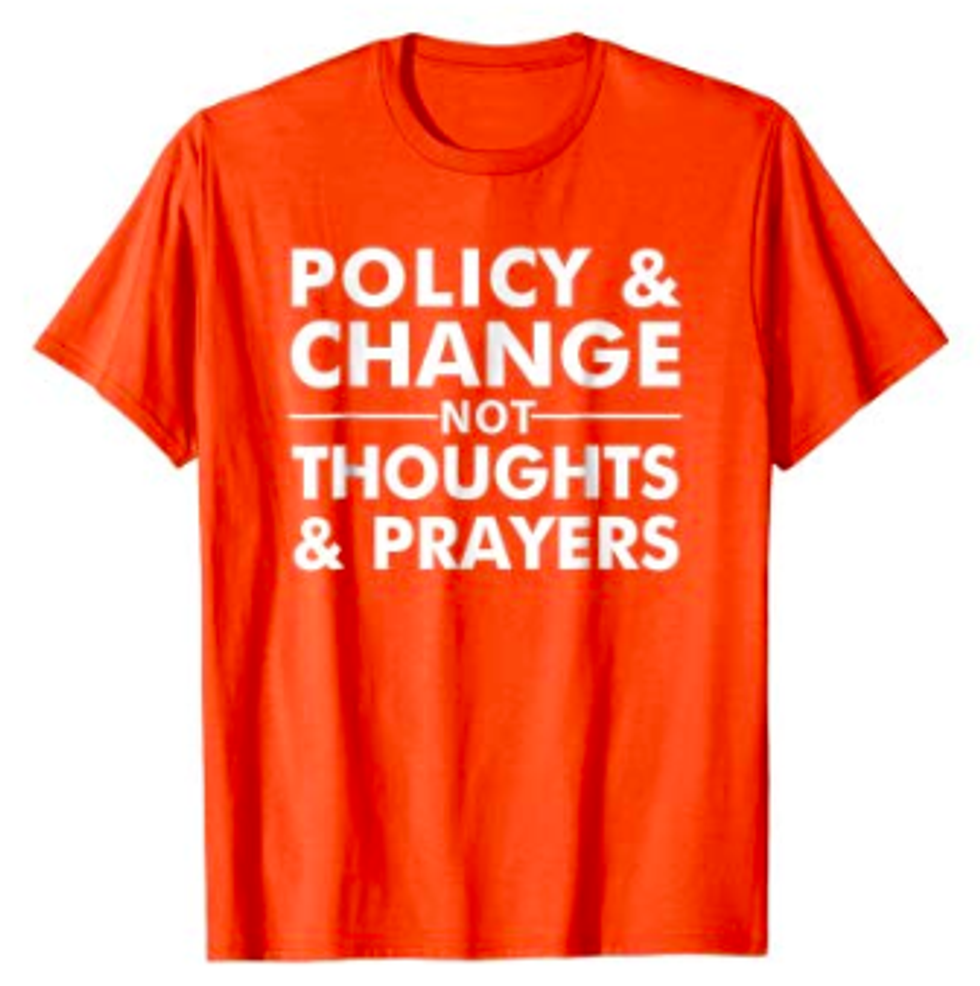 ⁴ Amazon