President Donald Trump appears to be treading water in a key battleground state, according to the latest poll out of Emerson College. The poll found that former Vice President Joe Biden and Senator Bernie Sanders (I-VT) hold double-digit leads over Trump in a hypothetical 2020 White House matchup in the state of Pennsylvania. 
Both men gained 55 percent of the vote in a general election matchup with the president. Senator Elizabeth Warren (D-MA) Senator Kamala Harris (D-CA), and Representative Beto O'Rourke (D-TX) round out the top five.
---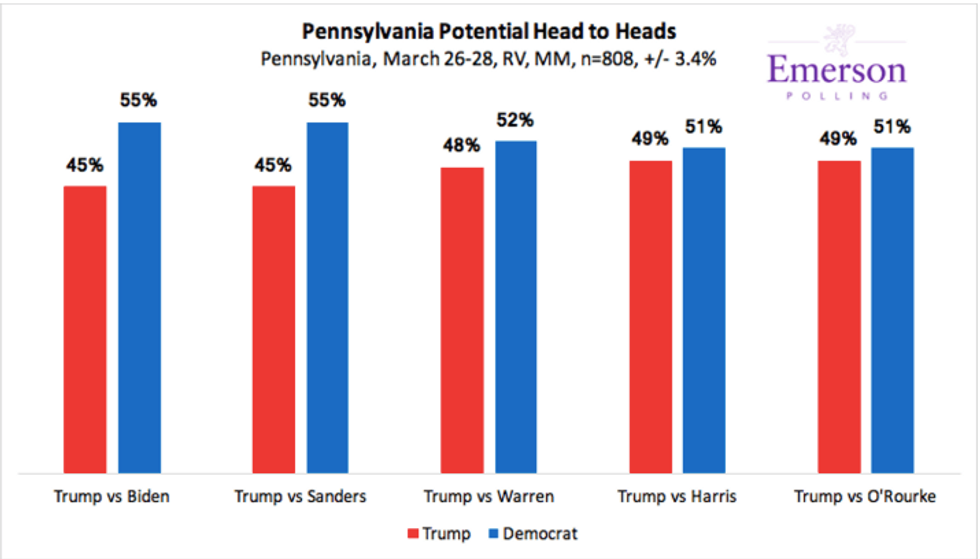 Emerson Polling
Biden also held the lead when respondents were asked who they'd vote for in the Democratic primary.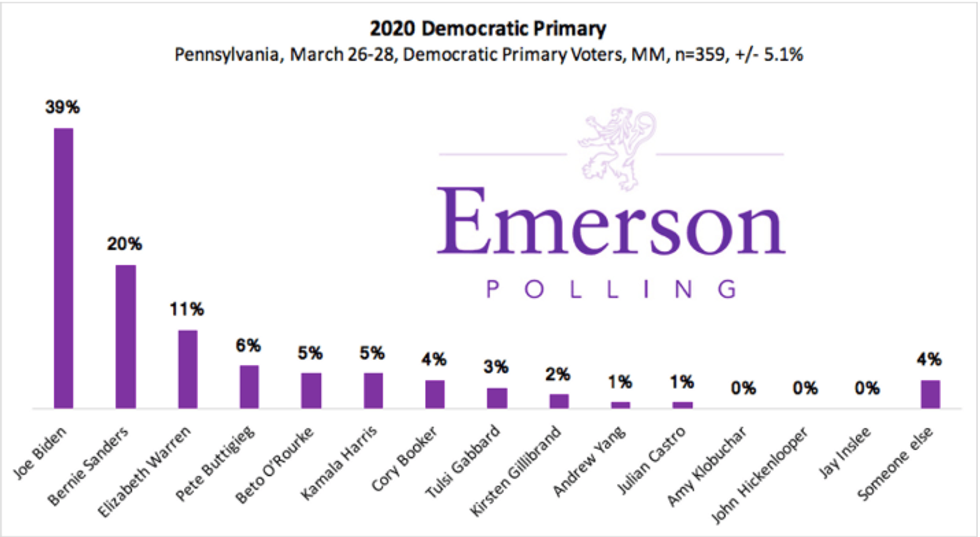 Emerson Polling
"Sanders in this year's state polling is consistently keeping between 35% to 60% of his vote from 2016, suggesting he has a strong base of supporters to work with," said Spencer Kimball, Director of the Emerson Poll.
Kimball added: "Mayor Pete has performed well for our third poll in a row, indicating an increase in support for the South Bend Mayor, though Pennsylvania looks like it could be a Joe Biden firewall."
Only 41 percent of the survey's respondents said they approve of the president's job performance, and 55 percent said they are "not likely" to vote for the president in 2020.
Emerson College surveyed 808 registered voters in the state between March 26-28 and has a margin of error of plus or minus 3.4 percentage points.
Many view the poll as a sign of the president's vulnerability in the upcoming election cycle.
I've been waiting for a Pennsylvania poll and now we have it. Head to head, Bernie Sanders is beating Trump in Pen… https://t.co/VVKGt2mTB4

— NY For Sanders #Bernie2020 (@NY For Sanders #Bernie2020) 1553829424.0
One of the reasons Trump is in the White House instead of Hillary, is because he won Pennsylvania. New polling by E… https://t.co/hEBegWpSvz

— Howie Klein (@Howie Klein) 1553867642.0
New Emerson poll out for Pennsylvania... Bernie Sanders is crushing Trump in the simulated head to head elections.… https://t.co/kfurT3kOLu

— 𝕂𝕖𝕧𝕚𝕟 𝕄𝕖𝕪𝕖𝕣𝕤𝕠𝕟 (@𝕂𝕖𝕧𝕚𝕟 𝕄𝕖𝕪𝕖𝕣𝕤𝕠𝕟) 1553861591.0
New Emerson PA Dem Primary Poll: Biden leads Bernie 39% to 20% Bernie has a huge lead over Trump in a general ele… https://t.co/pf2bRJtfFt

— Aaron Canape (@Aaron Canape) 1553831294.0
The poll comes amid news that the president is also facing trouble in the Midwest, according to Morning Consult.
Trump's approval rating has dropped 23 points in Michigan since 2016. Michigan was one of the key swing states that won him the election.
As Newsweek observed:
Trump's January 2017 approval rating in Michigan was 48 percent, with 40 percent of the state's voters disapproving of the then-new president. By February 1, 2019, his approval rating had dropped to 40 percent while his disapproval rating had swollen to 55 percent, a net swing of 23 percentage points over that two-years span.
These numbers come despite Trump's visit to Grand Rapids, Michigan, last night.
On my way to Grand Rapids, Michigan right now. See you all very soon! #MAGA https://t.co/JjGAijXlRT

— Donald J. Trump (@Donald J. Trump) 1553807188.0
It was Trump's first rally since the Mueller report was filed. The report, according to a letter penned by Attorney General William Barr last Friday, found insufficient evidence that President Trump or members of his campaign "conspired or coordinated with the Russian government in its election interference activities," an announcement that has prompted the president to proclaim victory over his opponents although the full report and its contents have still not been released to the public.