President Donald Trump blasted Nordstrom on social media via his personal Twitter account after the company decided not to continue carrying any of Ivanka Trump's products. Trump tweeted the message 21 minutes after the start of his daily intelligence briefing. Critics viewed the attack against the retailer as further evidence that the president is misusing the executive office to benefit his family's business empire.
My daughter Ivanka has been treated so unfairly by @Nordstrom. She is a great person -- always pushing me to do the right thing! Terrible!

— Donald J. Trump (@Donald J. Trump) 1486569061.0
---
@POTUS, the president's official White House Twitter account, retweeted Trump's message within minutes.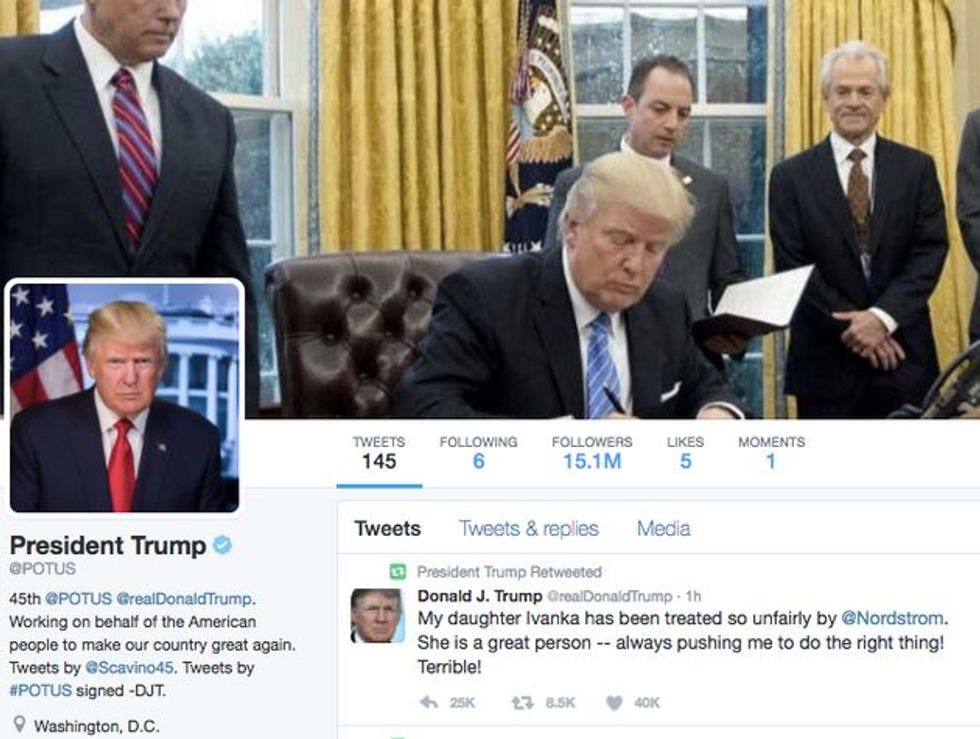 Credit: Source.
Trump's previous complaints against companies on Twitter were often objections to how corporate policies would affect employees and taxpayers. The attack against Nordstrom, however, demonstrates the president is not above criticizing a company's policies if they directly impact his family members. The company's shares initially fell after Trump's criticism, but later closed up 4 percent at the New York Stock Exchange.
Nordstrom insists the decision to remove Trump-branded items from the store's website was a simple one: Ivanka Trump's items were not performing well. "We've said all along we make buying decisions based on performance. We've got thousands of brands – more than 2,000 offered on the site alone," the retailer said in a statement. "Reviewing their merit and making edits is part of the regular rhythm of our business. Each year we cut about 10 percent and refresh our assortment with about the same amount. In this case, based on the brand's performance we've decided not to buy it for this season."
The decision to sever ties with the Trump brand should not have come as a surprise to Ivanka Trump or, for that matter, the president. Ivanka Trump was informed of the company's decision last month.
NEW stmt from @Nordstrom doubles down on @IvankaTrumpHQ brand's performance - Trump was personally informed of the… https://t.co/VA7zNk6XVL

— Betsy Klein (@Betsy Klein) 1486586646.0
Responding to criticism of the tweet, White House Press Secretary Sean Spicer came to the president's defense, saying that he thinks Nordstrom dropped Ivanka Trump's apparel brand because "they have a problem with [Trump's] policies," calling the move a direct "attack on his daughter."
Spicer said Trump "has every right to stand up for his family and applaud their business activities" when companies "take out their concern about [Trump's] actions or his executive orders" on his family members.
Spicer did not provide any evidence that Nordstrom's move was politically motivated. He also did not answer any questions as to why Trump used the White House's Twitter account––a public resource––to pursue a personal vendetta against the retailer. A spokesman for Ivanka Trump's clothing line also declined to comment.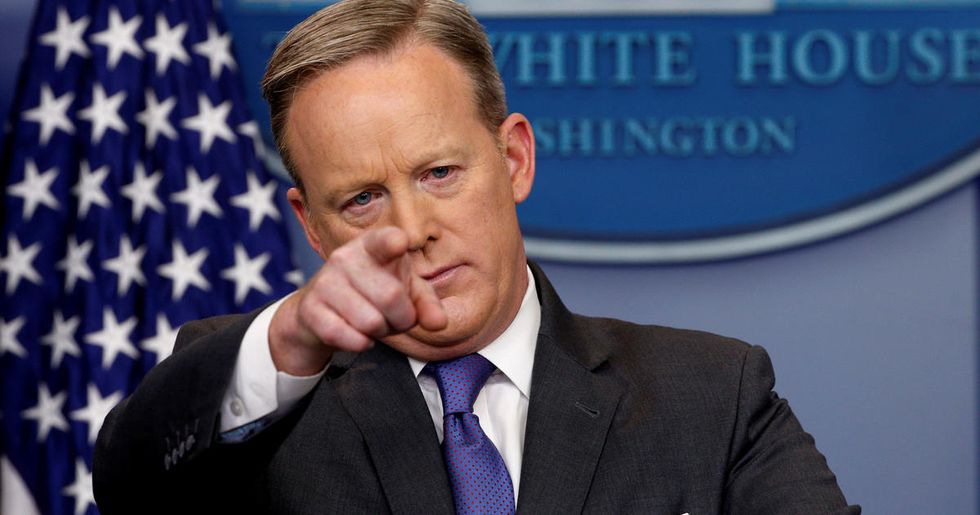 White House Press Secretary Sean Spicer. (Credit: Source.)
Ethics officials who served past Republican and Democratic administrations criticized Trump's actions, calling them unprecedented.
"This is misuse of public office for private gains," Richard Painter, who served as Republican President George W. Bush's chief ethics lawyer, said in an email to Reuters. "And it is abuse of power because the official message is clear––Nordstrom is persona non grata with the administration."
Norman Eisen, an ethics adviser to Democratic President Barack Obama, said Trump could face a lawsuit if the tweet injured the company's brand.
Trump's actions also earned criticism from watchdog group Public Citizen. "President Trump said he is going to have nothing to do with his family businesses," said Robert Weissman, the organization's president. "His reaction to developments with his daughter's business line suggests that claim is untrue."
Congressional Republicans found themselves in an uncomfortable predicament.
"That sounds like a personal matter to me," said Senator David Perdue (R-Georgia) of Trump's tweet. "He is a citizen and he is a citizen who is now president of the United States."
When asked whether the president should criticize a publicly traded company for its relationship with Trump's daughter, Sen. Ron Johnson (R-Wisconsin) was at a loss. "I don't know the answer to that question." he said. Let me think about what the answer is."