For many political pundits and politicians alike, the minor children of elected officials are off limits.
So much as mentioning them is met with backlash.
Unless of course a politician wants to use his own child to mock someone.
---
When legal scholar Pamela Karlan remarked President Donald Trump may name his child Barron but not make him a baron because the US Constitution does not make him royalty with the powers of an emperor or king, conservatives, Republicans and First Lady Melania Trump cried foul over the remark. They said because the President's youngest child with his third wife is still a minor, Karlan should not have mentioned him.
Karlan later apologized.
However, the same groups remained silent, justified the cruelty against a child or joined in when the President and his oldest son, Don Jr., mocked 16 year-old climate activist Greta Thunberg repeatedly.
And Barron was fair game when President Trump spoke at a MAGA rally in Battle Creek, Michigan on Wednesday. After boasting of his own crowd sizes, he remarked that Massachusetts Senator and Democratic presidential candidate Elizabeth Warren—referring to her with one of his favored racial slurs—drew large crowds in New York recently.
Trump told his MAGA rally attendees:
"Crazy Pocahontas goes to the middle of Central Park and gets a crowd."
The President then added:
"I could have Barron Trump go into Central Park and he'd get a crowd. He'd get a bigger crowd than Warren."
Not surprisingly, the conservative pearl clutchers who condemned Karlan were silent at Trump's invocation of his son to attack Warren.
They were also silent when it came to Trump's use of "Pocahontas" to refer to Warren.
The National Congress for American Indians (NCAI) previously condemned Trump's use of Pocahontas to attack Warren as have numerous Indigenous groups and leaders.
NCAI CEO Kevin Allis said:
"NCAI condemns the President's continued use of the name 'Pocahontas' as an insult for political gain."
"Not only does it disrespect Pocahontas' legacy and life, it likens her name to a [racial] slur."
People noted the double—or lack of—standards from the people who railed against Karlan.
Hey remember that entire news cycle when people pretended to be outraged and horrified that an impeachment witness… https://t.co/lumh5cYFFm

— Jenny from the Vox (@Jenny from the Vox) 1576732811.0
I had missed on top of everything else that came out this tyrant's mouth last night, he also brought up his son, Ba… https://t.co/lzDKdVQMin

— Amy Siskind 🏳️‍🌈 (@Amy Siskind 🏳️‍🌈) 1576773269.0
Hey Melania Trump said Barron could get a bigger crowd in NY than Elizabeth Warren So is he allow to use Barron… https://t.co/P69CX8pJls

— Mayday Mindy 🌊 (@Mayday Mindy 🌊) 1576764097.0
A professional testifying before the House used Barron Trump's name in a joke unrelated to Barron Trump & the media… https://t.co/hWwLKXpRYd

— David Roberts (@David Roberts) 1576732093.0
Where is the faux "first lady's" outrage about #BeBest as her husband taunts 16 year old @GretaThunberg Time Magazi… https://t.co/dCSnc1r3kC

— Barbara Malmet (@Barbara Malmet) 1576170159.0
Nobody is allowed to mention Barron Trump's name, but the President can attack a 16 year old with Aspergers? 🤔… https://t.co/GyLddA1f70

— David Leavitt (@David Leavitt) 1576160074.0
Trump at MI rally brings up son Barron & Warren crowd size "If crazy Pocahontas goes to the middle of Central Park… https://t.co/lRHBytxuUl

— Karen Travers (@Karen Travers) 1576720203.0
[Apparently calling out the first name of a child is only NOT okay if it's Barron. That said, no one will ever hold… https://t.co/DvHjmbjbAg

— Soledad O'Brien (@Soledad O'Brien) 1576156142.0
TRUMP hate rallying in Michigan tonight invoked his son BARRON as a political tool. Used him as a put down of Warre… https://t.co/oaEToTQiCb

— Karen Myatt (@Karen Myatt) 1576722402.0
What's the difference between Barron Trump and Greta Thunberg? Donald Trump knows who Greta Thunberg is ;) #BeBest

— Paul Lidicul (@Paul Lidicul) 1576190108.0
Huh. It's almost as if the attacks on Pam Karlan for mentioning Barron Trump's name were not made in good faith. https://t.co/4Kgctjux7z

— Ian Millhiser (@Ian Millhiser) 1576719929.0
2 reactions after listening to the Trump rally in Michigan tonight. 1. If they actually listen to him, his supporte… https://t.co/w8wAT1kH2m

— Mario Speedwagon (@Mario Speedwagon) 1576730987.0
He called Comcast "Commiecast," The Washington Post a "stupid" rag, said Schiff wasnt "exactly the best-looking guy… https://t.co/65RlyvSuLq

— Nan- GOP, sell crazy somewhere else (@Nan- GOP, sell crazy somewhere else) 1576765401.0
As of Thursday, the 2020 presidential election is 319 days away. Are you registered to vote?
This shirt is available here in a variety of colors and sizes.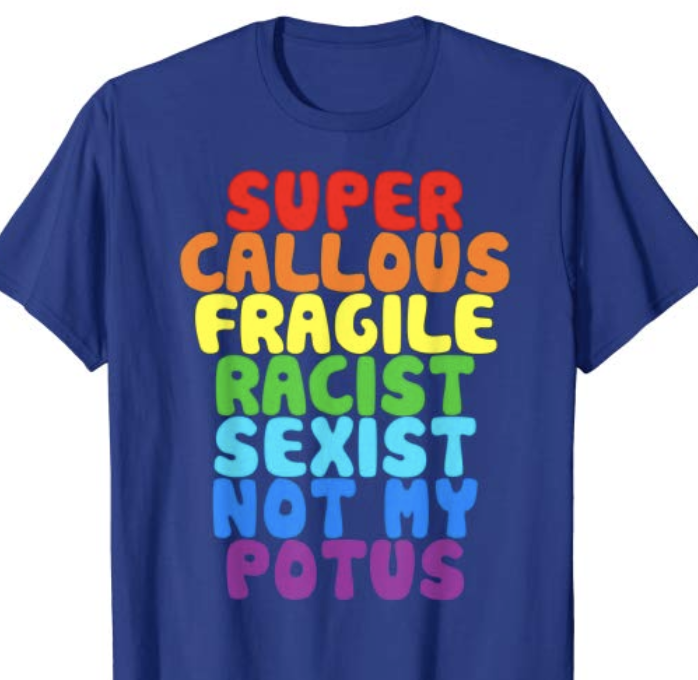 Amazon