An explosive new report reveals that then-Senator Jeff Sessions (R-Alabama) spoke twice last year with Russia's ambassador to the United States, yet he failed to disclose these encounters when asked directly about possible contacts between President Donald Trump's campaign and Russian officials during his confirmation hearing to become Attorney General.
The Washington Postreports that, according to U.S. intelligence officials, one of those meetings was a private conversation between Sessions and Russian Ambassador Sergey Kislyak that took place in September at the height of Russia's cyber campaign to interfere with the presidential election. At the time Sessions first spoke with Kislyak in July, he was a senior member of the Senate Armed Services Committee, as well as one of the president's top foreign policy advisors. (This is the second time in as many months that Kislyak has found himself at the center of a White House scandal: Trump's national security advisor, Michael Flynn, was fired last month after he discussed the ongoing sanctions against Russia with Kislyak.)
---
At Sessions' January 10 confirmation hearing, Sen. Al Franken (D-Minnesota) asked him what he would do if he learned of any evidence that anyone affiliated with the Trump campaign communicated with Russia during the presidential race. "I'm not aware of any of those activities," Sessions responded at the time. "I have been called a surrogate at a time or two in that campaign and I did not have communications with the Russians." Critics are citing this sworn yet untrue statement as clear evidence that Sessions is hiding something, or at a minimum cannot be trusted to lead any investigation.
Sen. Franken released a statement when asked to comment on Sessions' conversations with Kislyak. "If it's true that Attorney General Sessions met with the Russian ambassador in the midst of the campaign, then I am very troubled that his response to my questioning during his confirmation hearing was, at best, misleading," he said. "It is now clearer than ever that the attorney general cannot, in good faith, oversee an investigation at the Department of Justice and the FBI of the Trump-Russia connection, and he must recuse himself immediately."
The previously undisclosed conversations could fuel new calls for an independent, bipartisan investigation into the president's and his campaign's Russian ties. Nancy Pelosi (D-California), the top Democrat in the House, called yesterday for Sessions' resignation. "Sessions is not fit to serve as the top law enforcement officer of our country and must resign," she said in a statement.
Pelosi calls on Sessions to RESIGN https://t.co/dvgmRFvnr4

— Shane Goldmacher (@Shane Goldmacher) 1488427158.0
As Attorney General, Sessions oversees the Justice Department, including the FBI, which has been investigating Russian meddling and any links to the president's associates. Sessions to date has declined requests to recuse himself. But prominent Republicans have since urged the embattled Sessions to step down. Earlier this morning, Rep. Jason Chaffetz (R-Utah), the Chairman of the House Committee on Oversight and Government Reform, recommended Sessions recuse himself and clarify his testimony.
AG Sessions should clarify his testimony and recuse himself

— Jason Chaffetz (@Jason Chaffetz) 1488460479.0
House Majority Leader Kevin McCarthy (R-Calif.) also said during an appearance on MSNBC that Sessions should step down to preserve "the trust of the American people."
In response to news reports, Sessions released a statement through Sarah Isgur Flores, his spokesperson, stating that Sessions did not consider his conversations with Kislyak in his response to Franken's question and did not remember in detail what he discussed with the Russian ambassador. "There was absolutely nothing misleading about his answer," she said.
Here's the video of Sessions denying **under oath** that he had communications with the Russians. https://t.co/YFxCgqjQo6

— CAP Action (@CAP Action) 1488421956.0
During the hearing, Sen. Patrick J. Leahy (D-Vermont) also asked Sessions for answers to written questions. "Several of the President-elect's nominees or senior advisers have Russian ties. Have you been in contact with anyone connected to any part of the Russian government about the 2016 election, either before or after election day?" Leahy wrote. Sessions responded with a simple "No."
Sessions released a further statement last night insisting he "never met with any Russian officials to discuss issues of the campaign. I have no idea what this allegation is about. It is false." Critics have noted, however, that this was not the question posed by Senator Franklin, and therefore the "clarification" it itself even more misleading. Others have noted that it seems very few members of Trump's team seem to recall the substance of their conversations with the Russian ambassador.
Some Justice Department officials came to Sessions' defense, saying that Sessions met with Kislyak on Sept. 8 in his capacity as a member of the Senate Armed Services Committee, rather than in his role as part of the Trump campaign. "He was asked during the hearing about communications between Russia and the Trump campaign — not about meetings he took as a senator and a member of the Armed Services Committee," said Sarah Isgur Flores, adding that Sessions last year had more than 25 conversations with foreign ambassadors as a senior member of the Armed Services Committee, including the British, Korean, Japanese, Polish, Indian, Chinese, Canadian, Australian and German ambassadors, in addition to Kislyak.
But The Washington Post contacted all 26 members of the 2016 Senate Armed Services Committee to see whether any senators besides Sessions also met with Kislyak last year. Of the 20 who responded, every lawmaker, including Committee Chairman John McCain (R-Arizona) said they did not meet with the Russian ambassador.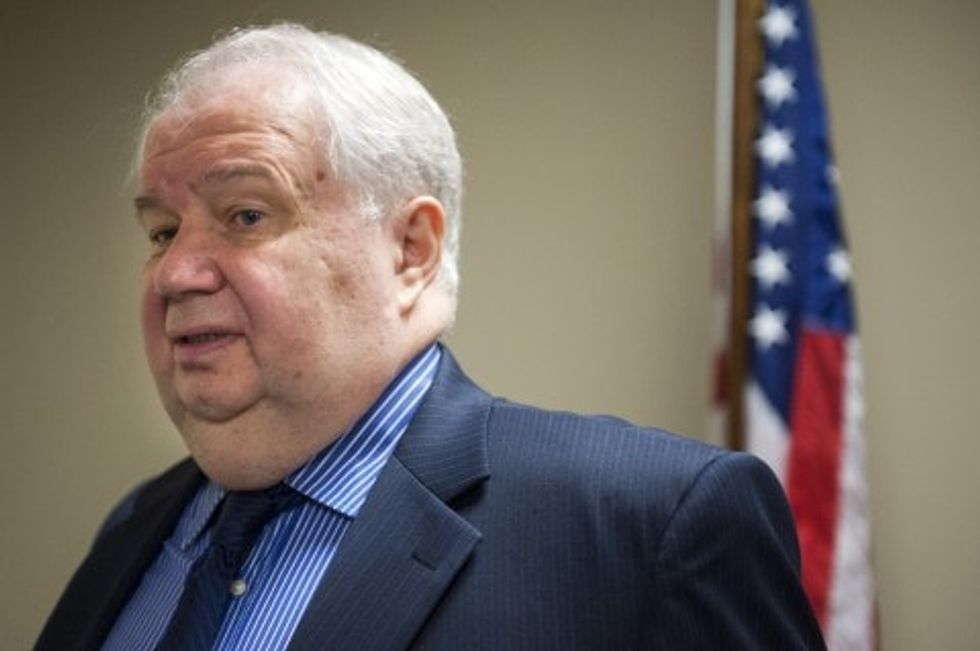 Sergei Kislyak. (Credit: Source.)
Members of the committee have not been beating a path to Kislyak's door," a senior Senate Armed Services Committee staffer said, adding that tensions with Moscow have kept them at bay. "There haven't been a ton of members who are looking to meet with Kislyak for their committee duties." Those present duties do not on their surface appear to involve Russia in any way.
Current and former U.S. intelligence officials said they view Kislyak as a diplomat, not as an intelligence operative. They said, however, that they are not sure of the extent, if any, of Kislyak's involvement with Russian interference. According to Steven Hall, former head of Russia operations at the CIA, Sessions' role on the Armed Services Committee would have made him a priority for Kislyak. "The fact that he had already placed himself at least ideologically behind Trump would have been an added bonus for Kislyak," Hall said.