On Monday morning, August 21, a total solar eclipse will travel from coast to coast for the first time in a century. Columbia University's renowned astrophysicist and author ofThe Elegant Universe Brian Greene explains why this extraordinary observance is not to be missed.
"Often times, these eclipses don't happen over populated areas. You have to go in the middle of the ocean or someplace far away, but we have a real opportunity to experience one of the great wonders of nature."
---
The Great American Solar Eclipse
While this rare celestial event will not be the last solar eclipse of the 21st Century,NASA reports that a total solar eclipse has not crossed the entirety of the United States since 1918, nearly 100 years ago, making this the Great American Eclipse of our lifetime.
The impending phenomenon is affecting already real-world behavior. Google search data reveals that those living within the path of the solar eclipse are looking up information regarding the eclipse five to ten times more often than those who live north or south of the path, and interest significantly recedes the farther away they are.
On what promises to be a memorable Monday, clear-skies permitting, the moon will pass between the sun and the Earth, blocking the light of the sun for about two minutes and 40 seconds. This eclipse will trek across our sky from Lincoln City, Oregon, to Charleston, South Carolina, crossing over a total of 14 states.
While everyone in North America will be able to see at least a partial solar eclipse, you'll need to place yourself in the path of the eclipse itself if you want to observe the total eclipse.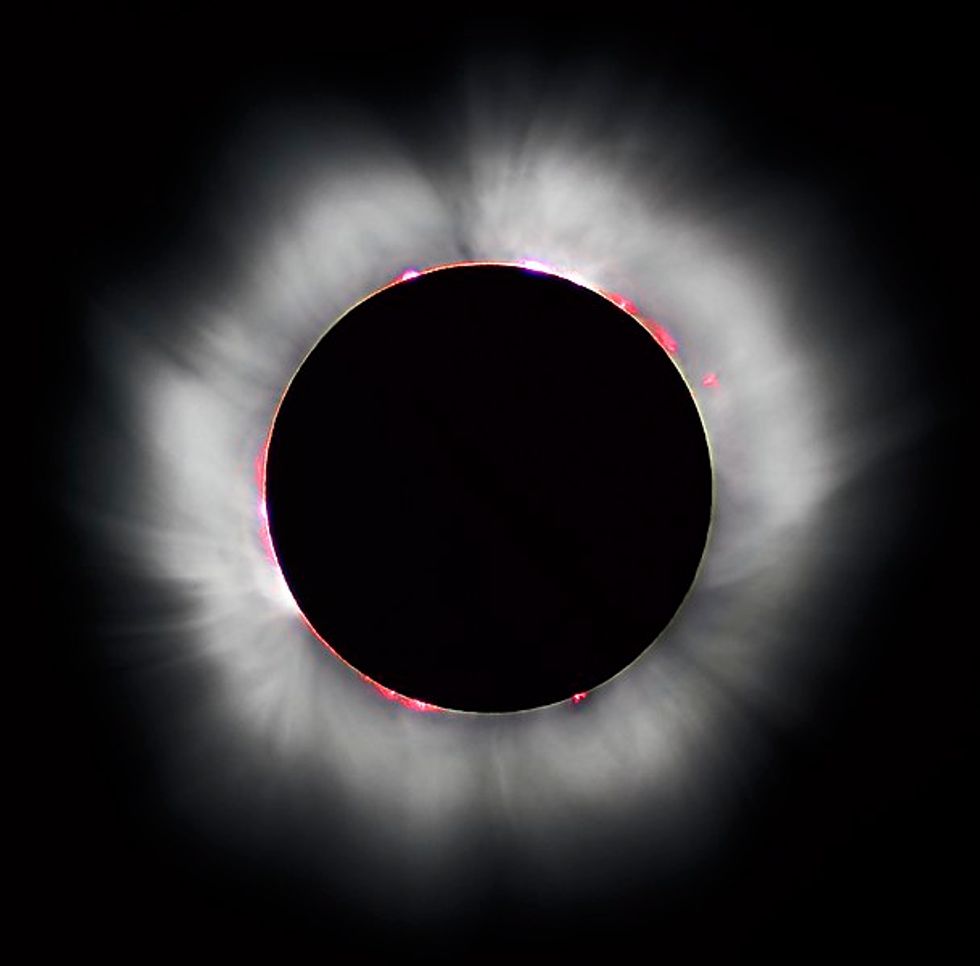 Credit: Source.
Where and When to Be and What to Do to See the Total Eclipse
Unless you're one of the few lucky airborne travelers who will witness the eclipse with anunobstructed view above the clouds, here is what the rest of us land-dwellers can do:
WHEN
The total eclipse will take place on Monday, August 21, 2017, from 10:15 a.m. Pacific Time to 2:45 p.m. Eastern Time, but will only last a few minutes at any point along its path.
WHERE
The shadow of the eclipse will be 70 miles wide and make landfall in Oregon, pass through Idaho, Wyoming, Nebraska, Kansas, Missouri, Illinois, Kentucky, Tennessee, Georgia, North Carolina, and finally depart off the shores of South Carolina.
Here is a list of towns, cities and places across the nation where you can witness the eclipse:
Madras, Oregon: a two-hour drive southeast of Portland, this small town has been preparing for the Eclipse for two years. 10:19 a.m.
Arco, Idaho: the Craters of the Moon national monument, a three-hour drive east from Boise, is hosting an event with free parking and eclipse-viewing glasses. 11:31 a.m.
Casper, Wyoming: they will be hosting a festival of events throughout the week leading up to the eclipse, with parking accommodations ranging from free to more than $300. 11:42 a.m.
Alliance, Nebraska: visitors should reserve a spot for their cars at local parking lots, and be sure to check out Carhenge, a local car-sculpture mimicking Stonehenge. 11:49 a.m.
St. Joseph, Missouri: a small city just an hour's drive north of Kansas City with many free viewing locations. 1:06 p.m.
Carbondale, Illinois: the Saluki Stadium at Southern Illinois University can hold up to 14,000 people, with seats still available at $25 each. 1:21 p.m.
Tennessee and Kentucky: less than two hours away from Nashville and Bowling Green, the Lands Between the Lakes National Recreation Area has ample space for free viewing, and camping permits are available if you want to stay longer. 1:23 p.m.
The Blue Ridge Parkway, North Carolina: along "America's Favorite Drive," there are many stops and overlooks beneath the solar eclipse's path of totality. Near Asheville, the total eclipse will begin at 2:36 p.m.
Columbia, South Carolina: the city has numerous viewing stations both at the University of South Carolina and at various parks. Free pairs of eclipse-viewing glasses will be handed out. 2:41 p.m.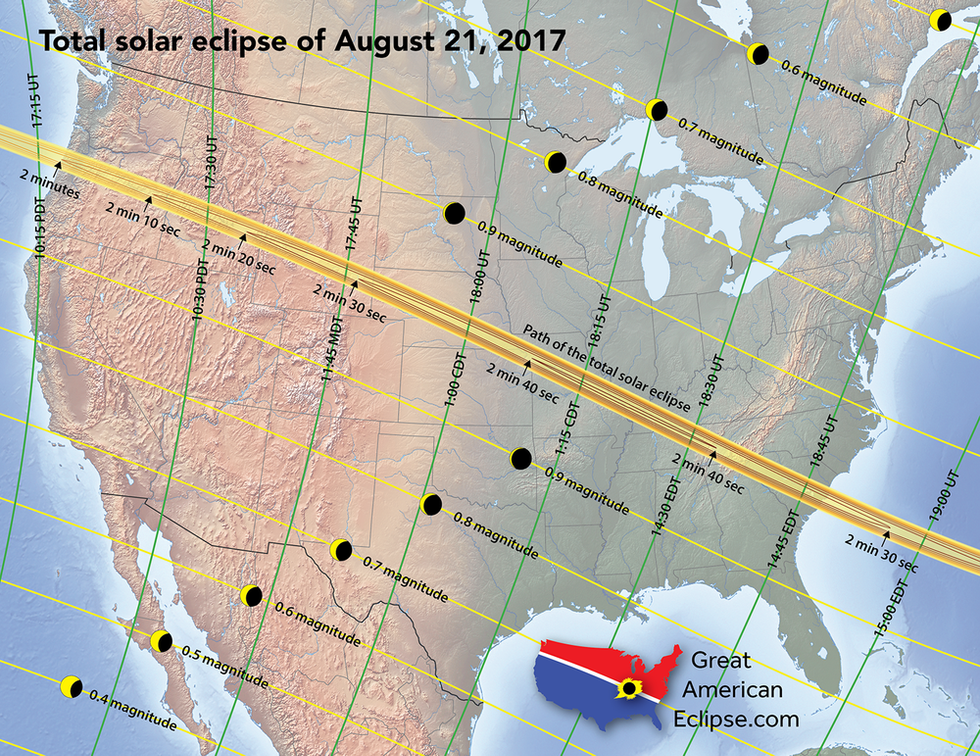 Credit: Source.
HOW TO PROTECT YOUR EYES
An eclipse can cause eye damage or blindness so a person should never look at one directly, except during those precious few minutes of totality. Solar viewing glasses will protect and shade your eyes, and make it possible for observers to look directly at the sun before and after totality. Other safe solar viewing includes:
Welder's goggles rated 14 or higher
Specially designed solar telescopes or solar binoculars
Telescopes, cameras, binoculars with approved solar filters
Pinhole projectors
How You Can Be a Scientist and Help NASA
Kristen Weaver, deputy coordinator of the Global Learning and Observations to Benefit the Environment (GLOBE) program, needs as many eclipse observers as possible to record both cloud coverage and temperature readings during the brief time when the Moon blocks out the sun's light and heat. With the help of people from across the continent, it is her hope to measure atmospheric changes to see how "cool" the eclipse can be.
"We want to inspire a million eclipse viewers to become eclipse scientists," says Weaver.
Observers can download the GLOBE app and then upload their findings.
A Transcendent Experience
Once you're nestled into to your viewing spot, wearing your snazzy solar shades and counting down with friends and family, recall these words from Brian Greene with awe.
"Now if you ask me what you should really be doing during the solar eclipse? Just take it in, it is one of the most amazing experiences, that's what I've taught. I've never experienced one, I've read about people — It's a transcendent experience. Just go out and experience one of the great wonders of the universe."
As For the Rest of Us….
Expectmany traffic jams and highway congestion in the days and even the morning leading up to the eclipse. Even if you have no intention of traveling anywhere but you are still curious how much of the eclipse you will see,enter your location into this online tool to find out how many miles away you will be from the total eclipse's path.
For example, if you live in Los Angeles, California, you'll only see a 50% partial eclipse at 683 miles away. Washington, D.C. will experience 75% partial eclipse at 377 miles away. Both Seattle, Washington and Portland, Oregon will be closer at 90%, with the latter only 18 miles away from the edge of totality.
Who knows... seeing how close the eclipse might pass by home just might change your mind about missing out on this once-in-a-century solar eclipse!
For more information:NASA,Space.com,Great American Eclipse