[DIGEST: WBUR, BBC, CDC, ABC, Vox, Statnews]
Every year, more than 300,000 Americans contract Lyme disease. Yet, the disease remains largely mysterious as well as difficult to treat, and no organized effort has been taken to prevent its spread in the U.S.
---
The potentially debilitating illness is contracted through the bite of an infected tick, and brings such a vast range of symptoms that many people go for years without a diagnosis or proper treatment. No vaccine or even a reliable test exists. Yet in France, which has a fraction of the number of cases, at 33,000 per year, the disease is being tackled seriously.
In 2016, France became the first country to release a national plan to address tick-borne diseases, and their comprehensive strategy is becoming a model for other countries. Canada released its own federal action plan to address Lyme this year, which borrows many of the ideas from the French plan. (All of the Canadian provinces have reported cases of Lyme disease, and the singer Avril Lavigne has been public about her prolonged battle with the disease, which has helped to raised awareness in her homeland.)
France is combining science, medicine, and education to create a multi-level awareness, prevention and treatment initiative that treats Lyme disease as a major public health problem. The strategy includes stepped-up surveillance of ticks, detailed data on infection rates and investment in research to create better diagnostic tests treatment protocols.
"If we do a good job at prevention, we'll have fewer patients who end up seeking care and struggling in the medical system," said Lucie Chouin, a public health official for the Greater Eastern region of France. "For me, prevention is part of a package; if we only do so much, and do not do anything upstream, the problem won't be resolved.
Public education is key to prevention, and to that end, the country's public health agency is running educational public service messages in print and on television that describe how the disease is contracted and how to prevent infection, as well as gives information on the range of symptoms that might be the sign of an infection.
The government is also encouraging people to report tick bites they or their pets have experienced by logging the sighting on a tick alert app that is available in French or English, for the many English-speaking tourists that descend on the French countryside, where ticks are abundant.
Lyme disease is spread through several species of ticks, which vary per continent. In Europe, the sheep tick and the castor bean tick are the primary vectors, while in the U.S., the black-legged tick and deer tick are the main culprits. Some of the ticks are so tiny — smaller than the tip of a ballpoint pen — that they can attach themselves to a person, remain attached for the 36-48 hours needed to transmit infection, and then drop off, without ever attracting notice. About 50 percent of people will notice a bulls-eye rash surrounding the bite site.
Reported cases are increasing every year, and as the North American climate warms and becomes more hospitable to the blood-sucking insect, the range of infected ticks is expanding. Milder winters mean longer breeding seasons for the bugs, and infected ticks have been reported in 14 states, in every month of the year. The disease is currently concentrated in the upper Midwest and New England, in forested suburban and rural areas with large numbers of deer, who are particularly afflicted by the insects and act as hosts for their feeding and breeding activities. Tick surveys have found that the population of infected insects is spreading. In 1976, it was found only in Lyme, Connecticut, and the black-legged tick was limited to Long Island Sound and a small area in Wisconsin.
According to the CDC, symptoms include chronic fatigue, headaches, fever, and rash. If untreated, it can progress to the joints, heart and nervous system. Treatment includes antibiotics, if caught early enough, but many people live with the effects of Lyme long after treatment. Some infected ticks transmit more than one disease, so it's possible to contract Lyme and other tick-borne diseases, such as Powassan or babelosis, at the same time. The effects can be debilitating, and complications can lead to death.
"It's one of these diseases that has a very nonspecific, acute presentation," said Duane Gubler, an infectious diseases specialist and former director of the division of vector-borne disease at the Centers for Disease Control and Prevention. "There are many people out there with symptoms of chronic fatigue, muscle pain, and Lyme disease has become one of the catchalls for people who have an illness of unknown etiology and there's simply no clinical or lab test that can diagnose these people."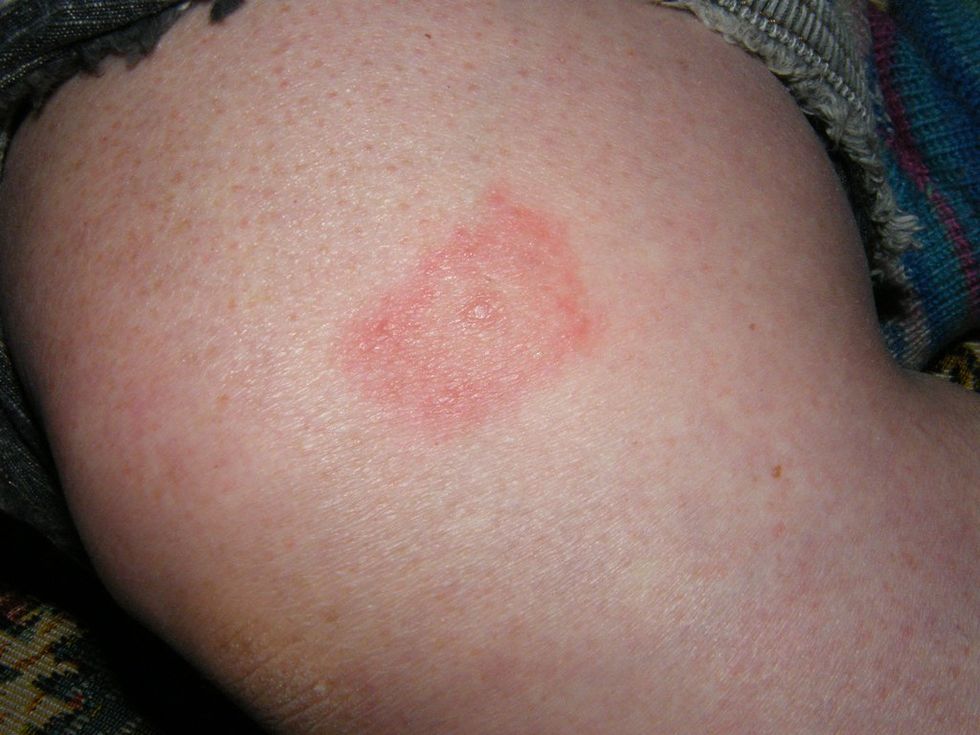 Credit: Chris Booth.
English rugby star Matt Dawson brought attention to the disease in his country when he revealed that his case was so serious that he underwent multiple heart surgeries. He now works with The Big Tick Project, an awareness organization that encourages Brits to take preventive measures and be on the lookout for the ticks. Applying insect repellent and checking oneself (and one's pets) after spending time outside is key to avoiding the disease.
A variety of diagnostic tests exist, but current tests are only considered to be about 40 percent accurate. Both false positives and false negatives are common. In France, patients with suspected cases of Lyme visit specialized Lyme clinics where they can get all the tests and scans, see various specialists, including rheumatologists and neurologists, and get started on treatments that fit their diagnosis. One of those specialists could even be a psychologist, who helps patients navigate the emotional and social difficulties a Lyme infection can bring.
So why doesn't the U.S. adopt such a protocol? France's socialized health care system prioritizes prevention and offers a comprehensive range of treatments, while in the U.S., a fee-for-service system and disjointed networks of physicians make such broad treatment plans unaffordable for many, and difficult to coordinate. The current administration's attacks on science and health care, combined with its climate change denial, mean that a plan that hinges on prevention is unlikely to come anytime soon. Current efforts to fight the disease rely largely on the work of individuals who are personally motivated to get the word out.
Small hope could be pinned on the fact that several people close to the Trump administration have contracted the disease, including one of Trump's former wives, Marla Maples, and the wife of Dan Scavino, his former social media coordinator. New York senator Kirsten Gillibrand has called on the federal government to spend more to fight the disease, which infected 41,000 people in her state in the past decade. She is asking the Trump administration to fund research that Congress has already approved and Presidential Obama signed into law. Given Trump's record so far on undoing Obama's executive orders, Gillibrand may face an uphill battle.