[DIGEST: Bloomberg, Fortune, fda.gov, BizJournals, Biospace; FDA)
The FDA approved a new drug for a form of Batten disease, a rare inherited neurodegenerative condition which rarely allows children to live past their teens. But the drug retails at over $700,000 per year. This, and other drugs that treat rare diseases, are protected by what is known as the Orphan Drug Act. Originally created to encourage research and production of treatments for rare diseases, the Act has inadvertently produced monopolies that allow prices to skyrocket out of control, and corruption among drug companies as they try to push more product onto a tiny market.
---
FDA Approved Brineura
In April of 2017, the FDA approved BioMarin Pharmaceutical Inc.'s Brineura, the first drug treatment for ceroid lipofuscinosis type 2 (CLN2), a form of Batten disease. The symptoms, which typically begin between ages two and four, include language delay, epilepsy, loss of coordination and vision, and muscle twitches. Loss of motor skills later affects the patient's ability to sit and walk. Children with CLN2 often require a wheelchair by late childhood, rarely surviving past their teens. Approximately 20 children each year are born with CLN2 in the United States, with about 500 total U.S children currently suffering from the disease.
CLN2 prohibits patients from being able to produce the specific enzyme that allows neurons to recycle in the brain properly. For most patients, Brineura provides enzyme replacement therapy to diminish the progression of the disease.
"The FDA is committed to approving new and innovative therapies for patients with rare diseases, particularly where there are no approved treatment options," said Julie Beitz, M.D., director of the Office of Drug Evaluation III in the FDA's Center for Drug Evaluation and Research. "Approving the first drug for the treatment of this form of Batten disease is an important advance for patients suffering with this condition."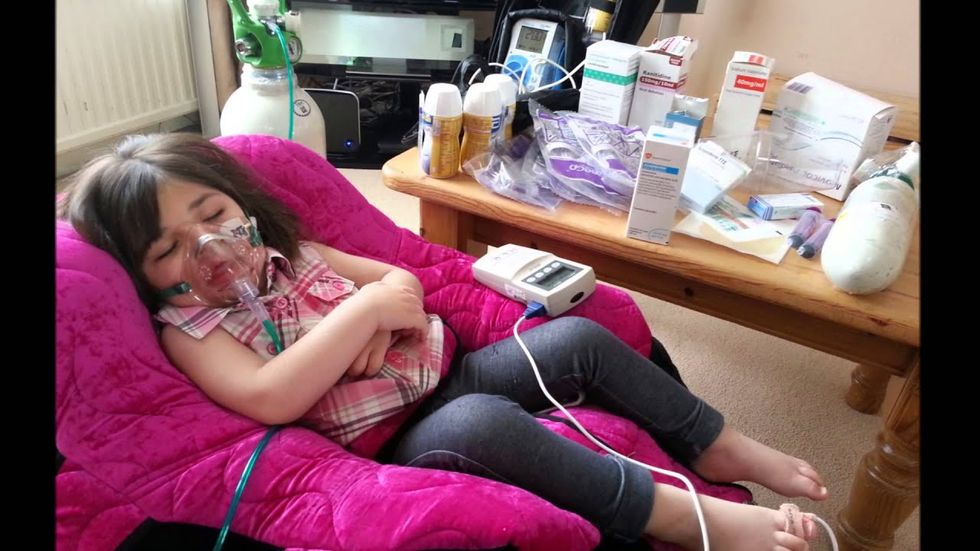 Credit: Source.
To that end, Brineura received Priority Review status, shaving four months off the typical ten month FDA review, and Breakthrough Therapy designations, allowing Biomarin to fast-track the FDA process. Bineura also received a Rare Pediatric Disease Priority Review Voucher to urge development of additional drugs for rare diseases; this can be transferred for a Priority Review for a different drug or sold to another drug company – the highest to date brought $350 million.
The FDA also granted Brineura Orphan Drug status, which provides financial incentives for development of drugs for rare diseases—including grants and tax incentives to defray costs of testing and producing drugs.  
Yet BioMarin has priced Brineura at $702,000 per year, or $27,000 in bi-weekly infusions, even though patients will pay much less than that after mandatory discounts rebates and
assistance programs such as Medicare. But many of those discounts, which are passed onto insurance companies, will eventually come back to the consumer through raised premiums, co-pays, and deductibles.
CEO of BioMarinJean-Jacques Bienaimé explained that the drug's high cost is a result of the "innovation factor," and the limited number of patients versus the high manufacturing costs.
Background on Orphan Drugs
Congress passed the Orphan Drug Act in 1983 to encourage drug makers to focus on neglected research areas by offering grants, tax incentives, and increasing the exclusive marketing rights period for new rare-disease treatments. By U.S. law, an orphan drug will treat a disease that affects less than 200,000 people nationwide.
In the ten years before the law's enactment, ten "orphan drugs" were approved in the United States, compared to over 600 since. But the exclusive rights provision has led to legal monopolies that, along with a small population of patients grasping at hope, created the price inflation in the orphan drug industry.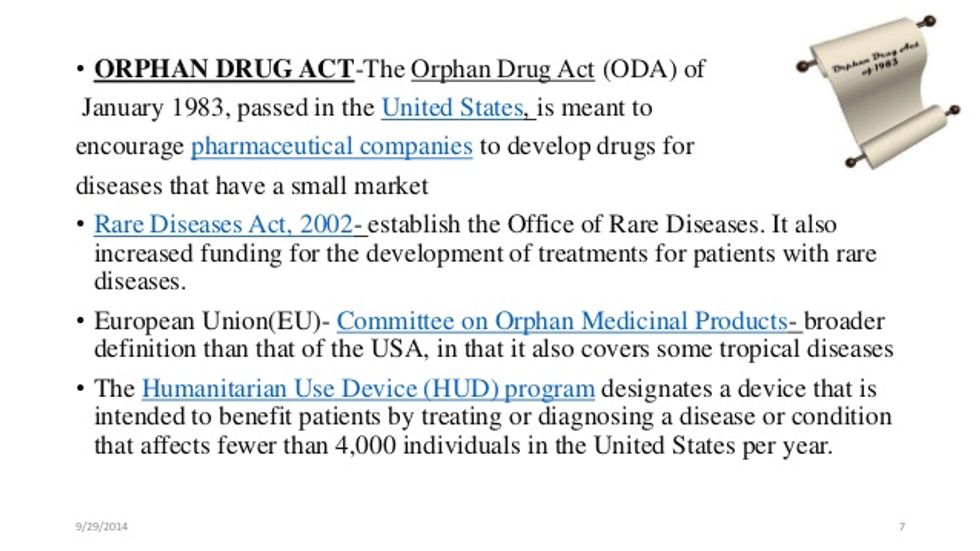 Credit: Source.
Drug makers argue high prices for orphan drugs are necessary despite the incentive laws because it's incredibly difficult to discover and test groundbreaking treatments with such a limited number of patients. For instance, UniQure – a $1 million-plus gene therapy – was pulled from the market for its nearly non-existent sales over a five-year period.
"Many of these manufacturers have perceived it as essentially a blank check to price the drug where they think it's reasonable," according to Rena Conti, associate professor of health policy and economics at the University of Chicago.
In fact, another drug – Ravicti, from Horizon Pharma – has even higher price tag than Brineura, at $793,632 per year. 
A study from Johns Hopkins University shows that, as of 2014, orphan drugs accounted for a wildly disproportionate 41 percent of the drugs entering the market. Meanwhile, this subset of drugs continues to explode in price, up 38 percent in six years, and the average cost of an orphan drug treatment in the U.S. reached $136,000 per year in 2016.
Additional Risks Associated with Orphan Drugs
Despite Congress' enactment and the FDA's use of the Orphan Drug Act, creating a situation where drug companies are inevitably trying to make large sums of money from small numbers of people with rare diseases invites undue influence. For instance, Alexion, which
developed the orphan drug Soliris, relies on it almost exclusively for its revenue, while various sources indicate egregious misconduct and ethical violations as to its promotions and sales. The aggressive conduct included training new employees speaking with doctors to "transform no to yes," and meeting financial resistance with a warning about the risk of death from the disease.
Alexion's in-house nurses, who should have been kept separate from sales staff to protect the patient from conflicts of interest, worked directly with the sales staff. Moreover, the nurses often received the lion's share of the pressure to obtain and preserve clients because of the nurses' direct access.
The company also sought out patients directly through various means. The drug reps from Alexion encouraged doctors to send tests to "partner labs," without disclosing agreements with labs to provide Alexion copies of test results—redacted to remove only the patient's name per medical privacy laws. But the patient's doctor, hospital, ZIP code, age, and gender was sufficient for Alexion to track down patients. By sponsoring patient advocacy support groups, which expedites drug approval, Alexion also gained cover to gather names of patients via sign-in sheets.
Likewise, BioMarin has established what could be similar structures to Alexion's patient access methods, via partner labs and patient advocacy groups. BioMarin is partnering with a commercial lab, "Behind the Seizure," offering a no-cost genetic testing program. It has also created BioMarin RareConnections, a resource for patients and families, a free personalized support service that includes information about financial assistance programs. 
In what could be interpreted as a justification for Alexion-type overreaching in the doctor's office and support groups, Bienaimé said in a press release: "Treating children with CLN2 disease requires an extraordinary amount of collaboration between families, hospitals, advocates and physicians." He added,"We are grateful for the partnership of all those involved and look forward to continuing to work together to make Brineura accessible to children who may benefit."
But last year, internal probes at Alexion led to significant change within the corporation that could potentially deter these kinds of abuses throughout the industry. After significant investigation, there were numerous departures of senior management including the CEO, more than one CFO, compliance officers, the head of research, the chief commercial officer, and the chief human resource officer. The internal probe also had a profound effect on Alexion's financial condition, with shares tumbling 18 percent since that time, while overall, biotech has risen two percent. And following detailed press inquiries, current CEO Ludwig Hanston stated that Alexion's nurses will report to medical affairs rather than the sales team, thereafter.