What would it feel like to soar over mountaintops? Or travel to Paris in a blink of the eye? How about sitting courtside at Wimbledon? Or better yet, playing at Wimbledon? Imagine not just telling but sharing the experience with twenty of your closest friends. With Facebook's recent acquisition of Oculus VR, a company specializing in immersive virtual reality (VR) technology, that day may not be far off.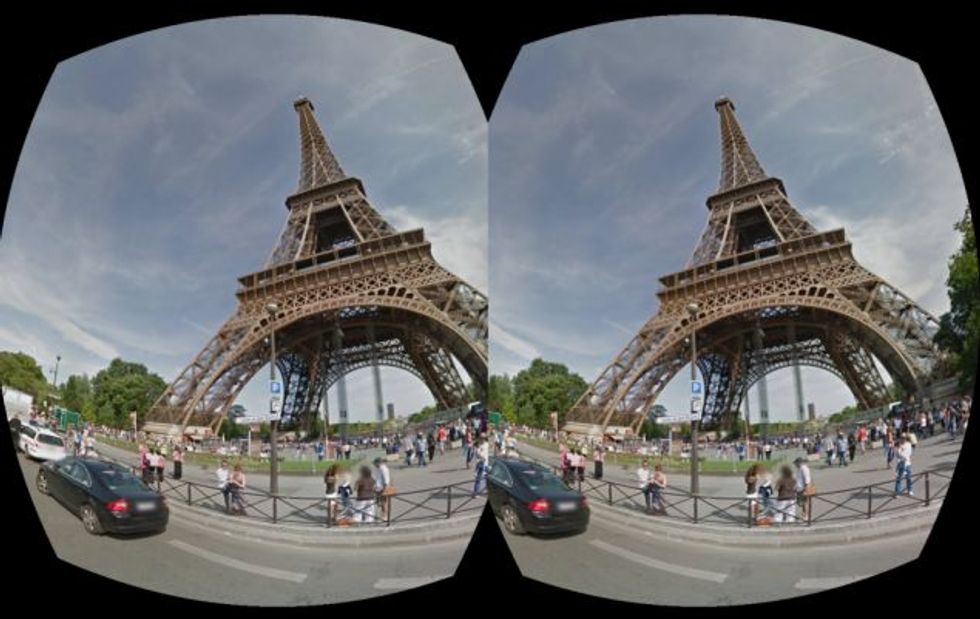 Fancy a stroll around Paris? (Google street view through the Oculus Rift)
---
Adding virtual reality to the social experience
On March 25, 2014, in a surprise blog post, Facebook declared its intention to acquire Oculus VR for a record $2.3 billion, based merely on a development prototype of a VR headset designed to give the user an immersive reality experience. Up until that point, Oculus VR was seen merely as a technology company enhancing the way people experience video games. With this acquisition, Facebook hopes to create the largest virtual reality network in history, anticipating over a billion simultaneous users.
Facebook's CEO Mark Zuckerberg revealed his reasons for the deal: "Oculus's mission is to enable you to experience the impossible. Their technology opens up the possibility of completely new kinds of experiences." He explained further, "When you put [the Oculus Rift] on, you enter a completely immersive computer-generated environment, like a game or a movie scene or a place far away. The incredible thing about the technology is that you feel like you're
To read more, continue to the next page. 
actually present in another place with other people."
Skeptics mutter that the Oculus VR is just a toy for Facebook's young CEO. He tried the Rift and, as the old tag line goes: "He liked it so much, he bought the company!" Unsurprisingly, Zuckerberg insists the acquisition is more a long-term strategic bet on the future for social networking. "Our mission is to make the world more open and connected. For the past few years, this has mostly meant building mobile apps that help you share with the people you care about. ... [A]t this point we feel we're in a position where we can start focusing on what platforms will come next to enable even more useful, entertaining and personal experiences."
The decision has its detractors. As Wired Magazine's Peter Rubin marveled, this is "[a]ll for a company that doesn't even have a commercial product yet and is chasing a dream that most of the tech community had seemingly given up on decades ago."
Oculus who?
In 2011, an 18-year old VR enthusiast named Palmer Luckey wanted to create a more effective virtual reality display at a price casual gamers could afford. After receiving acclaim for his idea at technology conferences, Luckey founded Oculus VR with Brendan Iribe as CEO. (Before Oculus, Iribe served as Chief Product Officer of Gaikai, which Sony acquired in 2012, and co-founder and CEO of Scaleform, which Autodesk acquired in 2011.)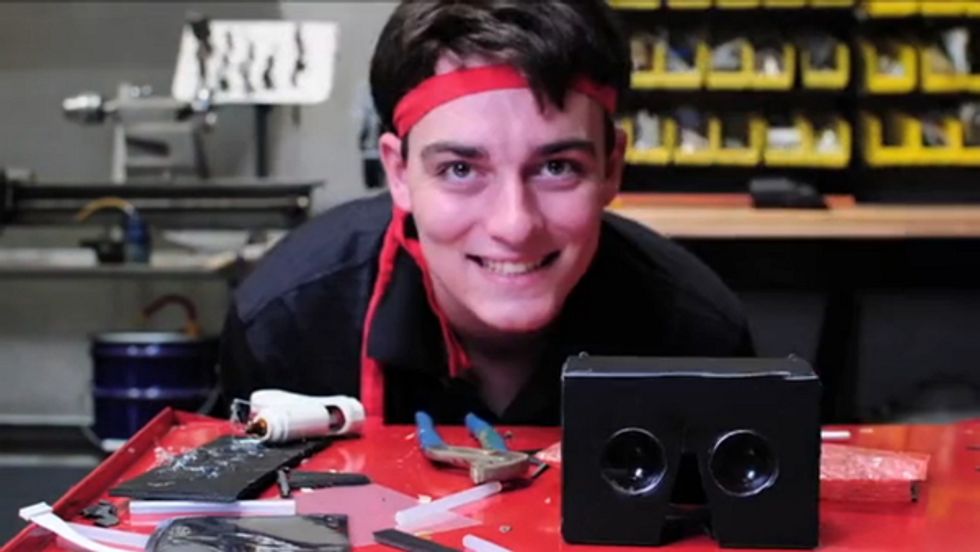 Palmer Luckey
A Kickstarter campaign launched in August 2012 raised $2.4 million to fund a prototype Oculus Rift, a VR head-mounted display for computers and mobile devices. A year and a half later, Facebook bought the company for over $2 billion.
What's in it for Oculus?
Apart from the $2.3 billion in cash and stock, Oculus's core team believes strongly in the partnership. In a posting on Reddit, Luckey affirmed that Facebook "aligned" with Oculus's own culture: "In the end, I kept coming back to a question we always ask ourselves every day at Oculus: what's best for the future of virtual reality? Partnering with Mark and the Facebook team is a unique and powerful opportunity. The partnership accelerates our vision, allows us to execute on some of our most creative ideas and take risks that were otherwise impossible. Most importantly, it means a better Oculus Rift with fewer compromises even faster than we anticipated."
Oculus has grown from 50 people at the start of 2014 to more than 200 now, said Iribe. "We've attracted some of the very best, top-talent engineers in the industry. And a big area we're able to focus on now is research: R&D," he said. "Typically it's hard for a startup to have a whole separate research group while you also have a product group… Now with Facebook's partnership it's been incredible who we've been able to bring on board, and we now have one of the best research groups in the world."
Adds John Carmack, Oculus's chief technology officer, "The [VR] experience is too obviously powerful, and it makes converts on contact. The fairly rapid involvement of the Titans is inevitable, and the real questions were how deeply to partner, and with who[m]." He continues, "I have reasons to believe that they get the Big Picture as I see it, and will be a powerful force towards making it happen."
What IS the Big Picture?
Facebook acquired Oculus because it bets that virtual reality will be the next big thing after mobile. Zuckerberg sees the acquisition as part of Facebook's mission to build the so-called knowledge economy, and that the technology is not just a peripheral for video games. "Immersive virtual and augmented reality will become a part of people's everyday life," Zuckerberg declared. "History suggests there will be more platforms to come," and "whoever builds and defines these" will shape the future. "There are not many things that are candidates to be the next major computing platform."
To read more, continue to the next page. 
The Oculus purchase is thus a "long-term bet on the future of computing."
A $2.3 billion bet? That's pretty high stakes, even for Zuckerberg. After all, Oculus VR has not yet come out with a consumer-ready product. But impetuously swooping in to scoop up companies is not unheard of for Facebook. Its approach, historically, has been to focus on user growth in the short term, and figure out how to make money later.
Zuckerberg confirmed his intent to keep Oculus independent while under Facebook's umbrella, as he has done with Instagram and WhatsApp. (A month before the Oculus acquisition, Facebook announced plans to purchase the WhatsApp messaging service for an eye-popping $26 billion. And the year before, Facebook acquired Instagram for $1 billion with equally little notice to investors or users. Ironically, at the time, Zuckerberg promised that "[w]e don't plan on doing many more of these "milestone" [acquisitions], if any at all.")
These large sums and quick decisions are givin some investors whiplash. Garrett Culver, a tech blogger, warns, "The large acquisitions are hurting them in the eyes of investors who think Zuckerberg is mismanaging company resources and overvaluations in their purchases are causing inflation in the tech sector, which isn't good for anyone."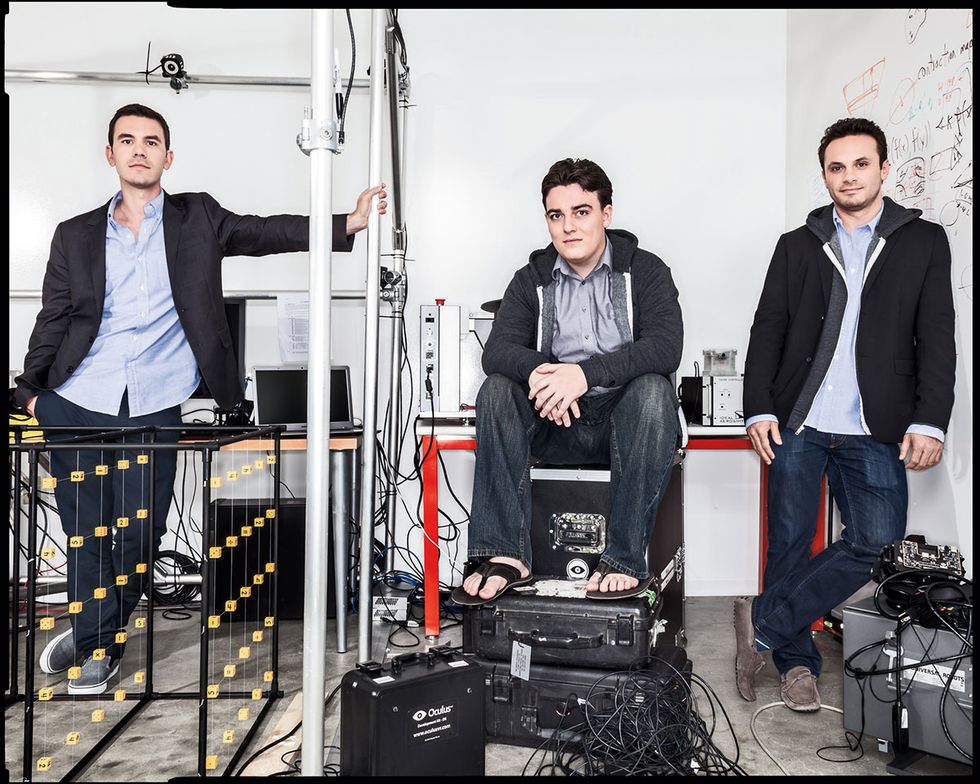 From left, Oculus VP of product Nate Mitchell, founder Palmer Luckey, and CEO Brendan Iribe in the company's Irvine, California, headquarters. DAN WINTERS
Skepticism by Industry Insiders
Industry and users of virtual reality have expressed concern over whether the Facebook/Oculus union will benefit either company. CNN Tech's Brandon Griggs put it bluntly: "Facebook is a social network. Oculus makes gear that enhances video gaming. How is this awkward marriage going to work?"
Minecraft creator, Markus 'Notch' Persson, originally a huge proponent of Oculus's technology, felt so apprehensive by the purchase that he withdrew a VR version of Minecraft he had been developing. "I definitely want to be a part of VR, but I will not work with Facebook," Persson declared. "Their motives are too unclear and shifting, and they haven't historically been a stable platform."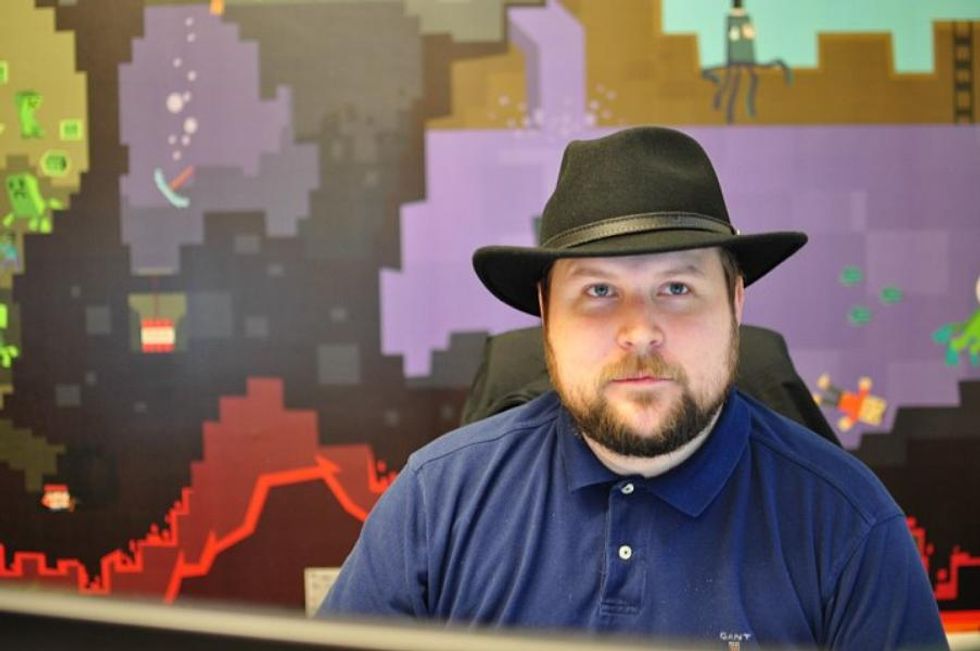 Markus Persson, creator of Minecraft, withdrew a VR-compatible prototype of the game, upon learning of the Facebook acquisition.
Jaron Lanier warned that the acquisition could actually put the brakes on Oculus's forward momentum. "I have seen a lot of cases where big ticket acquisitions seem to actually slow innovative startups down," he opined to MIT Technology Review. "Whether the combination of Oculus and Facebook will yield more creativity or creepiness will be determined by whether the locus of control stays with individuals or drifts to big remote computers controlled by others."
Musician Peter Berkman was quite shaken by the news and wondered how this would further support Facebook's incursions on people's private behavior. "The data promised to them by VR (tele-conference meetings, games that portray our deepest desires, fears and fantasies) is everything they wish they could gather in the real world. When they cross-reference that with all the other information they already have on a billion people (faces, social dynamics, etc.), suddenly there is one company with a lot of control."
User Concerns
Fans of virtual reality gaming, who have been eagerly anticipating the first consumer VR goggles for years, worry that Facebook doesn't care enough about VR's gaming potential and may pull the team in different directions. One user mused, "This is deeply interesting to me, as I see Oculus' current efforts in VR to be so gaming-focused it begs the question of what the big picture can actually look like. Facebook is about communication, but these experiences are more than just that."
Comments on Zuckerberg's own original blog post announcing the integration range from people concerned about "a bunch of terrible FB social games [appearing] on the Oculus" to anxiety over privacy issues in a virtual reality social network to users' allegedly inevitable isolation, as "no one will ever need to get out of their room." Others accuse
To read more, continue to the next page. 
Facebook of buying where it cannot innovate and offer disheartening predictions that Facebook will "mess up" the virtual reality platform for which users have waited their entire lives.
Another user complained bitterly that "now that they are owned by Facebook, any values that they may have had are gone. They are Facebook's baby now and Facebook warps and perverts everything it touches." He went on to point out further that "Oculus specifically stated that they would never sell out, that they were a gaming company built by and for gamers. And they pocketed millions of dollars from people that bought into that promise… and then turned around and spit on all of them. In my opinion, that is unredeemable, I want nothing to do with them anymore. In fact, I think they should be taken to court and be forced to return the money that they extorted out of people through lies and false advertising."
Yet, dare we say… optimism?
Fortunately for Facebook, the reaction has not been not universally distrustful. While people are still a little confused about what exactly the social media giant would do witha VR headset, "people are getting excited about this thing," reports Erik Marsh, a blogger at Lantern Hollow Press. He suggests "The Holodeck [of Star Trek fame] … [may] be right around the corner." Outrageous? Not so, claims Joachim Tesch, who has used the Oculus Rift to create a real life Holodeck in his tracking lab at the Max Planck Institute for Biological Cybernetics in Tübingen, Baden-Württemberg, Germany.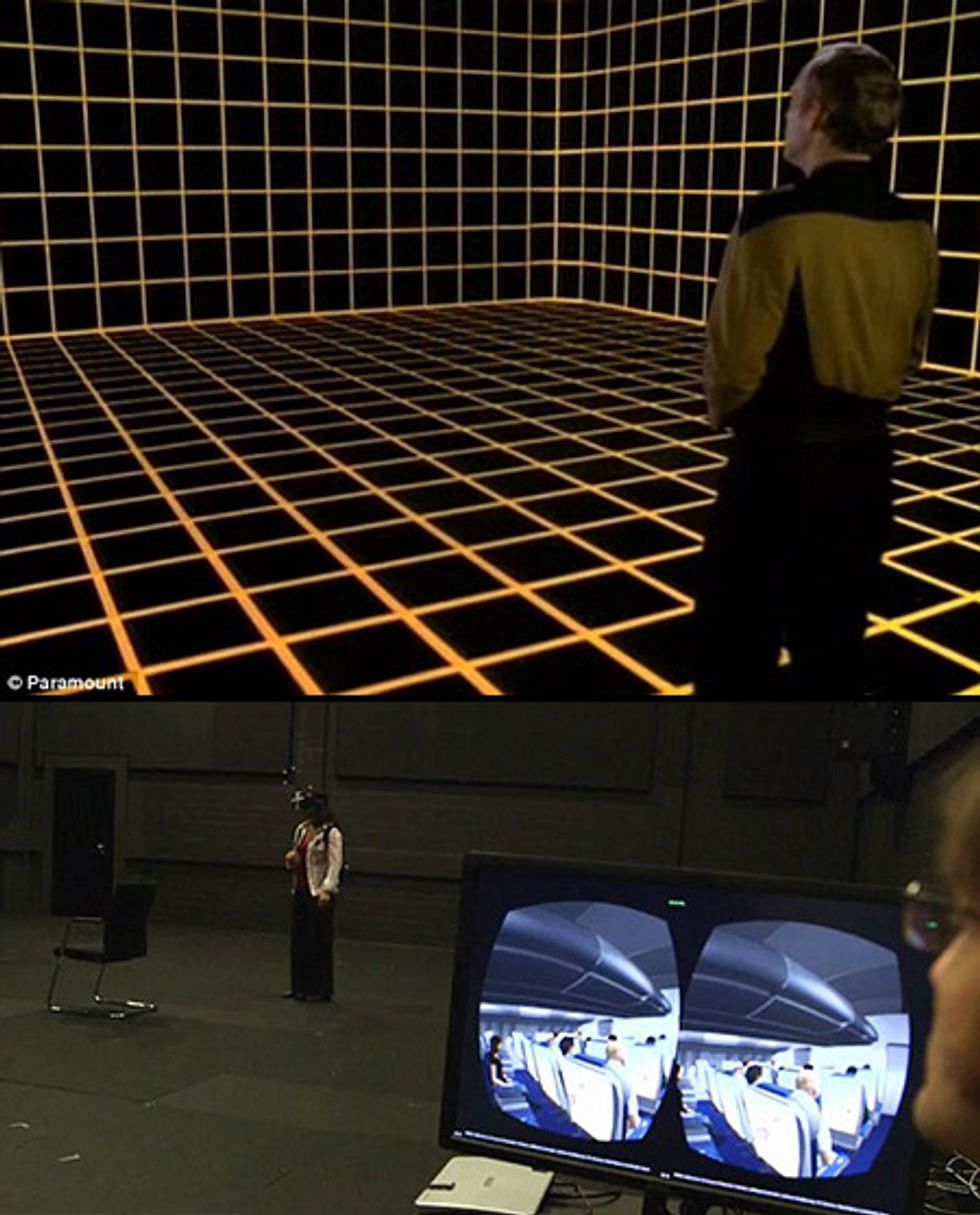 Andy Payne, the chairman of the Association for U.K. Interactive Entertainment and of Mastertronic, one of the U.K.'s longest-running video game publishers, said: "This could be an amazing deal if Oculus is allowed to press on, but more quickly. Facebook's mass-market power will move VR into the mainstream. They have bought a vision of the future. And they have also bought future relevance."
Many users in fact exulted after Zuckerberg's momentous blog post. One noted, "Having some substantial backing behind [the Rift] offering will only help to bring it to the forefront that much faster," while another commended the "type of programming talent [Facebook] attracts," but asked that the "vision of Oculus' founders be preserved" while hoping they would "be incentivized to realize it."
The company continues to develop smarter and better developer versions of the Oculus Rift, while continuing to work on an eventual consumer version. Facebook's resources certainly can help push that mission along. A consumer version of the product is expected to become available sometime in 2015.
Speaking of Star Trek, even George Takei got in on the fun during his YouTube segment "Takei's Take," where he played an Oculus Rift game involving punching a shark in the face. Takei asks the million dollar question: "Can tech evolve through play?" Facebook certainly hopes so.