The state of Texas sent a Republican to the United States Senate in every election since 1993 when their last Democratic Senator, Lloyd Bentsen, ended his tenure. But the 2018 midterms may produce a different result as Democratic challenger, Representative Beto O'Rourke, closes the gap on Republican incumbent Ted Cruz.
The latest polls show the two men within a few percentage points of each other. In response to the polls, the Texas GOP strategy of attack ads added a social media twist when they tried to discredit O'Rourke as a viable candidate because of his past.
---
On Tuesday, in an effort to bolster Ted Cruz's image, the Texas Republican Party posted an altered image of Beto O'Rourke's mugshot from 1998. They altered the photo to add "Sorry. Can't debate. Had a little too much to drink."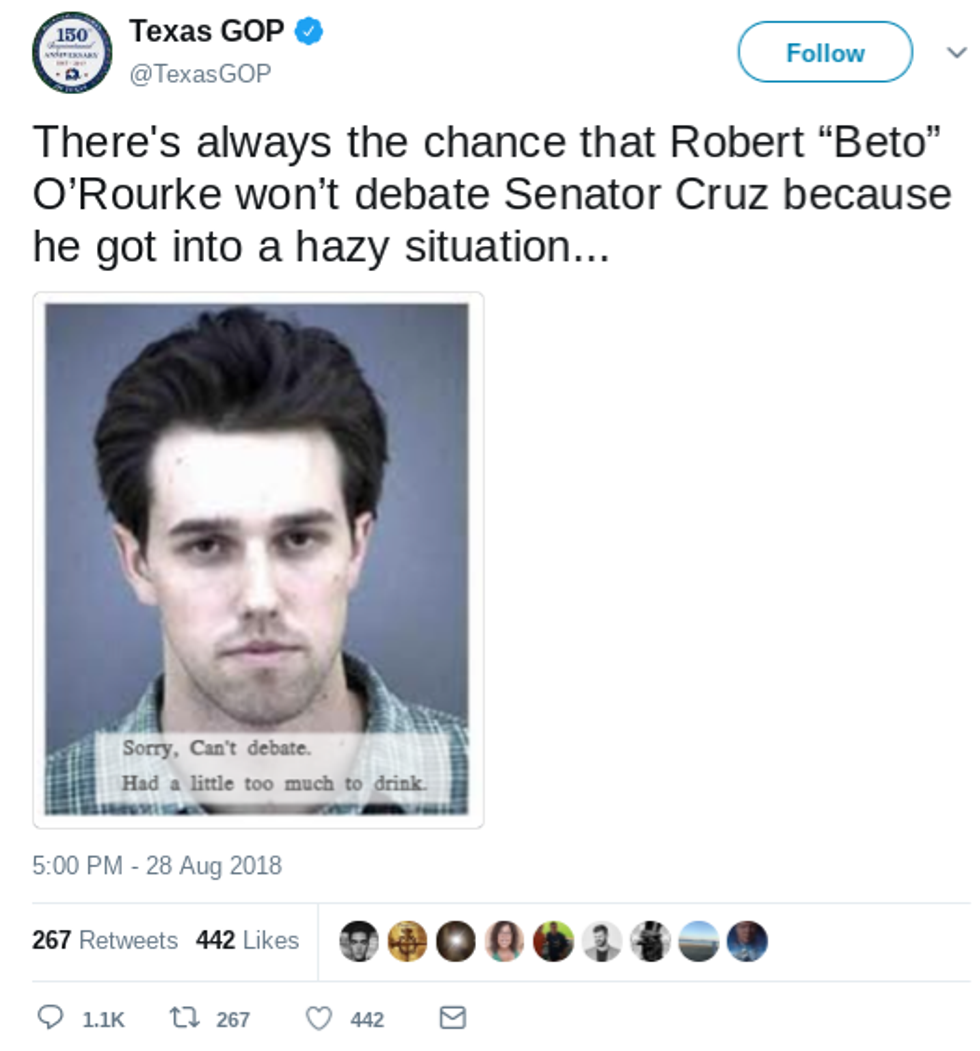 Texas GOP post (Twitter)
The results however look to have backfired.
Meanwhile O'Rourke released a campaign ad highlighting his drive around Texas to hold town hall meetings in all 254 counties. In it he speaks of working together regardless of politics and fails to bash Cruz even once.
Responses to the post by the Texas GOP heavily favored O'Rourke. The post garnered only 442 likes by Wednesday afternoon, but over 1,100 comments. Unlike Texas GOP which received a lot of negative feedback for their overall social media approach, O'Rourke's supporters had a video of their candidate go viral for all the right reasons.
Some Republicans expressed disgust at the tactic employed by their own party.
O'Rourke disclosed his arrests when he ran for the U.S. House of Representatives in 2012. His Republican opponent at the time, Silvestre Reyes, also tried to discredit the Democrat with ads highlighting his two arrests.
Others responding to the Texas GOP post brought up past criminal behavior by members of the GOP and included a few mugshots of their own.
O'Rourke acknowledged the arrests in his hometown and birthplace of El Paso, Texas—once at age 23 for leaping a University of Texas campus fence and the other time at age 26 for driving while intoxicated. Prosecution declined to pursue O'Rourke's May 1995 misdemeanor arrest at the UTEP campus and the courts dismissed his September 1998 misdemeanor DWI arrest after he agreed to and completed an interdiction program.
Others commenting on the GOP post found it a great time to resurface an urban legend as in the following posts.
The story began online in 2013 that Canadian immigrant and current Texas Senator, Republican Ted Cruz, is the Zodiac Killer. Cruz—born in Calgary, Alberta, Canada in 1970—could not have committed these murders which began in California before his birth and ended before his emigration from Canada to the United States. The story picked up steam when Cruz began his run for President in 2015.
While others cited other issues with Cruz's public image or the Texas GOP post.
When asked about his mugshot at a San Antonio town hall meeting, O'Rourke stated:
"More than 20 years ago, I was arrested—not once, but twice. So you should know that and we should all own that, if asked."
The Democratic candidate specified he attempted to hop a fence in 1995 and later for a "far more serious mistake—I drove under the influence of alcohol. There's no justifying that."