A new report from the nonpartisan Congressional Budget Office (CBO) bears bad news for the Senate's tax reform plan. The analysis found that the plan "gives substantial tax cuts and benefits to Americans earning more than $100,000 a year"––hitting the nation's poorest citizens particularly hard––and that the legislation would "add an increase in the deficit of $1,414 billion over the next 10 years."
There's also bad news for the removal of Obamacare's individual mandate which is included in the tax bill:
---
average premiums in the nongroup market would increase by about 10% in most years of the decade ... relative to the CBO's baseline projected. In other words, premiums in both 2019 and 2027 would be about 10% higher than is projected in the baseline... (t)he number of people with health insurance would decrease by 4 million in 2019 and 13 million in 2027.
According to the estimates, anyone making less than $30,000 a year would start paying higher taxes in 2019, with those making less than $10,000 annually the hardest hit.
Here's the full table from the Congressional Budget Office. Positive numbers in the table signal savings to the government and a loss to the people in a group. Negative numbers signal a loss to the government or a net gain for those in the group.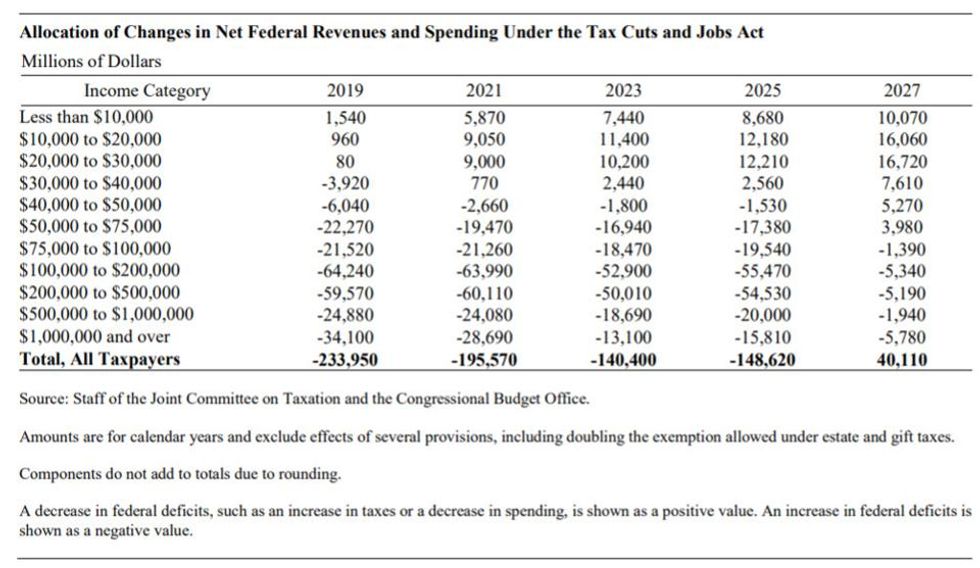 Congressional Budget Office.
President Donald Trump will meet with Senate Republicans at their weekly policy lunch tomorrow. In addition to tax reform, he will address other items on the fall legislative agenda.