[DIGEST: New York Times, Time, Wall Street Journal]
Republicans gathered in Cleveland on Tuesday to draft the party's principles platform ahead of the Republican National Convention, and the final document is a sign that the party has shifted even further to the right. Much of the language emphasizes the party's staunchly conservative attitude toward gay rights and its insistence that the Bible and God be present in the classroom while incorporating some of Donald Trump's most extreme campaign pledges, including the building of a wall along the border with Mexico.
---
LGBTs Under Attack
The platform's treatment of LGBTs goes far beyond what the platform stated four years ago. Several new provisions opposing same-sex marriage and endorsing "gay conversion therapy" passed preliminary votes on Monday. Staunch social conservatives repeatedly rejected efforts by more moderate members of the committee to add language condemning or acknowledging anti-gay discrimination, even any that acknowledged the massacre of gay people in the Pulse Nightclub in Orlando.
An initial draft circulated Sunday to committee members reasserts the party's opposition to same-sex marriage: "Our laws and our government's regulations should recognize marriage as the union of one man and one woman and actively promote married family life as the basis of a stable and prosperous society," the draft states. "For that reason, as explained elsewhere In this platform, we do not accept the Supreme Court's redefinition of marriage and we urge its reversal, whether through judicial reconsideration or a constitutional amendment returning control over marriage to the States." Moderate members condemned an amendment which argued same-sex marriage "subverts child's rights to biological parent."
Rachel Hoff. (Credit: Source.)
The more conservative delegates also vetoed an amendment introduced by Washington, D.C. delegate Rachel Hoff, who is the first openly gay member of the committee. Hoff's amendment implored the GOP to reconsider its language on same-sex marriage to allow for a range of viewpoints, rather than the strong rejection present in the final draft. Hoff fought back tears as she defended the amendment's inclusion. "All I ask today is that you include me and people like me," she said. Ultimately, however, the committee defeated the amendment by a 3-1 margin.
Tony Perkins, a socially conservative member of the Family Research Council, proposed an amendment supporting "conversion therapy" for children who identify as LGBT. Perkins' original draft strongly advocated for the practice and passed
the subcommittee on health care, education, and crime, but the full committee ultimately forced a modified version. "We support the right of parents to determine the proper treatment or therapy, for their minor children," the amendment stated. The amendment also calls for legislation that would require minor women who wish to cross state lines for an abortion to obtain parental consent.
Tony Perkins. (Credit: Source.)
An amendment specifically recognizing gay people as targets of the Islamic State also failed to gain traction. Rhode Island delegate Giovanni Cicione argued that the amendment is an "innocuous and important" way to show LGBTs that the GOP does not exclude them, but he was ultimately shut down by Indiana delegate Jim Bopp. "Obviously, there's an agenda here," said Bopp, who adamantly declared the GOP has always rejected "identity politics."
This rejection of "identity politics" extends to the subcommittee's consideration of "bathroom amendments," which, like HB2 in North Carolina, prohibits transgender citizens from using the restroom that best matches their chosen gender identity. The platform also condemns the Obama administration's efforts to rectify the situation. "Their edict to the States concerning restrooms, locker rooms and other facilities is at once illegal, ominous, and ignores privacy issues," the draft stated. "We salute the several States which have filed suit against it… We support and encourage the common sense practice of protecting public safety and personal privacy by limiting access to restrooms, locker rooms, and similar facilities based on biological gender."
Annie Dickerson, a committee member from New York,  ardently opposed the bathroom amendments and criticized her colleagues for continuing to write language offensive to LGBTs, asking, "Has a dead horse been beaten enough yet?" Dickerson's vigorous denunciations continued. "I think this takes us to a dark place," Dickerson said. "It shrinks our tent. We should be about addition, not subtraction." National Committeewoman Melody Potter disagreed with Dickerson's criticisms, arguing that while "nobody wants to discriminate against anybody," she considered the matter "an issue of safety."
Moralizing Values
The platform also contains several references to returning God and the Bible to public schools and discourse. It asserts that lawmakers should use religion as a guide when drafting legislation, and stipulates "that man-made law must be consistent with God-given, natural rights." A subcommittee voted near unanimously to make the Christian Bible required reading
To read more, please cotninue to page 3.
in public schools as part of American History, stating that an understanding of the Bible's contents is "indispensable for the development of an educated citizenry." While that measure ultimately  failed before the full group, a further measure that passed now encourages states to teach the Bible as a literature elective in public schools.
A further eyebrow-raising amendment defines pornography as a "public health crisis" and encourages "states to continue to fight this public menace and pledge our commitment to children's safety and wellbeing." With respect to abortion, the GOP platform retained its strict policy against it, without exception in the case of rape or incest.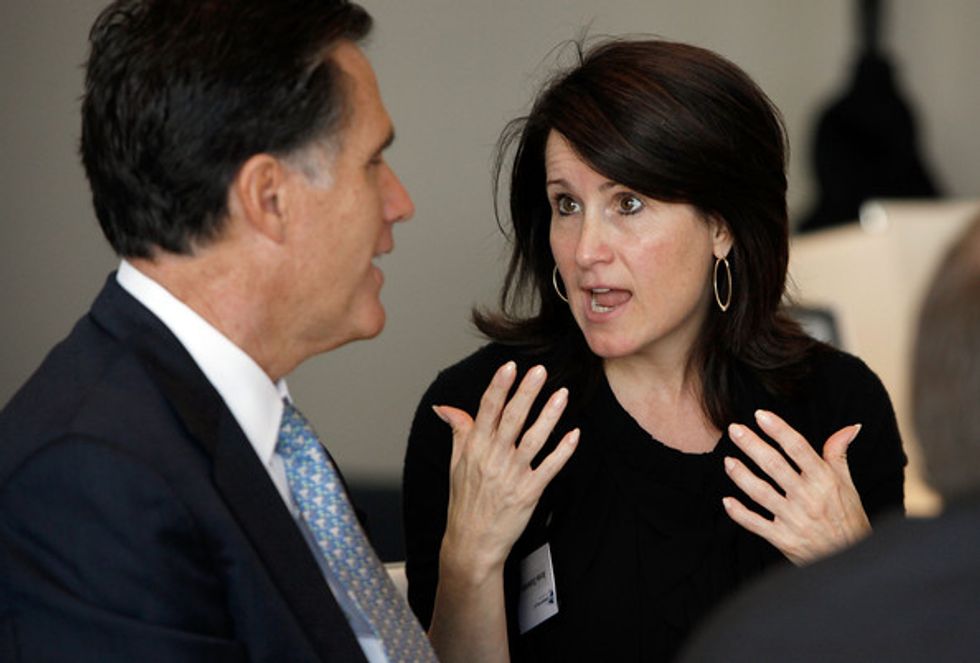 Annie Dickerson, with Mitt Romney. (Credit: Source.)
A Dangerous World?
A further section of the platform literally entitled "A Dangerous World" addresses the GOP's view on the state of current geopolitics. The section, in a jab at presumptive Democratic presidential nominee Hillary Clinton, emphasizes the failings of the "secretary of state." It omits any mention of the Trans-Pacific Partnership, which the GOP promoted in its last platform four years ago, but Committee members made a significant edit to the draft's language on immigration. While the initial draft necessitated the need for a "physical barrier" along the United States border with Mexico, the current draft now specifically calls for a "wall" as a nod to one of Donald Trump's cornerstone campaign pledges.
Michael Biundo, an aide to Donald Trump, was present at subcommittee meetings but declined to offer any guidance or input. The lack of interference allowed social conservatives like Tony Perkins to exert considerable influence over the proceedings. Trump's campaign, Perkins told reporters, was allowing the committee to work autonomously. "He is going to be the nominee for the party. He has his own ideas," Perkins said. "But this is a statement of not Donald Trump's campaign, but of the Republican Party."