[DIGEST: NYT (1, 2),PopSci,NPR]
New Yorkers, meet your newest neighbors. Whales, dolphins, and seals were once a familiar sight in the city's busy waterways and harbor until years of industrial pollution ruined their hunting grounds. Now they're coming home.
---
Although common on the West Coast, whale sightings in New York have been rare until recently. Over seven different species of whales were spotted off the coast last year alone, including the blue whale, the largest animal to have ever lived. These sightings have become so common that Paul Sieswerda founded Gotham Whale in 2014, a marine life advocacy group that offers whale watching tours and "on-deck" ocean science courses.
As the health of the Hudson River improved, so did the local ecosystem. That's no coincidence. Up until 1977, when the Clean Water Act was enacted, the Hudson was used as an open dump for paint, PCBs, mercury and other cancer-causing chemicals. Conditions in the river were inhospitable for plankton, microscopic plants at the base of the food chain, as well as the zooplankton that feeds on it. The menhaden, a type of small fish that whalesprimarily hunt in the Atlantic, rely on zooplankton to survive, leading to a mass die-off.
The Hudson and East Rivers converge at the southern tip of Manhattan to form New York Harbor, which feeds into the Atlantic Ocean. In addition to the industrial toxins found in the water, the open dumping of medical waste occurred well past the implementation of the Clean Water Act. Even in 2017, scientists have found that fish from the rivers contained dangerous levels of PCBs, and starting in 1991, consumption advisories were set to limit human exposure. This means that while locally-caught seafood is off the table, whales can still eat their fill.
"Great efforts have been done by activist groups and people all up and down the Hudson to make sure that only good things went into the Hudson," Sieswerdasaid. "And now that river provides good nutrients just outside of the harbor that brings fertilizer to the plankton."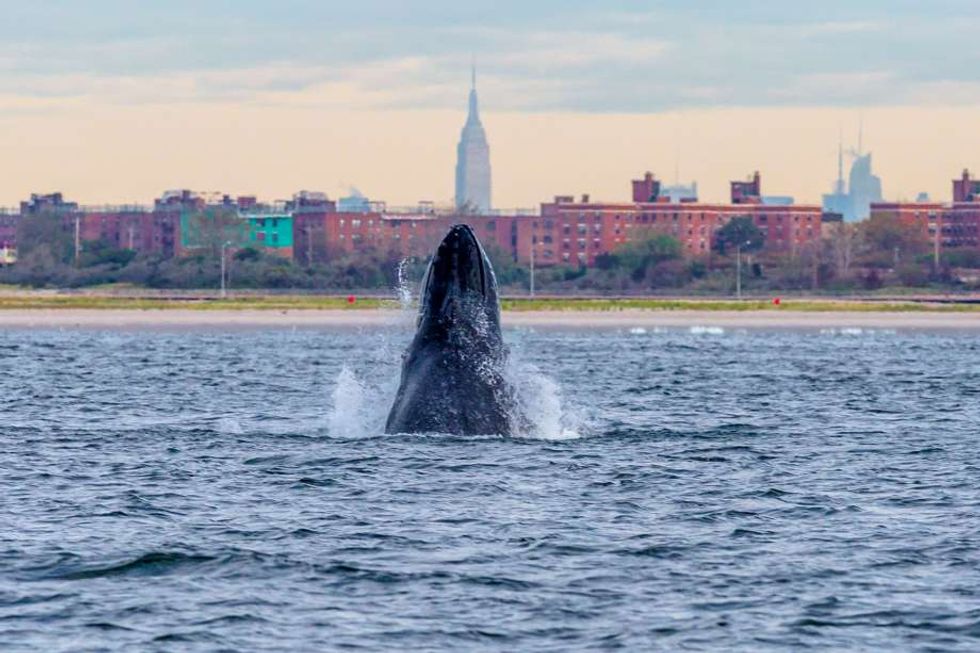 Credit: Source.
Climate change has played its part, with warmer waters pushing the menhaden south from Chesapeake Bay. These whale pods are in all likelihood chasing their dinner.
Every species of whale found in New York is endangered, making their return to the city a double-edged sword. While their populations and food sources have rebounded due to a ban on hunting, an increasing number of whales have been hit by boats and killed in the area.According to Kimberly Durham, rescue program director of theRiverhead Foundation for Marine Research and Preservation, "Nine dead whales, mostly humpbacks, washed up on Long Island beaches," in 2015. "Almost double the number in our previous peak year of 1991."
What might seem like an ecological win presents a logistical challenge for both recreational boaters as well as shipping freighters. The speed limit in shipping lanes is currently 10 knots to minimize collisions with marine mammals; the return of the whales will require enforcement to be stepped up as these areas become harder to navigate.
In 2013, the image of alost dolphin swimming futilely through the Gowanus Canal and eventually dying drew media attention and reinforced the notion of a toxin urban coastline. A similar event also occurred in 2007, with a mink whale affectionately named "Sludgie" being fatally caught in the canal. Although the Gowanus is one of the city's two superfund sites, New York City's water quality is improving on the whole.
As the homecoming of these native marine mammals has shown, environmental protections are needed to preserving fragile ecosystems. "Nine out of 10 New Yorkers probably still don't know about whales so close in their own backyard," Sieswerdasays. As the whales return, the impact of caring for our waterways will only become more apparent to residents.