Daily Overview is a new project that shares one satellite photo from Digital Globes a day in an attempt to change the way we see our planet Earth.
The project was inspired by the Overview Effect experience, which is a cognitive shift of perspective and worldview experienced by the astronauts when they get to see the planet Earth from space for the first time.
---
The people behind this beautiful project write: "The mesmerizing flatness seen from this vantage point, the surprising comfort of systematic organization on a massive scale, or the vibrant colors that we capture will hopefully turn your head."
Bourtange, Vlagtwedde, Netherlands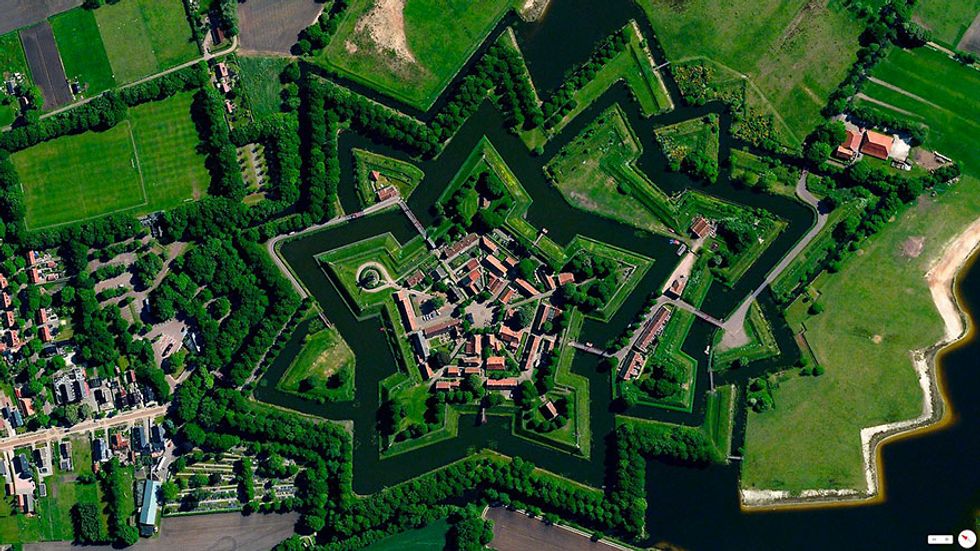 53.0066°N 7.1920°E. Bourtange is a village with a population of 430 in the municipality of Vlagtwedde in the Netherlands. The star fort was built in 1593 during the Eighty Years' War when William I of Orange wanted to control the only road between Germany and the city of Groningen. Bourtange was restored to its mid-18th-century state in 1960 and is currently used as an open-air museum.
Barcelona, Spain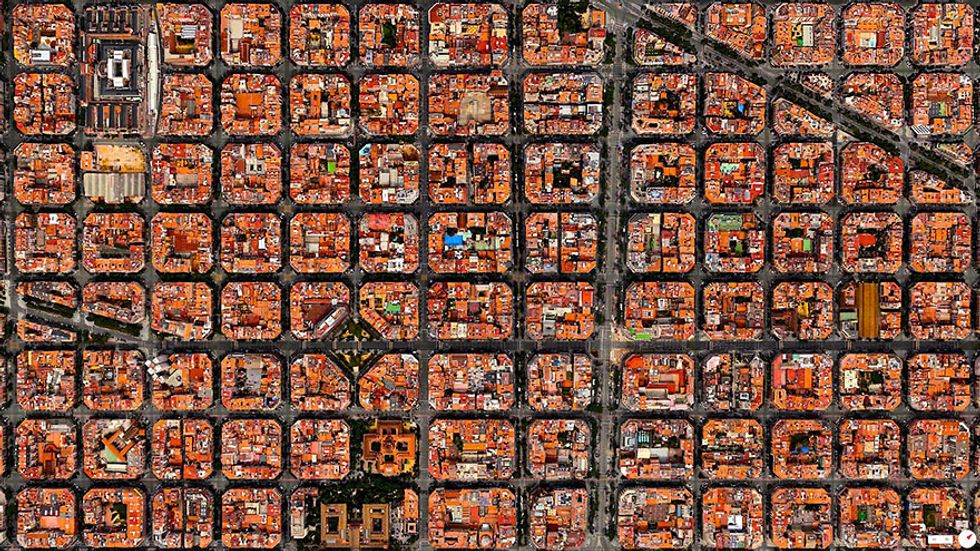 41°23′27″N 2°09′47″E
309th Aerospace Maintenance and Regeneration Group Tucson, Arizona, USA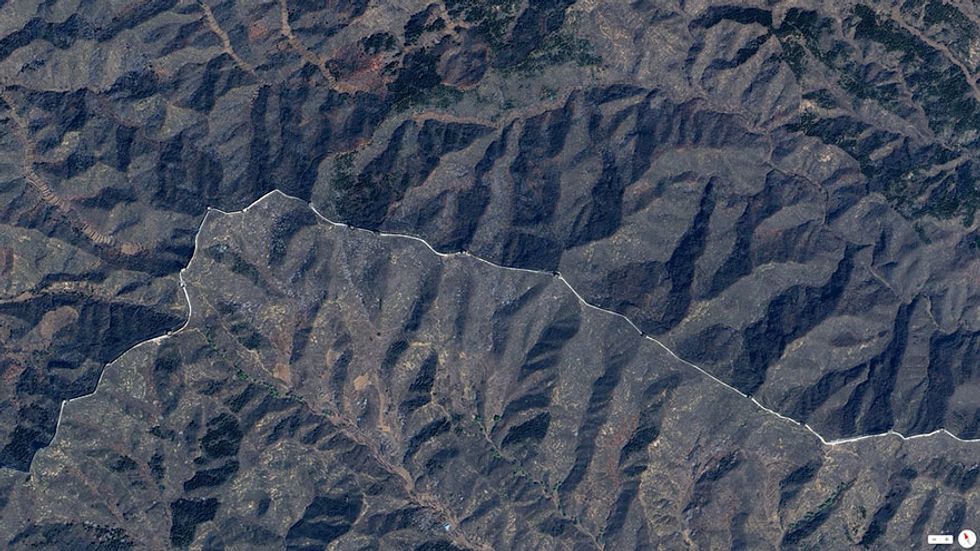 32.170890°N 110.855184°W
Central Park, New York City, New York, USA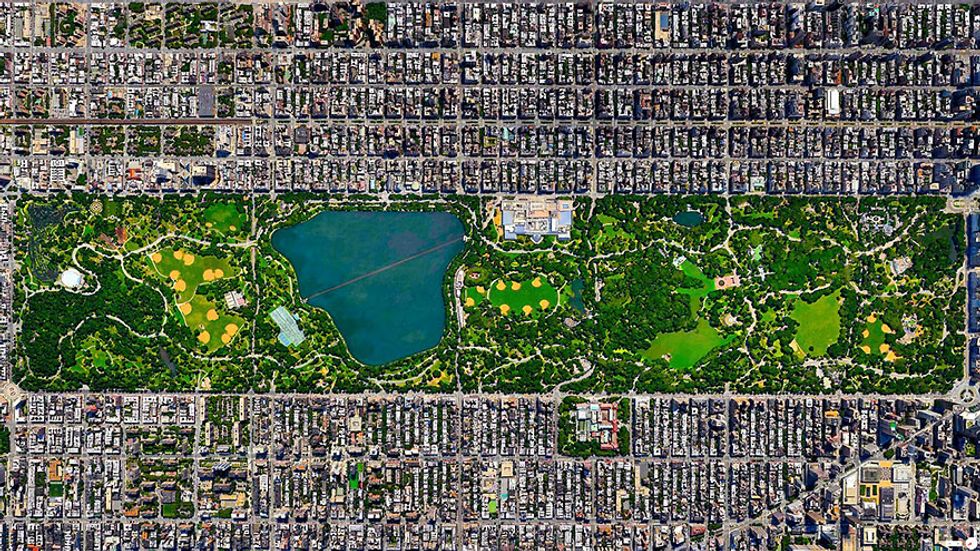 40°46'56"N; 73°57'55"W. Central Park in New York City spans 843 acres. That's 6% of the island of Manhattan.
Great Wall of China, Northern China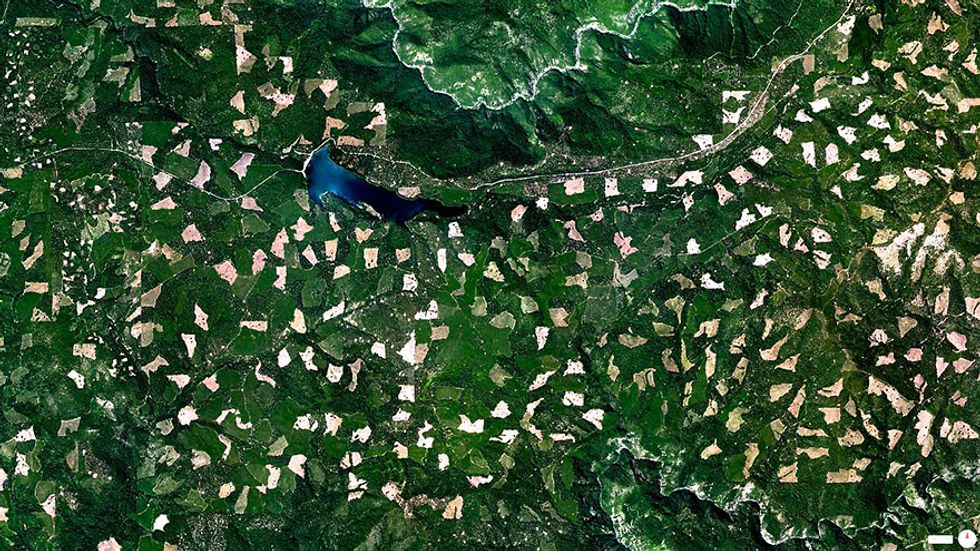 40.67693°N 117.23193°E
Desert Shores Community, Las Vegas, Nevada, USA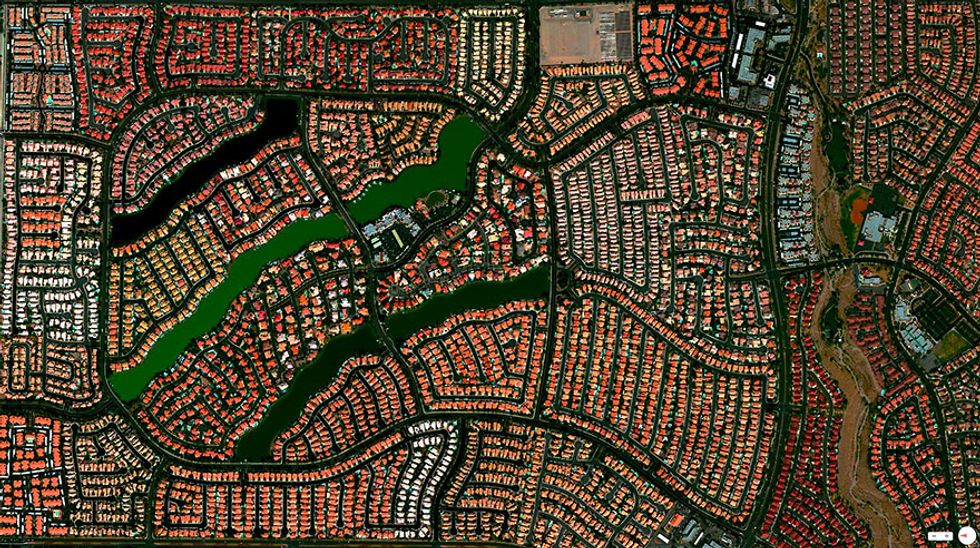 36.211001, -115.266914. The Desert Shores Community in Las Vegas, Nevada contains 3,351 units and four man-made lakes.
New Bullards Bar Reservoir, Yuba County, California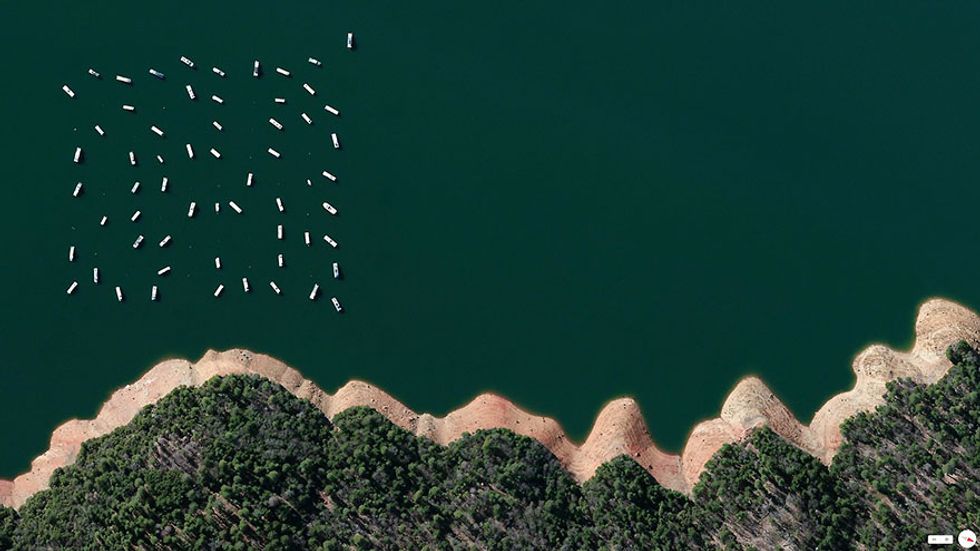 39.42903°N 121.13010°W
Residential Development, Killeen, Texas, USA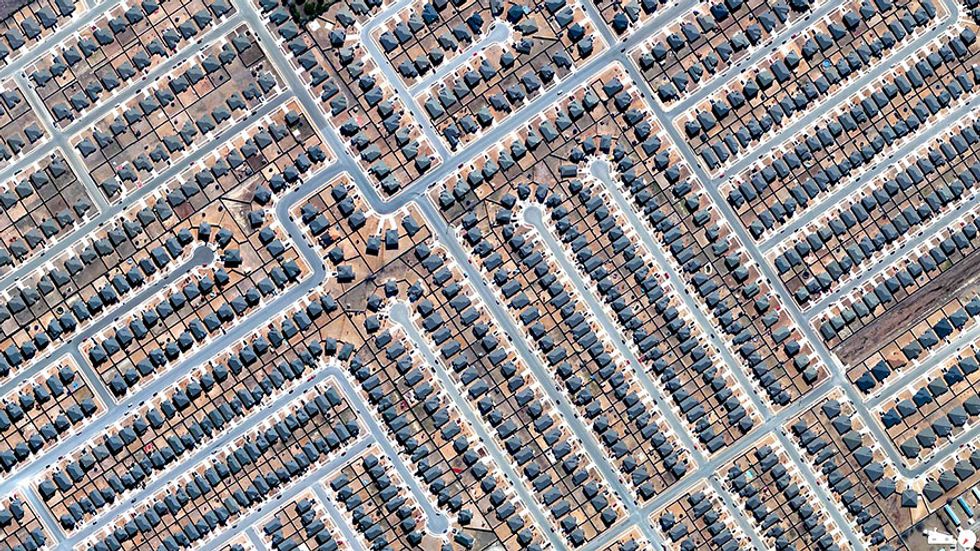 31.079844, -97.80145. In 2013, there were 923,400 home construction projects in the United States.
Venice, Italy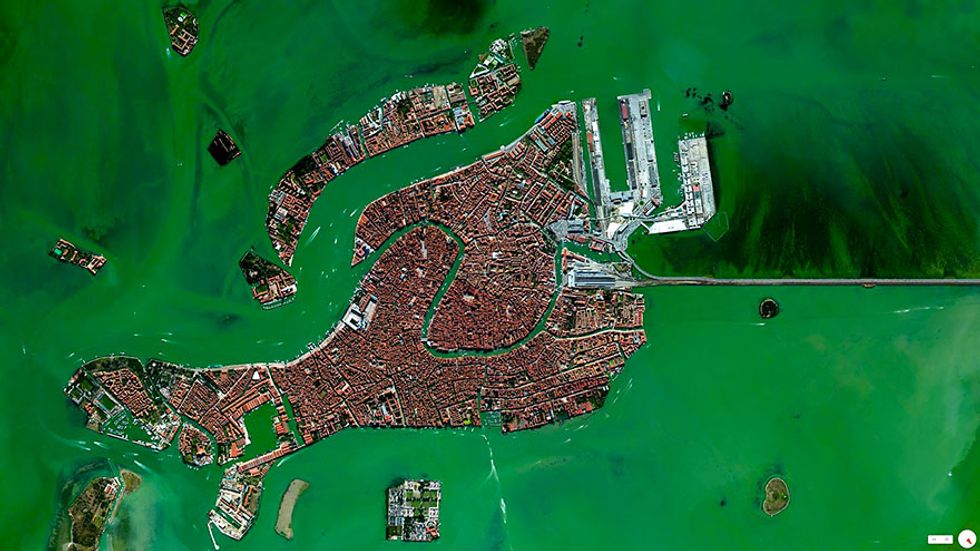 45°26′15″N 12°20′9″E
Vineyards, Huelva, Spain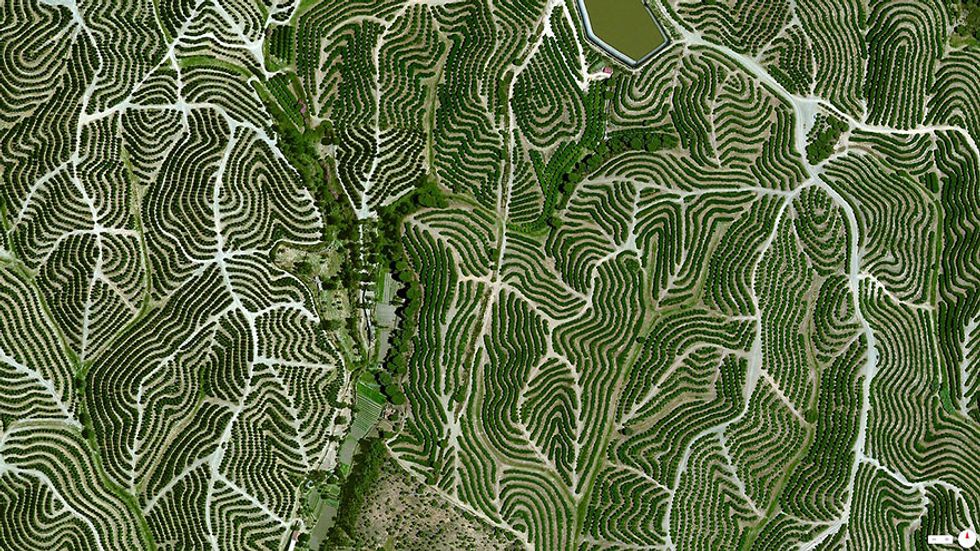 37°42′12″N 6°36′10″W. Vineyards swirl on the hills of Huelva, Spain. The climate there is ideal for grape growing with an average temperature of 64 degrees and a relative humidity between 60% and 80%.
Plasticulture / Greenhouses, Almeria, Spain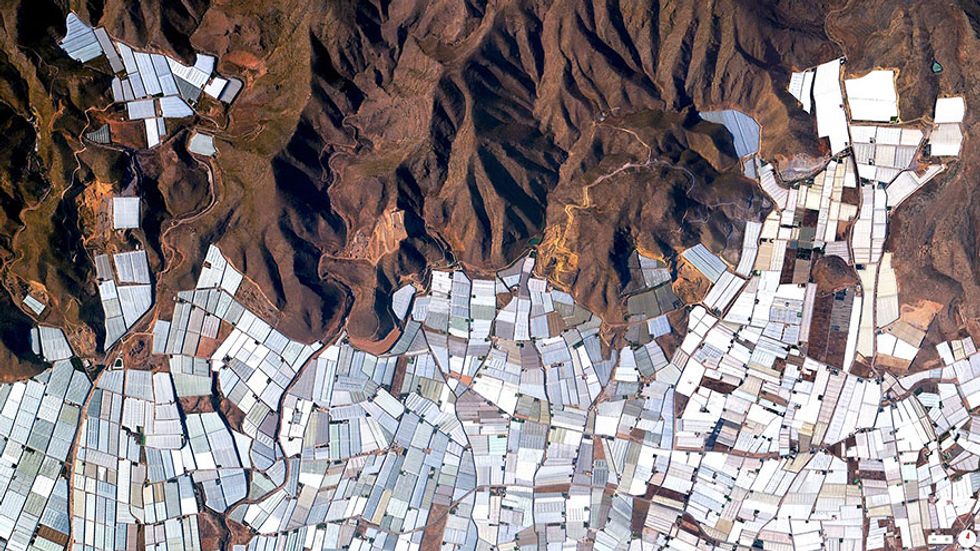 36.78234°N 2.74315°W. Plasticulture refers to the practice of using plastic materials in agricultural applications. This is visible in the plains and valleys of Almeria, Spain where nearly 20,000 hectares are covered by these greenhouse structures.
Durrat Al Bahrain, Bahrain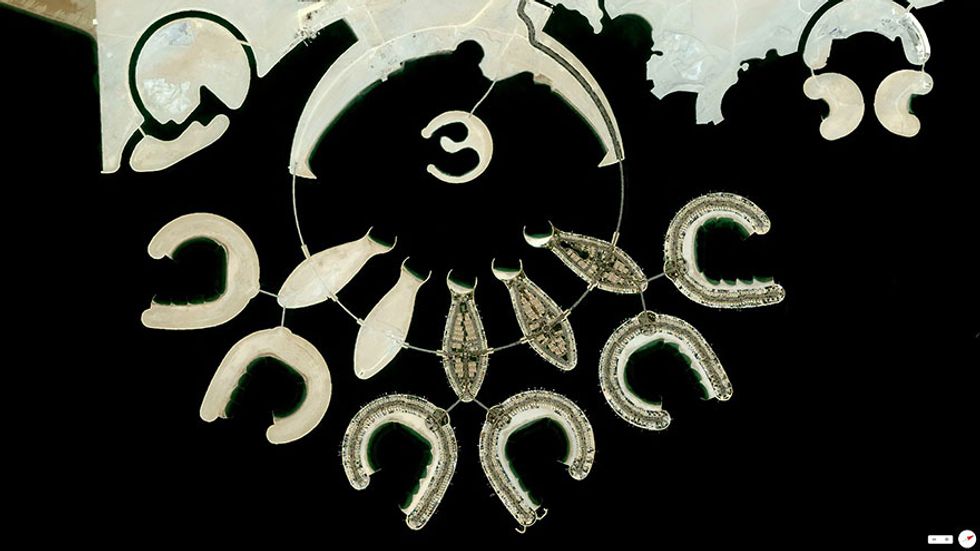 25°50′17″N 50°36′18″E. Durrat Al Bahrain will consist of 15 connected, artificial islands (including six atolls, five fish-shaped, and two crescent-shaped). Construction costs are estimated at $6 billion and the project is slated for completion in mid-2015.
Amazon Rainforest Deforestation, Para, Brazil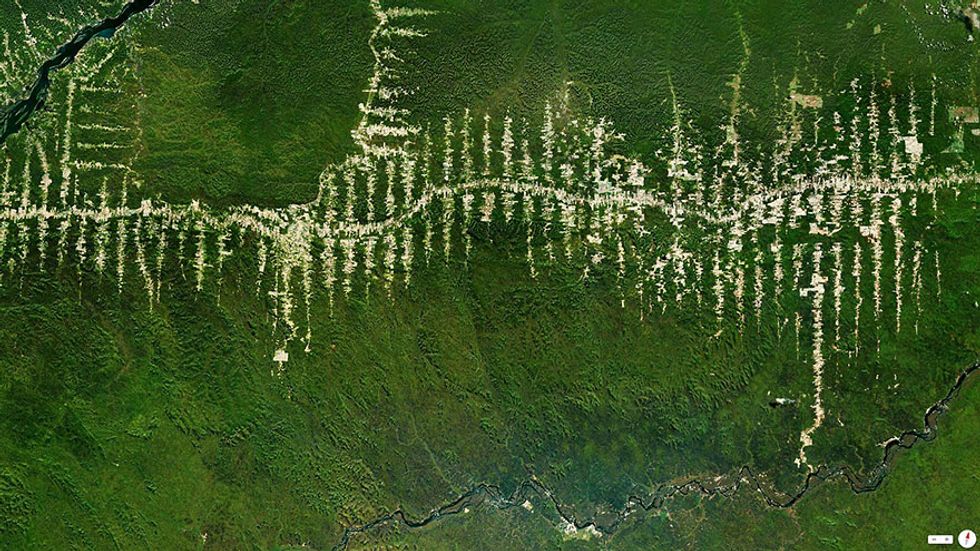 5°40′S 52°44′W. Clearcutting operations in the Amazon Rainforest of Para, Brazil branch out from one of the state's central roads.
Port Newark-Elizabeth Marine Terminal, Newark, New Jersey, USA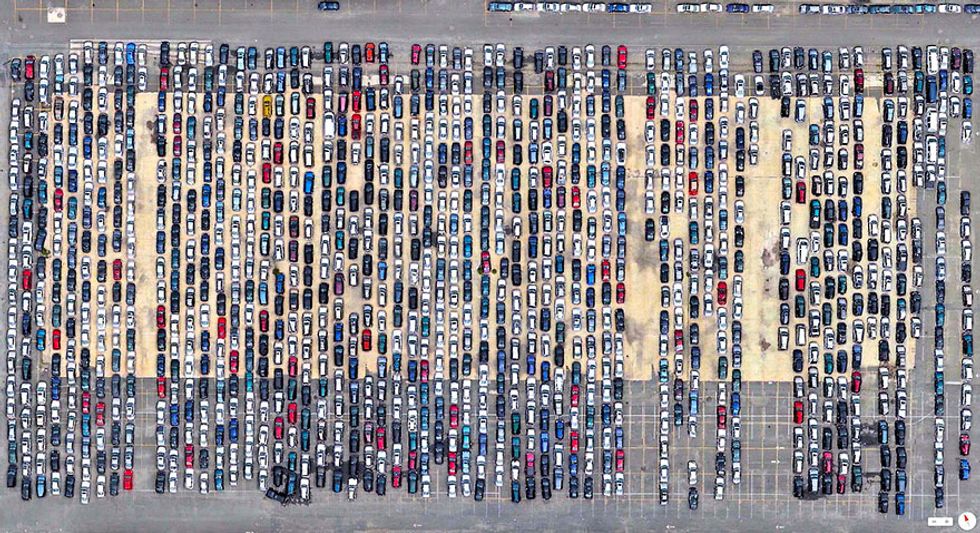 40°40′54″N 74°09′02″W
Boca Raton, Florida, USA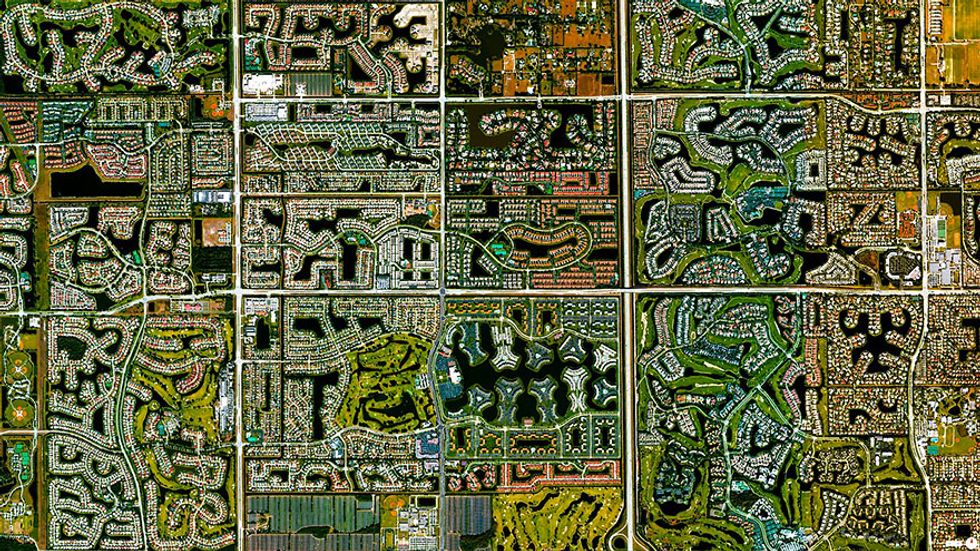 26°22′7″N 80°6′0″W
Venture Out RV Resort, Mesa, Arizona, USA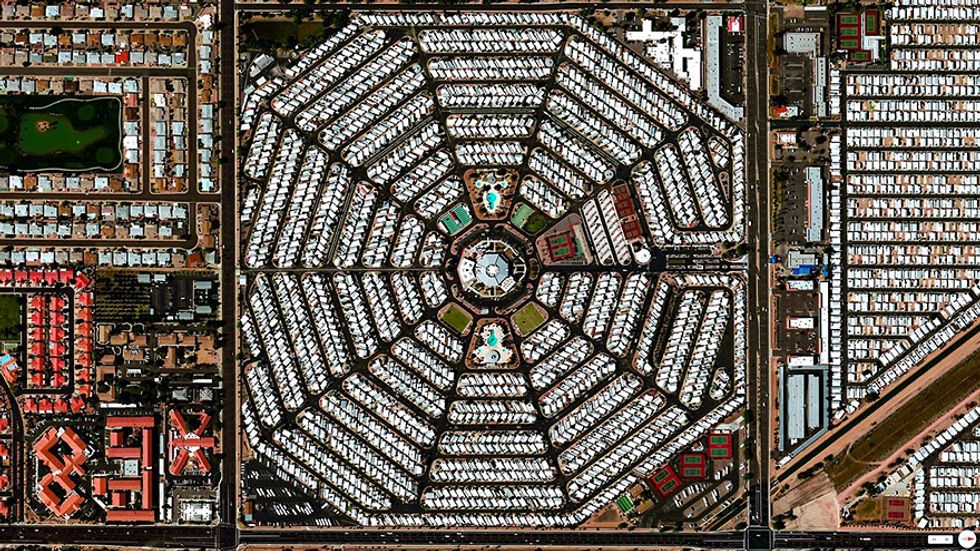 33.411791, -111.723591
Port of Los Angeles, Los Angeles, California, USA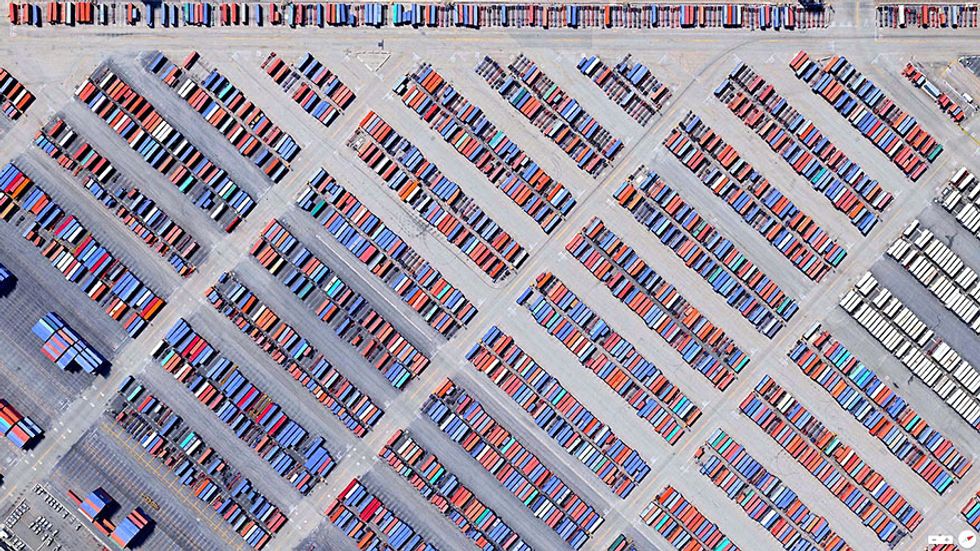 33°43′45″N 118°15′43″W
Puente de Vallecas, Madrid, Span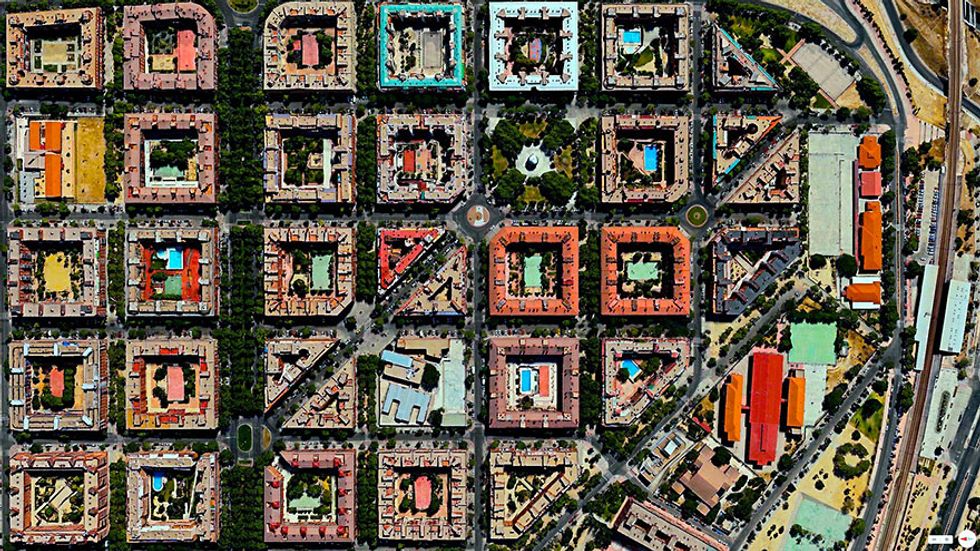 40.398204°N 3.669059°W
Agricultural Development, Addis Ababa, Ethiopia

9°1′48″N 38°44′24″E
Our Lady of Almudena Cemetary, Madrid, Spain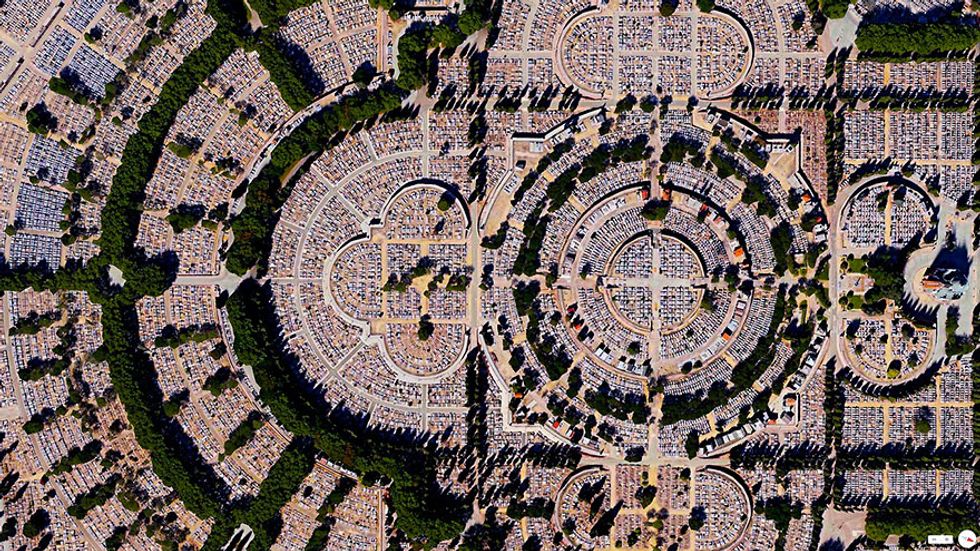 40°25′10″N 3°38′26″W. Our Lady of Almudena Cemetery in Madrid, Spain is one of the largest cemeteries in the world. The number of gravesites – estimated at five million – is greater than the population of Madrid itself.
Palm Island / Hibiscus Island, Miama Beach, Florida, USA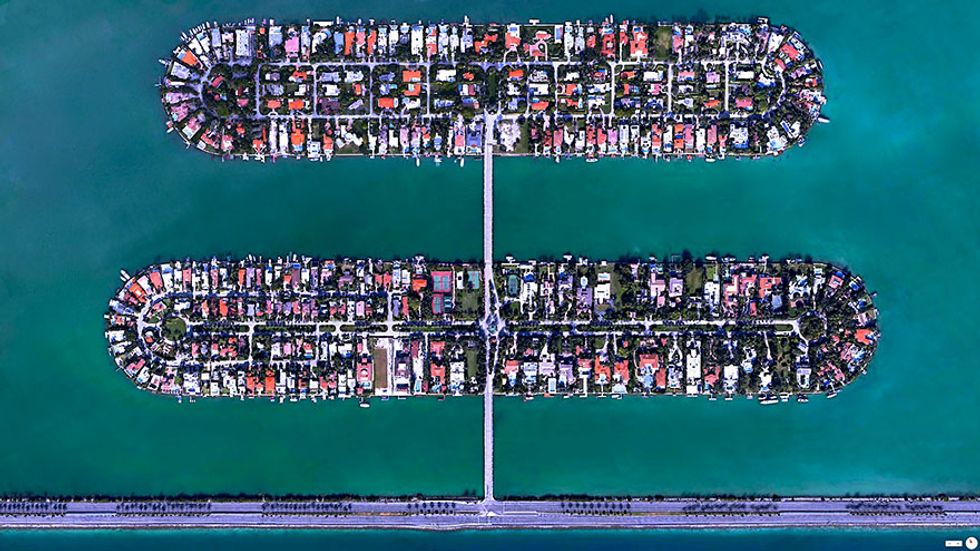 25.783216°N 80.16052°W. Palm Island and Hibiscus Islands are two man-made islands located in Miami Beach, Florida. While the residential neighborhoods on the islands have some of the highest property values in the city, they are also among the first places ordered to evacuate in advance of a hurricane.
Agricultural Development, Loxahatchee, Florida, USA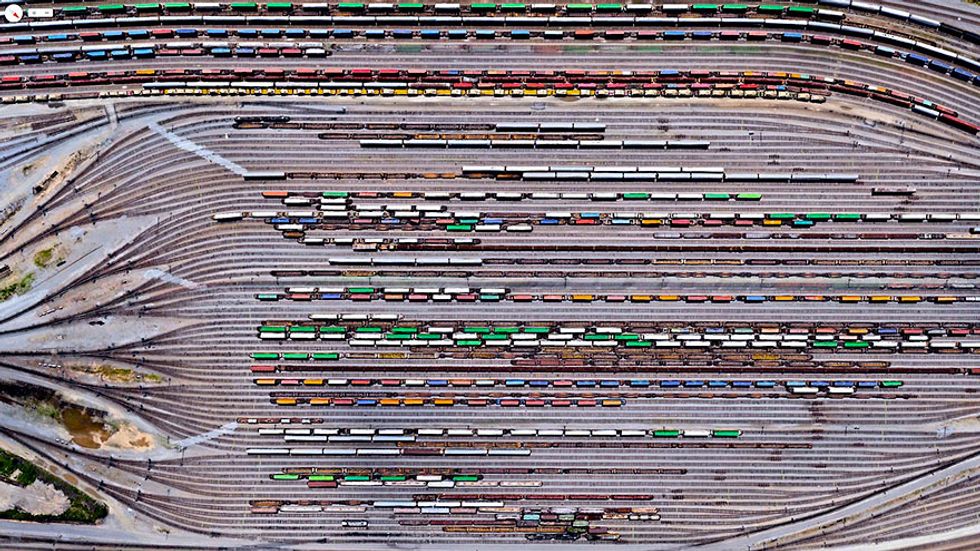 BRØNDBY HAVEBY, BRØNBY MUNICIPALITY, DENMARK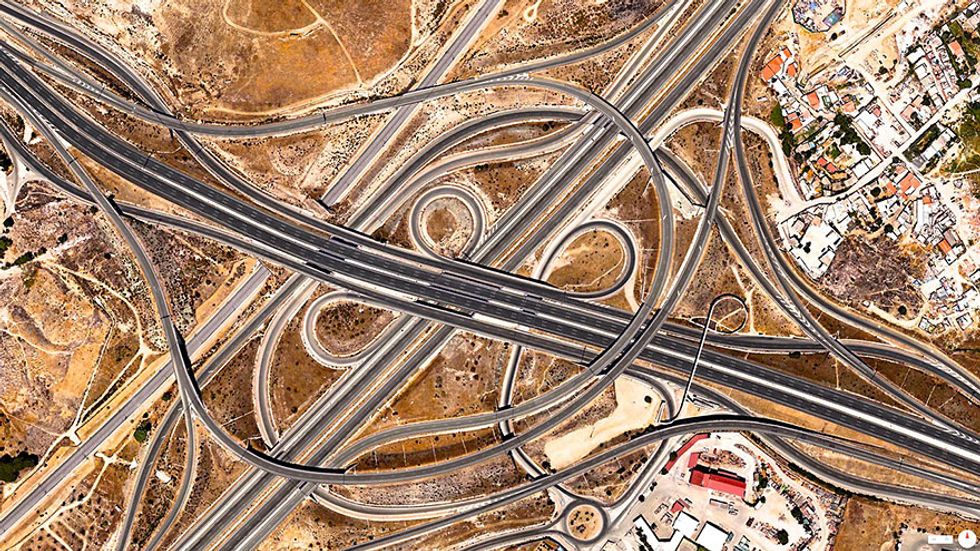 55 ° 38 '12.836031 "N, 12 ° 23′ 58.386726″ E
TERRACED RICE PADDIES, YUANYANG COUNTY, YUNNAN, CHINA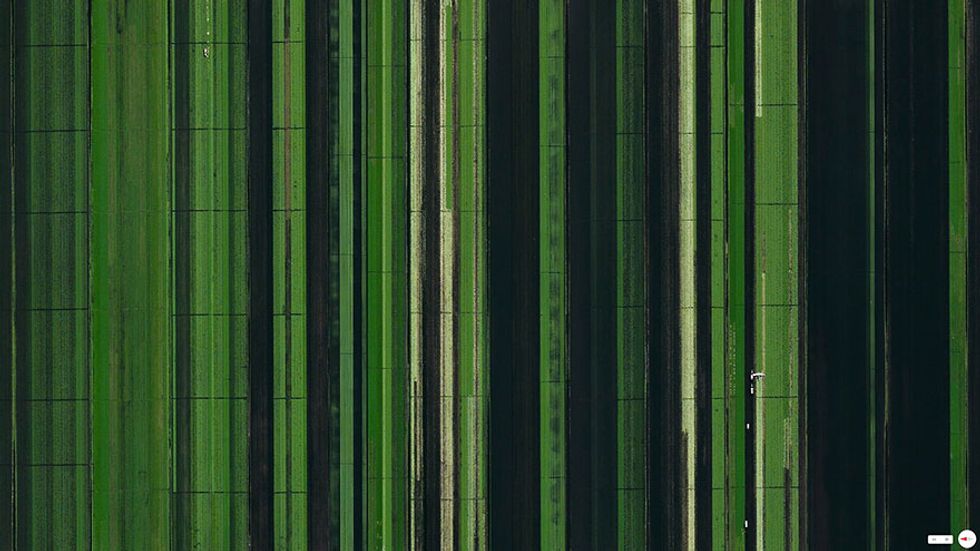 23°09′32″N 102°44′41″E. For the past 1300 years, the Hani people of Yuanyang County, China have cultivated spectacular, terraced rice patties on mountainsides.
CLEARCUTTING IN THE EL DORADO NATIONAL FOREST, GEORGETOWN, CALIFORNIA, USA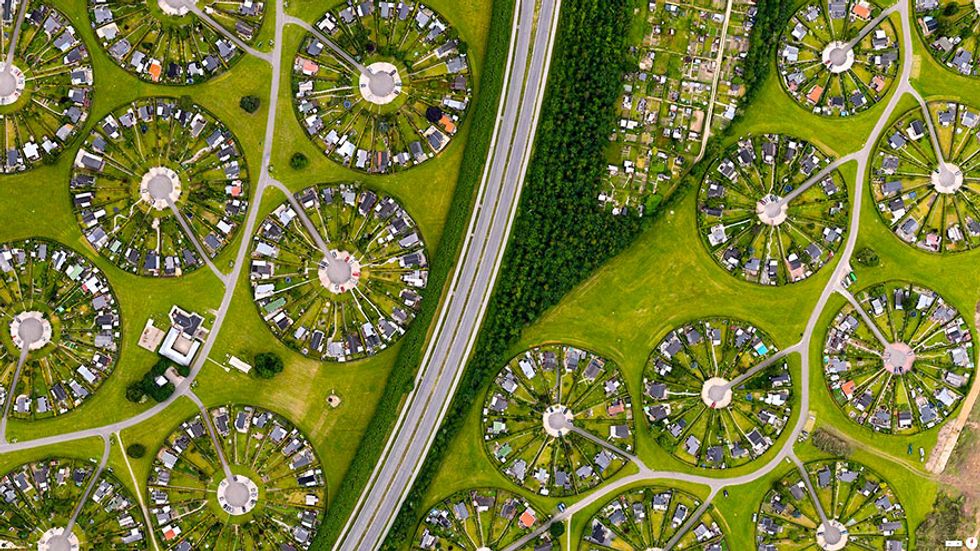 38°45′01″N 120°20′00″W. 20 acre clearcutting tracts in the El Dorado National Forest.
EDSON, KANSAS, USA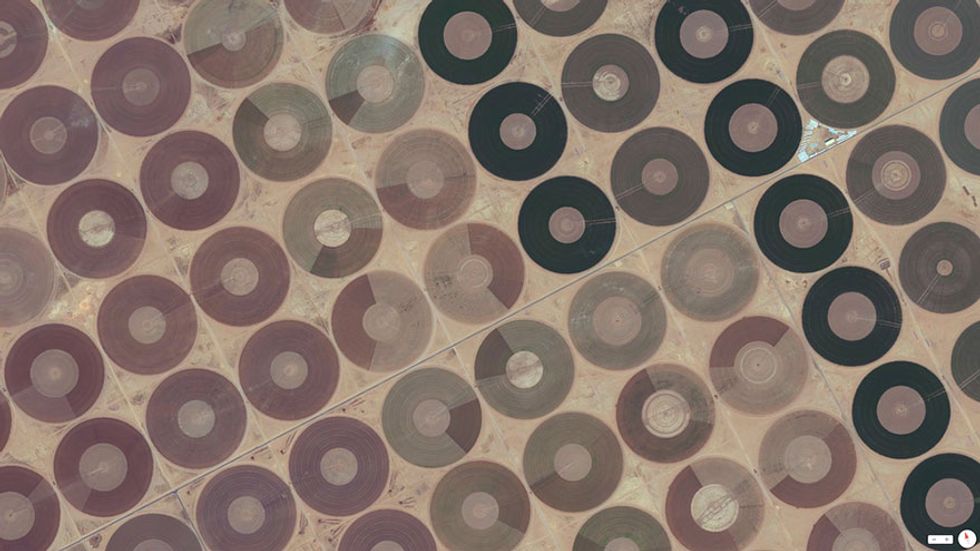 39°20′14″N 101°32′26″W
CENTRAL PIVOT IRRIGATION FIELDS. HA'IL, SAUDI ARABIA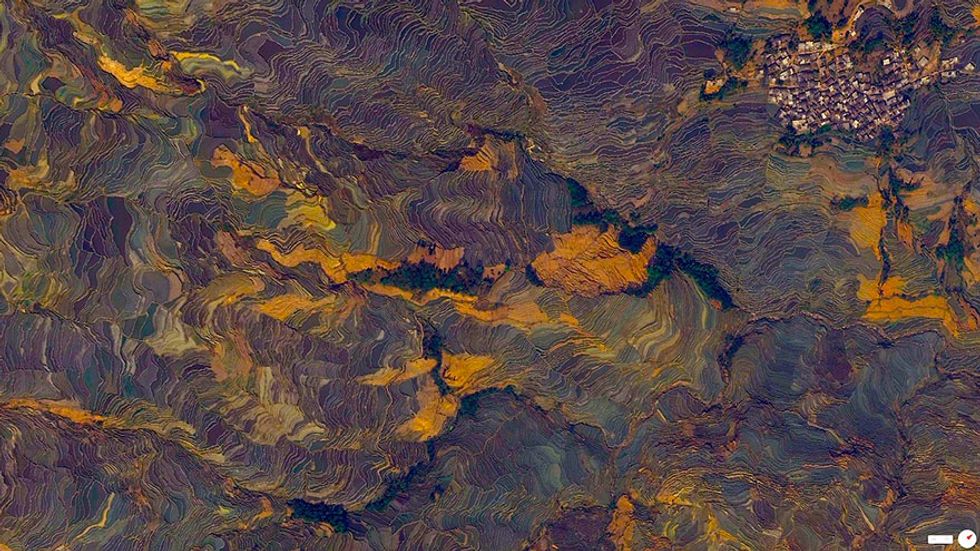 27°31′N 41°41′E. These circular patterns occur as crops are watered by overhead sprinklers, which are mounted to motor-driven, rotating towers that distribute water evenly throughout the fields.