Former South Carolina Republican Governor Nikki Haley managed to piss off most of Twitter this weekend with a completely unaware tweet about "the good ol' days."
Democratic Representative Ted Lieu fired back hard.
Haley—a former Trump administration member now challenging him for the 2024 GOP presidential nomination—tweeted about an idyllic past that never existed in an attempt to rile up anti-Biden sentiment among GOP voters.
Way behind in the polls, Haley tweeted her own version of MAGA.
"Do you remember when you were growing up, do you remember how simple life was, how easy it felt?"
"It was about faith, family, and country."
"We can have that again, but to do that, we must vote Joe Biden out."
Lieu responded to Haley's delusion with actual facts.
The California Congressman tweeted:
"Dear @NikkiHaley: I remember growing up, when folks called me Ch*nk. Threw eggs at our house. Slashed our tires."
"Called the police on us because they thought Asians like us were stealing wild ducks for food."
"And no one in government looked like me or you."
"Life sure was simple."

@tedlieu/Twitter
Genocide, racism and other forms of bigotry as well as severe economic inequalities have been part of our country's history since it's inception.
There was no magical time in the past where everything in life was simple and Americans' needs were met with nary a fuss. Republicans absolutely love to refer back to these mythical "good ol' days" to try to curry favor with their voters, though.
Lieu was far from the only one to vehemently disagree with Haley.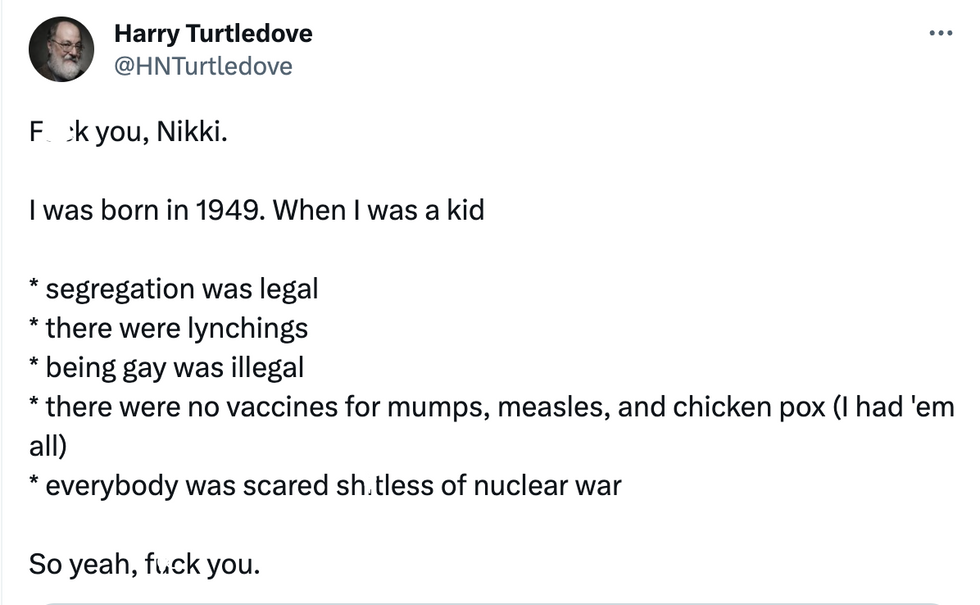 Nimarata Nikki Randhawa Haley is herself the child of two Sikh immigrants who moved to the United States from Punjab, India. The Indian American politician has drawn criticism in the past for seemingly denying or hiding her heritage to appeal to racist GOP voters.
It seems quite unlikely she experienced the idyllic past she wants voters to associate with her run for office.
The fictional past where everybody was happy and things were easier is simply a fabrication Republicans use to convince voters their every problem is the fault of something—or someone—other than GOP tax breaks for millionaires and corporate welfare.