Jake Tapper scoffed at Nikki Haley, reminding her that she 'can't blame this on Biden' after she tried to make the chaos in the House GOP about the President.
16 October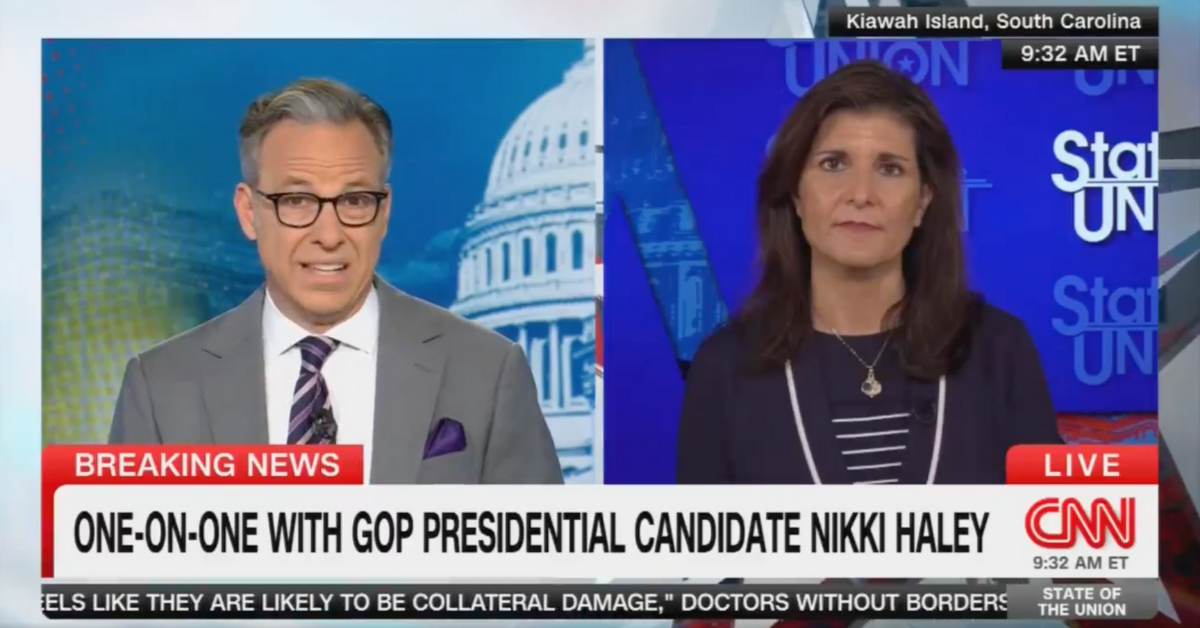 CNN
Former South Carolina Republican Governor and 2024 GOP presidential hopeful Nikki Haley was called out by CNN host Jake Tapper after she tried to blame President Joe Biden for the chaos currently enveloping House Republicans as they grapple with the election of a new leader following the ouster of now-former Speaker Kevin McCarthy.
Tapper pointed out that the GOP has been unable to unite behind a single candidate, citing a statement from one Republican who said the disorder is making them "look like a bunch of idiots."
Haley was about to attribute the "chaos within" the House GOP to Biden's leadership when Tapper cut her off with the following words:
"You can't blame that on Biden. You can't blame this on Biden."
A miffed Haley responded:
"Well, you have to let me finish... You can't fix Democrat chaos with Republican chaos" and said that Republicans "need to get it together. They need to get in a room and figure out who this is going to be and come out unified."
"That's what Republicans need to do. This is not a good look. This is not good for our country."
"We saw what happened to Israel when they were distracted."
You can see their exchange in the video below.

Many felt Haley's quickness to blame Biden hurt her credibility and criticized her for it.
McCarthy's ouster makes him the first Speaker of the House of Representatives to ever be removed from the role during a legislative session.

Though many within the House GOP have expressed their support for Ohio Representative Jim Jordan's bid for the speakership, he continues to confront significant opposition. CBS News reports that sources familiar with the deliberations, including six key House Republicans, indicate that at least 10 to 20 Republican members oppose his nomination.
While Jordan's supporters maintain optimism that he can secure the necessary 217 votes when the House is set to hold the vote on Tuesday, his backing remains somewhat tenuous.
Some critical members cite their concerns over how Louisiana Representative Steve Scalise was treated during his own speaker bid. And while the pro-McCarthy camp has also expressed its misgivings, many have questioned Jordan's ability to lead the House amid multiple challenges, including averting a potential government shutdown next month.