Until recently, Scott Walker was most reknowned--or notorious, depending on whom you ask--for being the governor who fought Wisconsin's public employee unions, passed controversial "right to work" laws, and successfully defeated a recall. That may soon change. As the unofficial 2016 presidential pick of billionaire brothers Charles and David Koch, Scott Walker will soon fill the airwaves with his conservative accomplishments, as well as ads attacking his opponents.
Walker has not yet declared his candidacy, but is expected to announce after the Wisconsin state budget passes in June or July. In the meantime, he has been fundraising and making speeches to Republican donors, and making clear his intentions for 2016, albeit unofficially.
---
The Koch Brothers' choice
Most key among these donors are the Koch brothers, and they appear to be firmly in Walker's camp. As described in the New York Times, at a fundraising event last month in Manhattan, David Koch declared they would support Walker "[w]hen the primaries are over and Scott Walker gets the nomination." And, Koch emphasized, "It should be Scott Walker."
While David Koch later clarified that the Koch brothers won't officially endorse a candidate until after the primaries are over, the brothers' esteem for Walker is clear. David Koch believes Walker would defeat Hillary Clinton "by a major margin" and that he would be a "tremendous candidate to be the nominee." Tim Phillips, president of Americans for Prosperity--a tax-exempt PAC founded by the Kochs--was equally effusive: "The difference Scott Walker has made with his policy achievements is as transformative as any governor anywhere in a generation." Phillips added, "That's why his appeal flourishes for activists and for donors."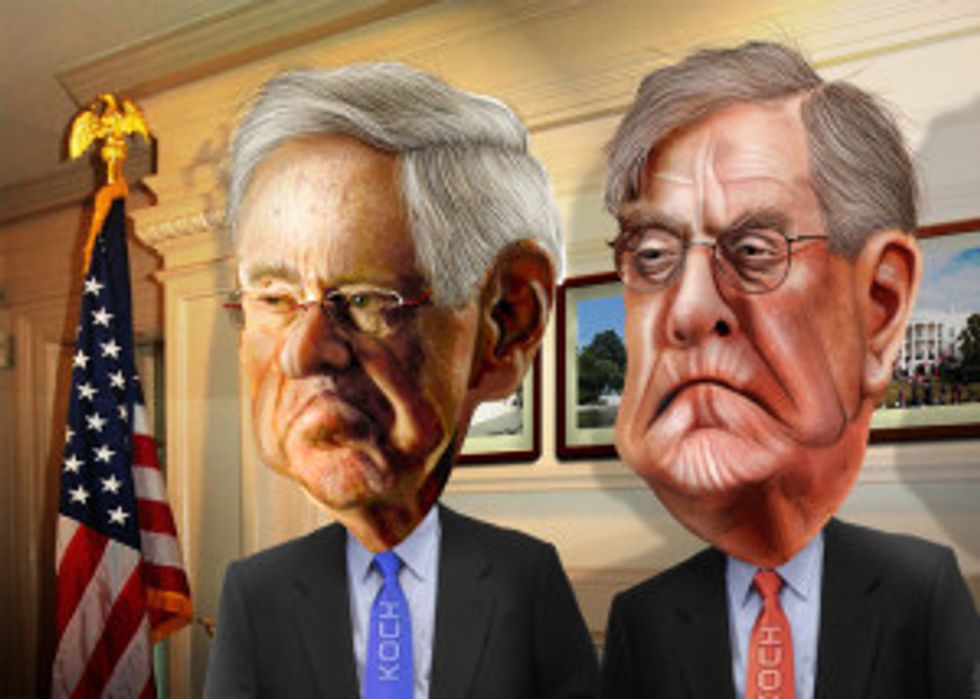 Image via Flickr
The Koch machine
Charles and David Koch, who are the fourth and fifth richest people in America respectively with an estimated $42 billion each to their names, have supported Walker since 2010. It is impossible to tell to what extent the Koch brothers were involved in defeating Walker's recall in the wake of Citizens United, the Supreme Court decision that allows corporations to make unlimited campaign contributions without disclosing who the individual donors are (unless the corporation is engaged primarily in election activity, which Americans for Prosperity is not). Few doubt, however, that they were instrumental.Although the brothers did not directly donate to the anti-recall efforts, Americans for Prosperity did: It spent a reported $3 million on ads, provided 75 staffers to go door-to-door, and launched a four-day, ten-city bus tour leading up to the recall. Said David Koch at the time: "We're helping [Walker], as we should. We've gotten pretty good at this over the years... We've spent a lot of money in Wisconsin. We're going to spend more." The influx worked, with Walker defeating the recall initiative. During the recall election, in which he was pitted against the same opponent he was up against in the 2010 election, he ended up winning by an even wider margin than the first time around.
This time, the Koch brothers are prepared to spend much more than $3 million; leading up to 2105, they have announced that they intend to spend $889 million, more than double the
To read more, continue to the next page. 
$404 million spent by the Republican National Committee during the 2012 election. This historic sum makes their endorsement key to any would-be Republican nominee. But will that nominee be Walker?
The Bush advantage?
Florida governor Jeb Bush appears to be the early frontrunner for the Republican nomination. He is flush with cash – so much so that he has asked individual donors not to give him more than $1 million this quarter, presumably for appearances' sake. Although official fundraising reports will not be available until July, even with this request, Bush has informed potential donors that he is set to break political fundraising records.  He is rumored to have already raised tens of millions of dollars, with a goal of $100 million by mid-year. Walker's advisors have conceded that he will not raise more than Bush this spring and summer. (The Walker camp is hoping to raise $25 million.)
But Bush's ease with fundraising and his ease with the donors – combined with the Bush name – may be the best thing Walker has going for him.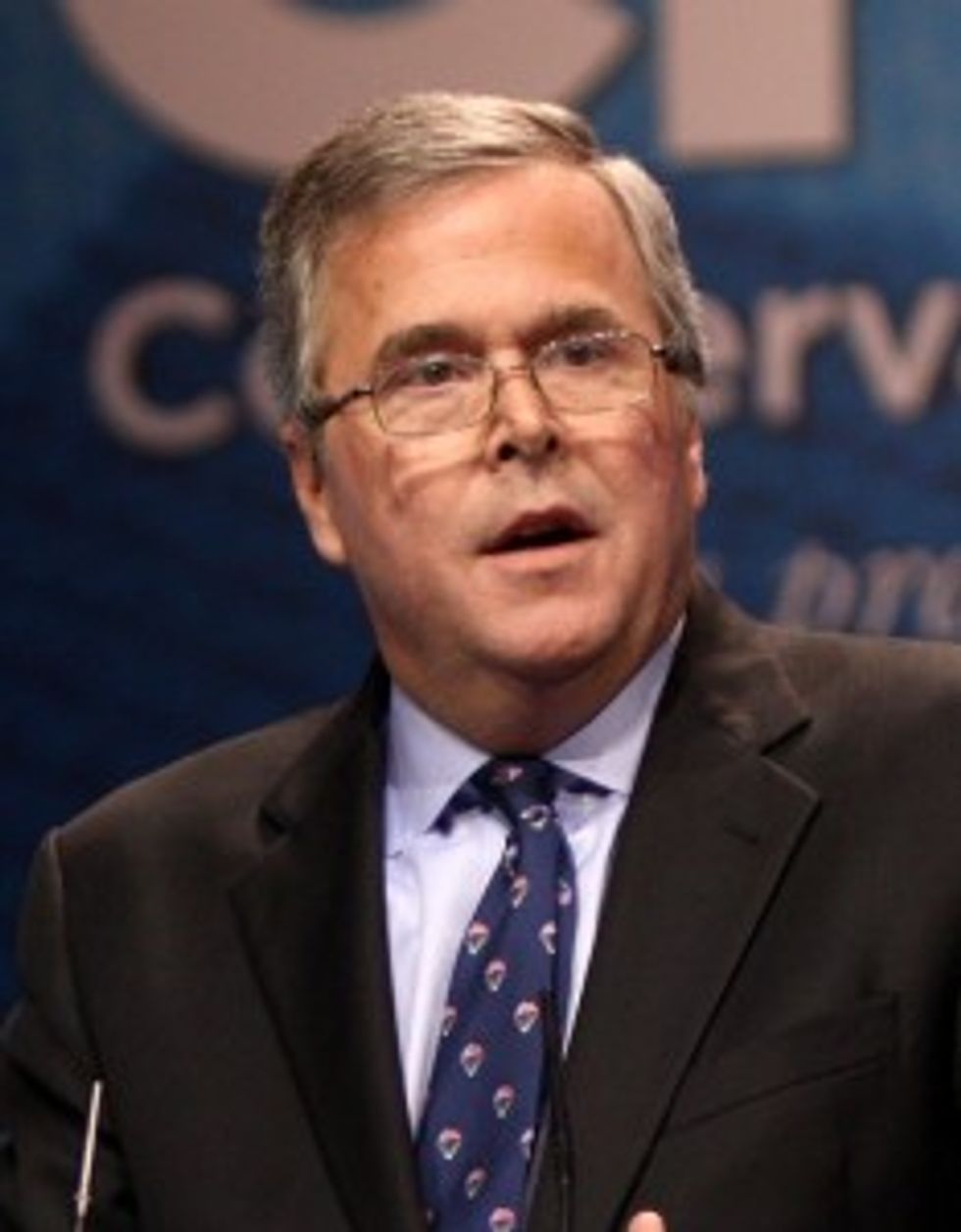 Image via Wikimedia
The New Kid in Town
Walker has repeatedly set himself out as the new kid in town, unburdened by ties to political dynasties and, ironically, trust funds. Walker likes to emphasize that he grew up far from wealthy. His father was a preacher; his mother a part-time secretary. While he has refrained from naming names, it is clear he wants to distinguish himself from Jeb Bush. Said Walker during a South Carolina GOP Grassroots luncheon: "From our family, we didn't inherit fame or fortune, what we inherited was the belief that if you work hard and you play by the rules you can do and be anything you want." In another interview, Walker stated: "If it is just one name from the past [meaning Clinton] versus another name from the past [meaning Bush], I'm afraid we default." He continued,  "You need a fresh new face with big bold ideas from outside of Washington."
From the Koch brothers' perspective, Walker may also be emerging as the candidate of choice because of his conservative stances on key issues and his willingness to move even further to the right. Recently at the South Carolina Freedom Summit, Walker ticked off his conservative victories as Governor of Wisconsin, including defunding Planned Parenthood and signing laws that expand gun rights and require voters to show photo identification at the polls.
Walker's newness and ties to the conservative base may not be enough to propel him to the nomination, however, especially if the Koch brothers stand by their assertion that they will not financially support a candidate until after the primaries are over. The stark difference in fundraising between Bush and Walker is likely to lead to a slew of attack ads against
To read more, continue to the next page. 
Walker, which he may not have the funds to counter.
The Republican immigration debate
Even if Walker does prevail, the pressure to tilt even further right--to meet the Kochs' conservative agenda and receive a share of their close to $1 billion in funds set aside for the election--might render him unelectable. Walker already has shown that he is willing to compromise convictions to garner favor from the far right. This is most obvious in his "new" stance on immigration, which may win him primary votes but lose him key Southwestern states in the general election. After all, Mitt Romney won fewer than three in ten Latino votes in the 2012 presidential election, causing members of a Republican task force to recommend that that the party support comprehensive immigration reform in future elections. Clinton has already come out strong on immigration reform, supporting a path to citizenship and more compassionate enforcement of border laws. Bush, too, has refused to take the traditional Republican hard line on immigration, espousing immigration reform and a path to citizenship. (And Bush may also garner support from the Latino community by being married to a Mexican woman and raising biracial and bilingual children.)
In contrast, Walker has become increasingly more hardline on his immigration views, which have morphed so dramatically and suddenly that many have accused him of flip-flopping. Specifically, until this year, he supported amnesty for undocumented workers. That is no longer the case. "My view has changed, I'm flat out saying it," admitted Walker. Indeed, he has now swung so far right that he has argued even legal immigration may need to be curbed in order to protect jobs.
With a veteran GOP pollster opining that Republicans need to win more than 40 percent of the Latino vote to win the presidency (a number not reached by a Republican presidential candidate since George W. Bush), Walker's decision to court the Republican base – and the Koch brothers – may prove fatally short-sighted.
The Kochs' Gamble on Walker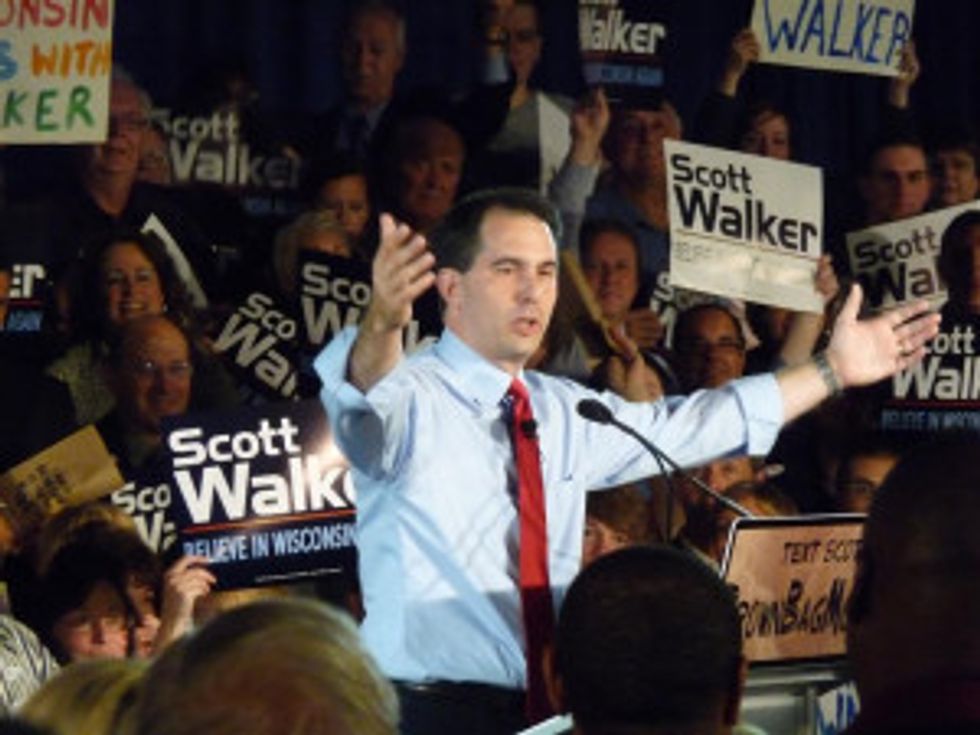 Image via Wikipedia Commons
The Koch brothers nevertheless appear to be willing to gamble. Their unofficial endorsement of Walker may succeed in not only pushing Walker's views right, but also in pushing the national dialogue right. Their clear aim is create a viable candidate who holds views in line with the conservative base. By doing so, the Kochs believe the entire debate may skew right as Bush and the other candidates attempt to regain footing.
Either way, it seems, they will have tethered the Republican party very close to its conservative roots.
If you're interested to see how far the Koch Brothers influence has reached, check out this article: This Is Your Election... and This Is Your Election on Koch: UPDATED.