In a fascinating GOP narrative plot twist, the Republican National Committee (RNC) Chair was factchecked about former Republican President Donald Trump's debate attendance history by a Fox News host .
On Wednesday's Fox and Friends program, Fox host Steve Doocy asked RNC Chair Ronna McDaniel to elaborate on whether or not Trump was participating in the GOP primary debates following the announcement of his bid to run again in 2024.
Doocy said:

"I saw yesterday that Donald Trump on Truth Social said 'I see that everybody is talking about the Republican debates but nobody got my approval or the approval of the Trump campaign before announcing them.'"
He continued quoting Trump.

"When you are leading by seemingly insurmountable numbers and networks and MAGA-hating networks, why subject yourself to being libeled and abused?"
Here is a screenshot of Trump's statement shared on Twitter by @RonFilipkowski.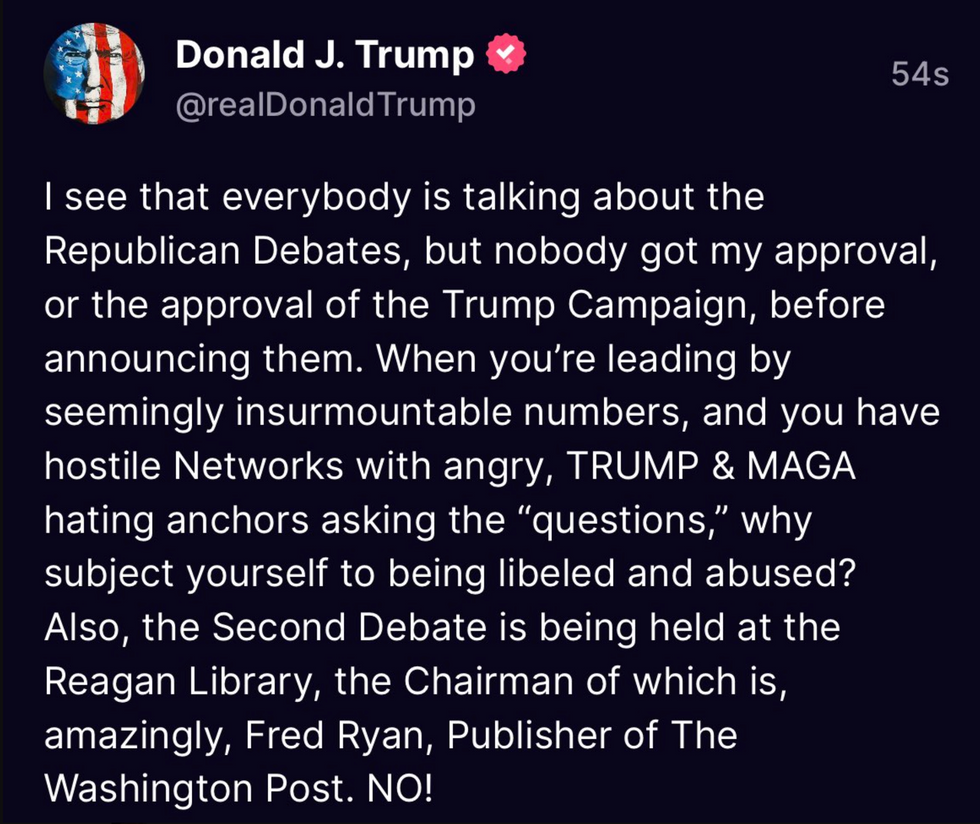 @RonFilipkowski/Twitter
Doocy asked McDaniel if she had spoken to Trump and pondered about the former President:
"Is he in or is this just what he does?"
He added:

"He did this in 2016."
To which McDaniel stated:

"I talk to President Trump all the time."
"We have talked to all the potential candidates. We have let them know the schedule."
"We announced the debates. First debate is with Fox in Milwaukee."
She then said she believed Trump will participate as he:
"Never shies away from a debate."
But host Brian Kilmeade chimed in with:

"He does! He skipped ours. He skipped ours in 2016."
As Kilmeade pointed out, Trump skipped the final GOP presidential debate hosted by Fox News before the Iowa caucuses–likely due to his ongoing beef with Fox host Megyn Kelly at the time.

McDaniel was visibly taken aback after being factchecked on the spot.
She conceded with:
"He did, he skipped one."
But she immediately scrambled to continue portraying Trump as a driven candidate.

She said through gritted teeth:
"But, you know, he was on the center of the debate stage of 2016 and never left it."
"It's going to be a rollercoaster till August."
You can view the entire segment that went off the rails here.
Twitter chirped about what unfolded during Wednesday's program.
An RNC chair being called out for alternative facts by Fox during a live broadcast was a twist nobody saw coming.

But we're here for it.