STARZ is presently casting roles for the television adaptation of the Neil Gaiman novel, American Gods, anticipated to air in 2017. Following the success of shows like Game of Thrones and Outlander, both fantasy literature-turned-drama series, the show has the potential to be one of the most diversely cast programs on television. If the major roles are cast according to Gaiman's original vision, it could embrace a wide variety of ethnicities and cultures.
In the series, Neil Gaiman suggests that when people emigrated to North America, they brought their culture and their gods with them. Gaiman's America is full of gods from every group dating back to the Vikings, up to and including present day immigrants. The plot follows an ex-convict, Shadow, as he becomes a bodyguard for a man known as Mr. Wednesday. Those familiar with Norse lore will recognize Wednesday is a synonym for Woden's Day, or Odin's Day, indicating that Mr. Wednesday represents the Norse god Odin. Shadow's work for Odin takes him across the country, leading to several encounters with other deities in human form from a wide swath of cultures. These include the Egyptian gods, Thoth, Anubis and Bast; the Hindu goddess Kali; the African god Anansi; Whiskey Jack or "Wisakedjak" of Algonquin lore; and Bilquis, the Queen of Sheba.
---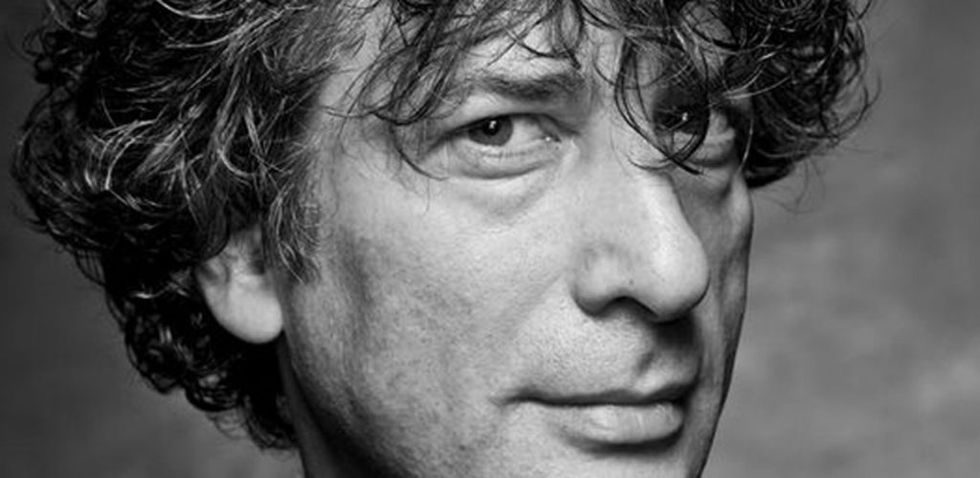 Neil Gaiman. Credit: Source.
STARZ released the following promotional summary of the program: "The plot posits a war brewing between old and new gods: the traditional gods of biblical and mythological roots from around the world steadily losing believers to an upstart pantheon of gods reflecting society's modern love of money, technology, media, celebrity and drugs. Its protagonist, Shadow Moon, is an ex-con who becomes bodyguard and traveling partner to Mr. Wednesday, a conman but in reality one of the older gods, on a cross-country mission to gather his forces in preparation to battle the new deities."
Gaiman's work in the fantasy genre has been heavily influenced by cultural mythology, folk legends and ancient archetypes. Odin, Loki, and other Norse lords appear in several other books, as do Hecate/The One Who Are Three/Maid, Mother, and Crone. American Gods is an 1,000-page saga, with additional words added for the audiobook. The tale is therefore uniquely suited for a multiple season dramatic television series, if it is to include all the
details and events in this epic story.
With such a rich story, led by the biracial protagonist Shadow, and a female Native American sidekick, Sam Black Crow, the series could break new ground in diversity casting. With other popular television series being criticized for writing diversity out of the cast, American Gods has an excellent opportunity to prove to television producers that viewers will, in fact, embrace a diverse cast of actors, unlike many other drama series.
Almost as soon as it began, A&E's The Walking Dead fans began to note the tokenism of the non-white characters. The original comic book series was far more diversified than its television companion, and viewers have pointed out that only one or two non-white characters have speaking parts in most episodes. Other shows adapted from books, such as Orange is The New Black, have also come under fire for minimizing the minority characters' roles in the television series.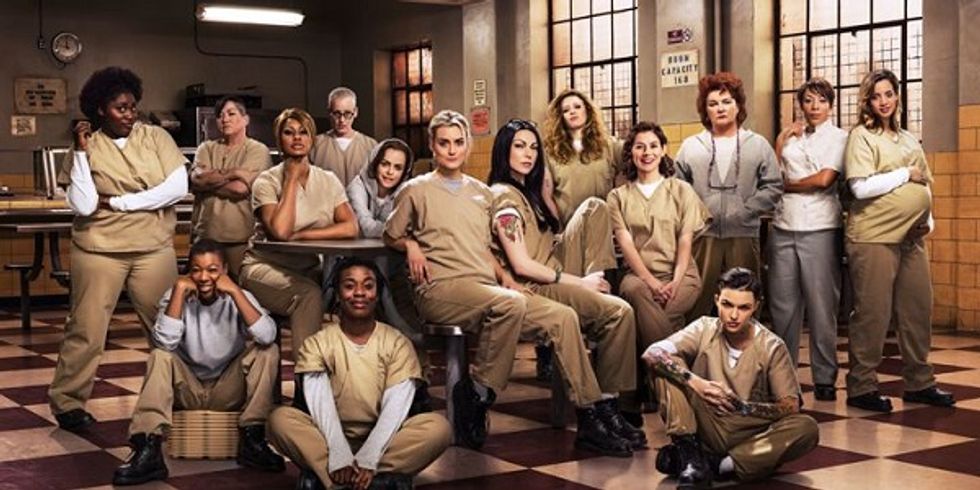 "Orange Is The New Black" ensemble. Credit: Source.
With that in mind, fans of American Gods may wonder if the background of the actors ultimately cast in the major roles will reflect the diversity of the books. If a Caucasian actor plays a Native American or Indian character, faithful fans are likely to take issue, as with the casting of Johnny Depp as Tonto in TheLone Ranger.
Several roles have already been cast, including the lead characters: Shadow, his wife Laura, and Odin/Wednesday. Shadow, true to canon, will be played by a biracial actor, Ricky Whittle (The 100). Odin, an old and surly Viking type will be played by Ian McShane (Game of Thrones, Pirates of the Caribbean) who fits the bill. The part of Laura Moon, Shadow's wife, has also been fittingly cast with Emily Browning (Sucker Punch, Ghost Ship). Other supporting roles have been cast with Yetide Badaki, Sean Harris and Crispin Glover taking on some prominent parts. More recent announcements include Gillian Anderson portraying
Media, Orlando Jones as Mr. Nancy, and Orange Is The New Black's Pablo Schreiber as Mad Sweeney, all promising choices! Chris Obi as Anubis partners with Demore Barnes as Mr. Ibis, and Mousa Kraish as The Jinn means make new and colorful additions to the cast.
However, the book is huge and peppered with interesting and culturally significant characters, and there is no shortage of talented and diverse actors. Big parts such as Samantha Black Crow and Mama-ji, the Hindu goddess Kali, have yet to be cast. One wonders how much input Gaiman will have over casting. Gaiman did have high praise for the choice of Ricky Whittle as Shadow:
"I'm thrilled that Ricky has been cast as Shadow. His auditions were remarkable. The process of taking a world out of the pages of a book, and putting it onto the screen has begun. American Gods is, at its heart, a book about immigrants, and it seems perfectly appropriate that Shadow will, like so much else, be Coming to America. I'm delighted Ricky will get to embody Shadow. Now the fun starts."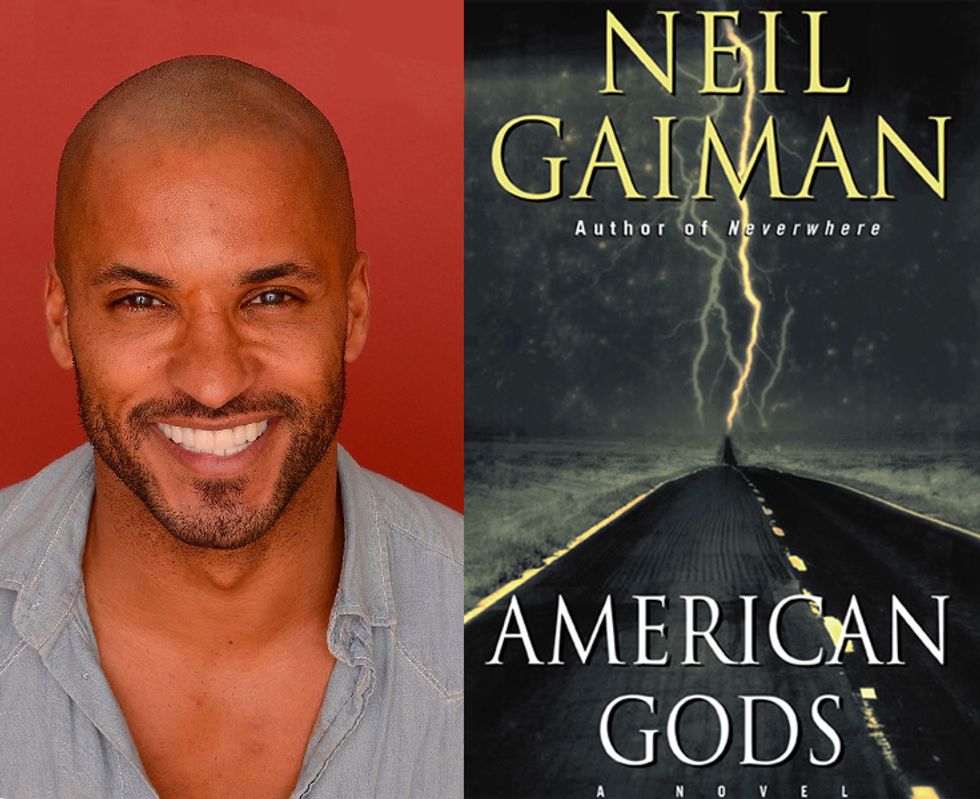 Ricky Whittle. Credit: Source.
Gaiman is right: the fun is coming. Fans have high hopes and strong opinions about this beloved book-turned-TV series, and with each bit of casting news the internet catches fire. With a show about the colorful population of America, represented by a colorful cast, and watched by a colorful audience, American Gods could be genre-defining if it can hit the mark.