In a landmark 8-3 decision, the Seventh Circuit Court of Appeals in Chicago ruled that Title VII of 1964's Civil Rights Act prohibits workplace discrimination against LGBT employees.
The decision, which sends the case back to Indiana's federal district court, involved Indiana teacher Kimberly Hively, who claimed her employer denied her promotions and let her go from her job at Ivy Tech Community College in South Bend, Indiana, because she is a lesbian. After staff members saw her kissing her girlfriend goodbye in the school parking lot, an administrator reprimanded her for "sucking face" and "unprofessionalism."
---
From Judge Diane P. Wood writing for the majority:
… Hively represents the ultimate case of failure to conform to the female stereotype (at least as understood in a place such as modern America, which views heterosexuality as the norm and other forms of sexuality as exceptional): she is not heterosexual. Our panel described the line between a gender nonconformity claim and one based on sexual orientation as gossamer-thin; we conclude that it does not exist at all. Hively's claim is no different from the claims brought by women who were rejected for jobs in traditionally male workplaces, such as fire departments, construction, and policing. The employers in those cases were policing the boundaries of what jobs or behaviors they found acceptable for a woman (or in some cases, for a man).
Greg Nevins, Employment Fairness Program Director for Lambda Legal, praised the decision.
"In many cities and states across the country, lesbian and gay workers are being fired because of who they love. But, with this decision, federal law is catching up to public opinion: ninety-percent of Americans already believe that LGBT employees should be valued for how well they do their jobs—not who they love or who they are. Now, through this case and others, that principle is backed up by the courts," he said. "This decision is gamechanger for lesbian and gay employees facing discrimination in the workplace and sends a clear message to employers: it is against the law to discriminate on the basis of sexual orientation."

Kimberly Hively. (Credit: Source.)
Hively, who now works as a high school math teacher, also weighed in.
"It's really good to know that it's making some headway," she said. "I always thought there was a big disconnect when they legalized gay marriage but didn't extend any protections against workplace or housing discrimination. What they're doing is allowing people to lose jobs and homes just because they fell in love."
Ivy Tech spokesman Jeff Fanter said the college will not seek further Supreme Court review. He said Ivy Tech "denies that it discriminated against the plaintiff on the basis of her sex or sexual orientation and will defend the plaintiff's claims on the merits in the trial court."
Judge Diane Sykes, writing for the dissenters, called the ruling "momentous," but related it to "a statutory amendment courtesy of unelected judges," resulting in "the circumvention of the legislative process by which the people govern themselves."
In the past, every federal appeals court in the nation to consider whether LGBT employees are entitled to non-discrimination protection has ruled that they are not, a fact which John Maley, a lawyer for Ivy Tech, employed in the case against Hivey. The discussion focused on the meaning of the word "sex" in Title VII, which prohibits workplace discrimination based on race, religion, national origin or sex. Maley argued stretching the meaning of "sex" in the statute to include sexual orientation "makes it an issue for Congress."
Judge Richard Posner questioned Maley heavily.
"Who will be hurt if gays and lesbians have a little more job protection?" Posner asked. When Maley said he could not think of anyone who would be harmed by extending the law, Posner said, "So, what's the big deal?"
The ruling comes amid a national debate over whether actions from President Donald Trump's administration have belied Trump's oft-repeated claim that he is a friend to the LGBT community.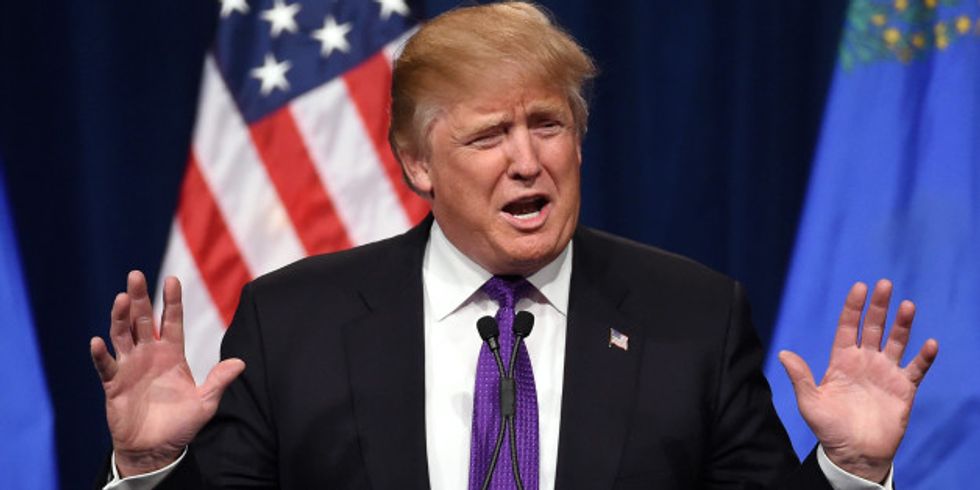 Credit: Source.
The Census Bureau announced last month it would not include questions related to sexual orientation or gender identity, even though an earlier draft of subjects planned for the 2020 census initially included a proposal to include sexual orientation and gender identity. When the final report issued, these inclusions were not listed in the long-awaited document, which outlined new categories presented to Congress this week. In a statement, the Census Bureau said the report including the proposed addition of sexual orientation and gender identity was released "inadvertently" and had been "corrected" before it was sent to Congress.
Trump also recently signed an executive order that revoked prior orders that provided anti-discrimination protections for federal LGBT employees. Specifically, the president's decree revokes three previous orders signed by former President Barack Obama, including Executive Order 13673, the "Fair Pay and Safe Workplaces Order."
Obama's order required large federal contracts be able to demonstrate that they have complied for at least three years with 14 federal laws and regulations. Several of these laws prohibit discrimination based on sexual orientation, gender stereotyping or gender identity, including Title VII, and the Americans with Disabilities Act and the Rehabilitation Act, which prohibit discrimination based on HIV status and other disabilities.