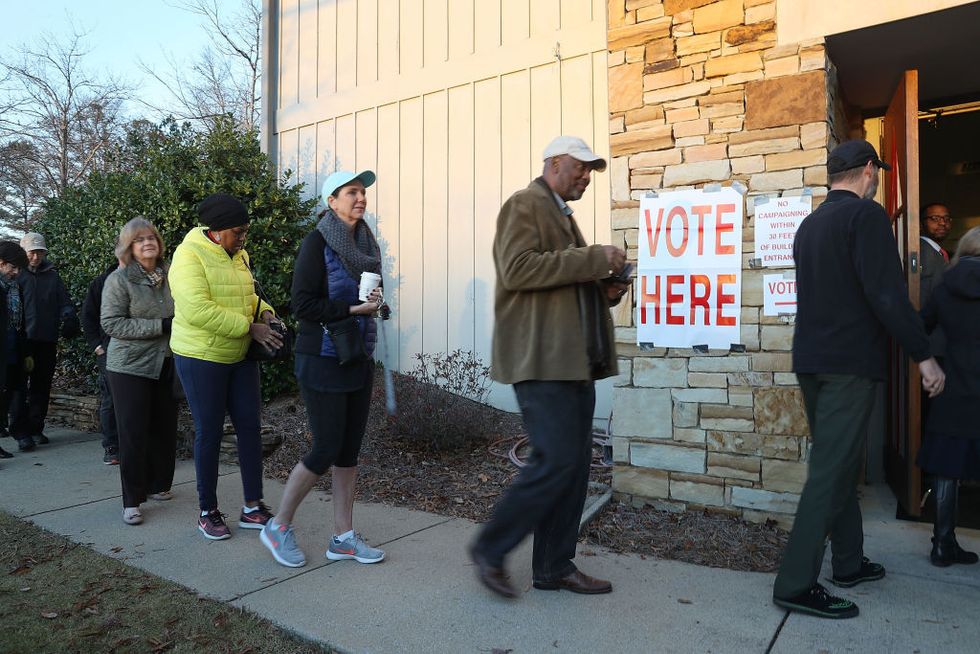 Republican Senatorial candidate Roy Moore speaks during a campaign event at Jordan's Activity Barn on December 11, 2017 in Midland City, Alabama. (Joe Raedle/Getty Images)
A gay Alabama man took to social media to share his experience at the polls. The man, who wrote his story on Reddit but declined to provide his name or any other identifying information, said the clerk at his voting location attempted to turn him away after noticing him place his arm around his boyfriend, who had accompanied him to the polling location.
"It is disgusting that the people in charge of maintaining the integrity of the voting process are the ones that are manipulating it," the man, under the username  TenenBobOmb, wrote later on the /askgaybros subreddit in a thread titled "Just voted for Doug Jones. Voting clerk saw me put my arm around my boyfriend and tried to keep me from voting."
His full account is below:
As per usual, I drove from Birmingham to my small hometown to vote. This time, my boyfriend decided to accompany me. We get there, and it's the normal crowd: old white people coming straight from church to do their civic duty. I hand my ID to the clerk, who does take her time making sure that it's mine, but eventually ok's it. As I'm walking to get my ballot, I put my arm around my boyfriend, and she immediately calls me back. Apparently, she's not sure that the ID was in fact mine (even though she already gave it the go ahead). She tells me that I'm not going to be allowed to vote. I state that I grew up here, registered here, and drove here to vote and that I planned on keeping true to that. She eventually says that I would not be allowed to vote. I pull out every credit card and ID that I had. Eventually I even pulled up my Facebook page to prove it. With that, she let me vote, but I think it was more of the scene that I was causing.

It is disgusting that the people in charge of maintaining the integrity of the voting process are the ones that are manipulating it.
The man says he filed an "official complaint," and later spoke to his town's mayor, who assured him he would investigate and be "following up personally" to ensure it's properly resolved.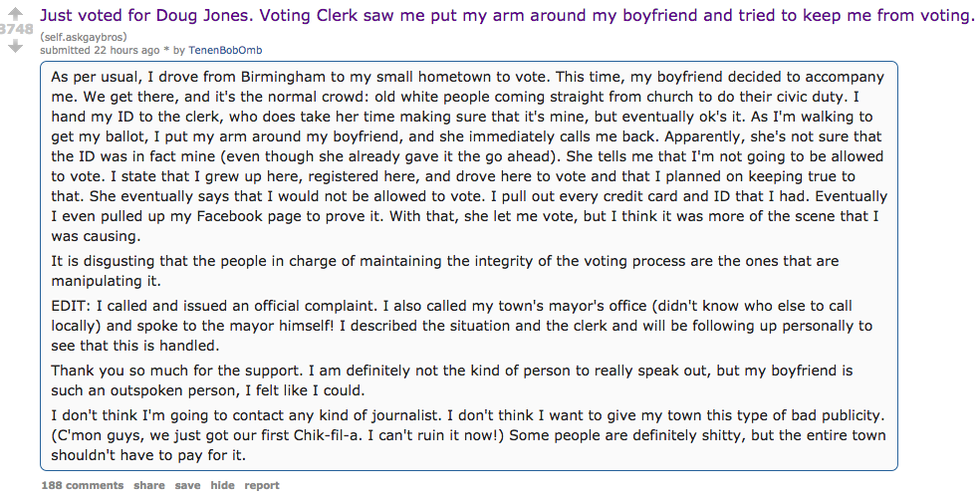 The story, which generated significant discussion, is only the latest story of voter suppression to come out of Alabama. Not long after voting started in the special election between Republican Roy Moore and Democrat Doug Jones to fill the U.S. Senate seat vacated by Attorney General Jeff Sessions, several voters alleged they'd been marked "inactive" at their local polling locations, and encouraged to cast provisional ballots, which would not be counted if the voters proved unable to verify their voting information.
Here's the relevant Alabama statute: voters who are inactive have to reidentify and fill out a new form:… https://t.co/zmv24CHKu8

— Rick Hasen (@Rick Hasen) 1513103999.0
According to Rebecca Seung-Bickley, a communications manager for ACLU of Alabama who spoke to Newsweek, "We have been getting calls from people having different complications at our polling places. "Some of it we anticipated, like the inactive status situation. Unfortunately, some people are being told they can't vote." Seung-Bickley added that anyone marked inactive need only fill out a form to vote normally, with a general ballot––without those caveats. "It's concerning for us that there's some misinformation going around," she said.
In the wake of a Supreme Court decision weakening the Voting Rights Act, Alabama also passed one of the strictest voter identification laws in the nation. "The law at one point led to the closing of the offices that issue driver's licenses in every county where more than 75 percent of registered voters were black. Driver's licenses are, of course, the main form of voter identification," notes journalist David Leonhardt in an op-ed for The New York Times.
Leonhardt continues: "An academic study suggests that the laws implemented since the Supreme Court decision have already reduced voter turnout in racially diverse parts of Alabama, Scott Douglas, the executive director of Greater Birmingham Ministries, explains in a Times op-ed. Alabama also denies the vote to many people previously convicted of felonies (although the state has at least made progress on this issue)."
Although Democrat Doug Jones ended up winning the special election, more than 48 percent of Alabama voters preferred Moore, who has gone on record with his beliefs that homosexuality should be illegal. The Southern Poverty Law Center filed an ethics complaint against Moore in 2015, noting that he had encouraged state officials and judges to ignore federal court rulings which legalized same-sex marriage.
Earlier this week, Dean Young, a campaign strategist for Moore, called homosexuality a "destructive lifestyle" in an interview with NBC host Chuck Todd.
Keep reading...Show less