On November 2 of last year, voters headed to the ballot box to cast their votes for Virginia's Republican gubernatorial nominee Glenn Youngkin or his Democratic opponent, former Virginia Governor Terry McAuliffe. That day, Youngkin's 17 year old son made two attempts to vote—despite not being eligible—in the election his father would eventually win.
Citing the Republican party's embrace of voter suppression laws under the guise of "election security," Democrats condemned the attempt as an example of hypocrisy.
Youngkin's team responded in a statement:
"It's unfortunate that while Glenn attempts to unite the commonwealth around his positive message of better schools, safer streets, a lower cost of living and more jobs, his political opponents – mad that they suffered historic losses this year – are pitching opposition research on a 17-year-old kid."
Despite Youngkin's spokespeople emphasizing his son's age in response to a report that didn't disclose the son's name, it turns out the governor's allies aren't above launching attacks on minors even outside of campaign season.
On Sunday, 17 year old Democratic activist Ethan Lynne tweeted a report in the latest development of Youngkin's ongoing attacks on so-called critical race theory.
In a now-deleted tweet, Youngkin's campaign responded with a photo of Lynne with Virginia's Democratic former Governor Ralph Northam, who was embroiled in scandal after an old yearbook photo of him posing in blackface resurfaced.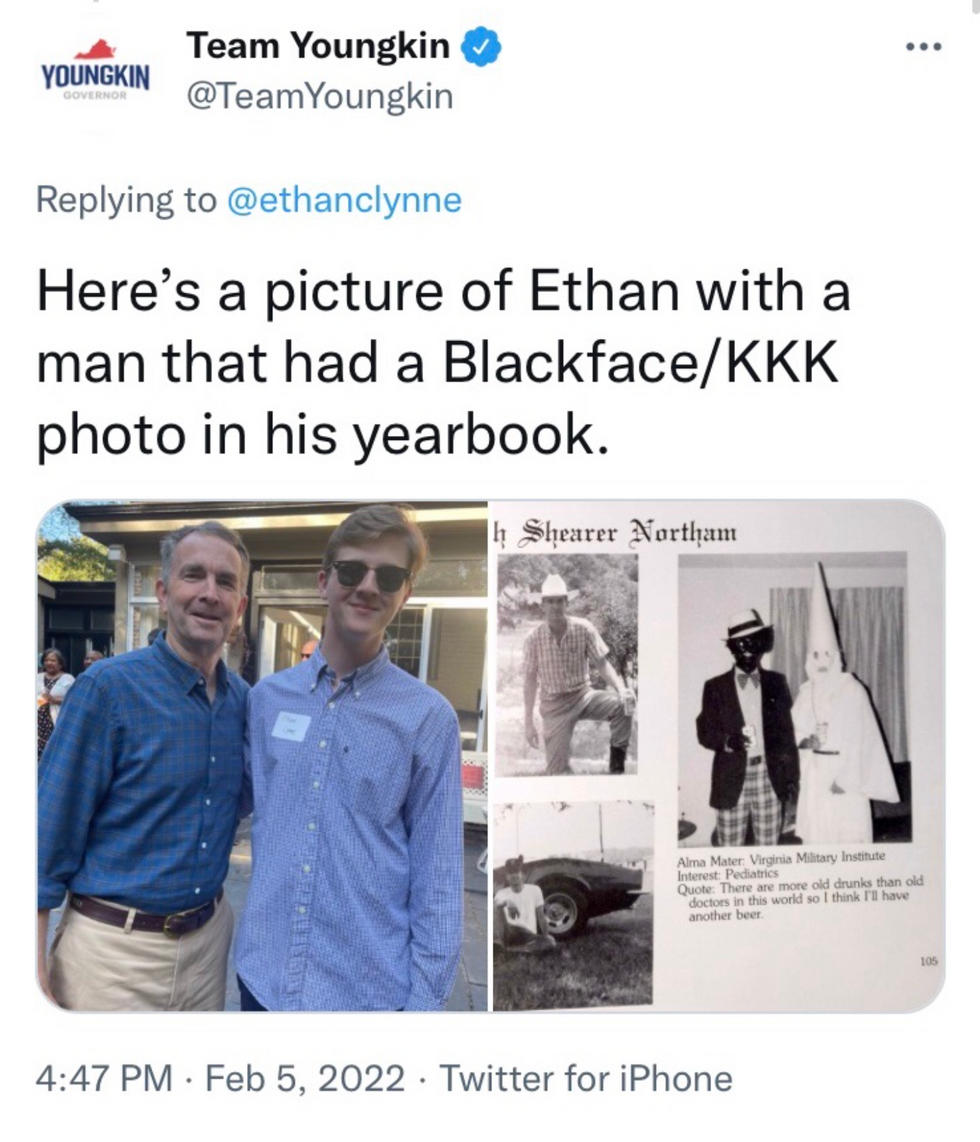 A spokesman for the strategy group that managed Youngkin's campaign told VPM reporter Ben Paviour that the tweet was removed after the team learned Lynne is a minor, and emphasized that the governor did not know of, sign off on, or vet the tweet.
Lynne said in a statement:

"It is disgusting, disturbing, and unbecoming of the Commonwealth to see the Governor and his office stoop to this low, especially on a public platform. They've deleted it, but I have received no communication from the Governor's office."
After 36 hours of silence, the governor finally addressed the matter.
Lynne soon responded, noting the statement didn't contain an apology, nor did it specifically condemn what happened.
Social media users agreed.
They pressed him on whether or not he's reached out to Lynne to apologize.
The governor's statement doesn't appear to be the last word on the developing situation.