President Donald Trump's constant trips to his own golf properties around the globe has been a matter of some controversy since he took office in 2017.
A constant critic of President Barack Obama's golf outings—which unlike Trump Obama did not personally profit from—the 45th POTUS claimed he would be too busy working to ever play golf.
---
Once that campaign promise was broken, people often wondered if Trump was too busy golfing to work. After all, the POTUS spent 1 out of every 5 days in 2019 at one of his own golf properties. That's 20% of his time for those wondering about the math.
Aside from asking when Trump actually works, many also questioned how much money was going from the coffers of the US treasury—put there by US residents who pay taxes—to fund Trump's constant golf excursions. The numbers have been released and The Root made an interesting observation.
With the amount being spent paying the President to play golf, Donald Trump is now the 10th highest paid athlete in the United States.
We calculated how much we pay Trump to play golf. It turns out, he's America's 10th highest paid athlete:… https://t.co/fyPiDk4C7x

— The Root (@The Root) 1582147730.0
In the same time that professional golfers like Tiger Woods, Rory McIlroy and Bubba Watson played 33, 48 and 44 games respectively, the President—who is not supposed to be paid to play golf—played 71 times. Using GAO data The Root estimated taxpayers shell out about $600,000 per Trump round of golf with most of the money going into the President's own pocket.
Per the Government Accountability Office (GAO), during a single month in 2017, US taxpayers footed a $13 million bill for four trips to Trump Organization golf clubs, including $60,000 just for rooms and space at their Palm Beach resort. The overall figure also includes thousands for food and lodging for Secret Service agents.
Federal agencies have paid about $130 million for the President to play golf.
Not included in those figures are the reimbursements being made to local authorities for security. For example, Palm Beach received $13.8 million for their efforts through spring of 2019.
According to The Root:
"...the total local and federal costs for Trump's athletic endeavors total $152 million or roughly $50.6 million per year for Trump to play golf. In the three years since Trump became president, no billionaire team owner, no sports organization, no company has paid a human being more to play golf."
All told, Trump ties for 10th among the United State's highest-paid athletes and 17th in the world.
But what about Obama?

In eight years, President Obama's total travel costs which include family vacations totaled $114 million. That's $14.25 million per year of which only a fraction involved golf and did not get paid to an Obama owned company.
Needless to say, people are asking for a refund or a trade.
@TheRoot @TyHyCHI Lard has gotten very expensive.

— Reyna Bolinger (@Reyna Bolinger) 1582149821.0
@TruthProf99 @TheRoot @MaddowBlog That's actually a good idea.

— Missing a Sane America (@Missing a Sane America) 1582149629.0
@TheRoot @MaddowBlog Re-upping. Just cuz. https://t.co/nJqoMpOgxC

— Romy Lawrence🍑🌊🆘 (@Romy Lawrence🍑🌊🆘) 1582148384.0
Of course, there were some who made excuses for the President.
Some said the many tens of millions of dollars being paid to the Trump Organization was OK because Trump claimed he donates his $400,000 salary to charity.

@Challenger6010 @TheRoot Does he donate it to a real charity, or one of his own? Oh that's right, his have all been… https://t.co/pfRDrOkWnR

— Emperor Peloton (@Emperor Peloton) 1582152584.0
However no organization has ever verified Trump's claim of donating his salary. The only proof were photos shared by the Trump camp of checks made out to agencies that by law are not allowed to accept or cash the checks.
For taxpayers who aren't OK with paying a President's own company for that President to play golf, the 2020 presidential election is 257 days away. A trade of our "highest paid athlete" in Washington DC might not be possible, but releasing him to free agency is.
This shirt, commemorating the Trump presidency, is available here.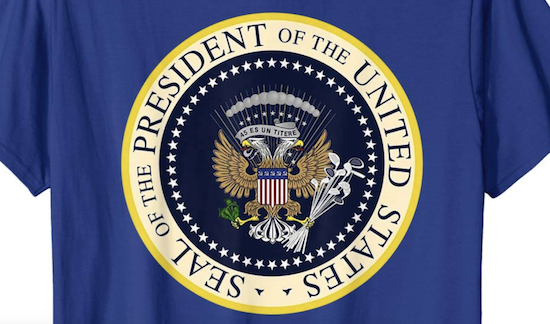 Amazon